When owning a dog it is always a good idea to ensure they have a dog collar.  If you dog likes being outdoors, then a dog collar can help identify your dog should they escape somehow.  Dog Collars are made from all sorts of materials, the most popular being Leather.  To make your dogs collar stand out more, we have found the best quality personalised leather dog collars that will not only help your dog be identified, but allow a contact number be embroidered too.  These collars, we have found, are the best quality available through Amazon.
If you are looking for a new dog collar then you have come to the right place.  Choosing a collar really depends on the type of dog you own, the size of your dog and sometimes even your dogs attitude.   Ralph has a small personalised leather dog collar that he wears around the house sometimes, especially if its a nice day and he is in and out.  This way we can easily identify him should he escape.  If we go for walks, we remove this and attach a nice sturdy harness with his retractable lead
Choosing the right dog collars can be fun.  There are hundreds of different styles and designs to choose from.  Bright sparkly nylon collars too personalised leather dog collars with diamonte or embroidered names.
Use the Table of Contents to help you quickly jump to the available collars or continue to scroll down.
More About Dog Collars
Owning a perfect personalised leather dog collar makes a statement about your dog.  The colour, style and design can really make your dog stand out from the crowd.  Most dog collars can also be used to ensure your dog can be returned if found by making them personalised.
In some countries, it is a legal requirement from dogs to where a collar or a dog tag.  Most countries or states in the USA require dog licensing.  You can find what the rules are near you by searching for your local authority website.
Wearing dog collars in the UK is an absolute must.  All dogs in a public place should have proper identification or you could end up with a large fine.
Owning a personalised dog collar is a great way of ensuring your details are inscribed on your dog at all times.  We prefer the personalised leather dog collar as they are much smoother and look the part.
whichever style collar you choose, you should always put your name address and contact number somewhere on the collar.  Before purchasing a collar, always measure your dogs neck, we will show you how to do this properly further down the page.  This will ensure the collar your buy fits comfortably for your dog.
Personalised Leather Dog Collars
Starting off with the Ancol Heritage.  This collar is a simple, affordable, sleek design.  With a choice of colours to choose from an 8 different sizes you are sure to find the collar for you.
Personalising these is simple and the engraving is top quality laser engraving.  This prevents the wording from rubbing off and disappearing from your collars.
Made from Ancols best quality briedle leather this collar will sustain any weather conditions and feel comfortable on your dog.  The die-cast fitting also ensures the collar is highly durable.
All collars are designed for dogs that are outdoors regularly and should not be worn for too long when inside.  These are best worn if you are with your dog and not leaving your dog home alone.  Dog Collars can be hazardous if your dog is to get caught on something which could cause choking.
Pros

Great Quality
Great Price
Clear Engraving
Soft and Supple Collar

Cons

Make sure you read the instructions when ordering
Simple adjustable personalised leather dog collars in a choice of colours and sizes.  Can be used for dogs and cats and provides clear personalised details.
Namsan Collars are made from 100% real leather and have a quality guarantee.  With a soft leather that will help keep your pet comfortable and less irritable against your pets skin.
As this is a custom collar, anything you request to be added will be entered exactly as requested. It is always best to check the description and ordering info of the product so that you ensure you get the right colour, size and text on your collar.
As the collar is simple to adjust you can easily tighten, loosen or remove the collar from your dog.
Ancol Leather leads are treated with a special protector against water, oil and dirt.  Ancol Collars are amazing quality and along with the Ancol Dog Leads. 
With a strong nylon bonded thread and heavy duty buckle rings this collar looks the part and will suit any dog.  It also comes in 8 different sizes and several colours to help you find that perfect match for your pooch.
Ancol Timberwolf collars also come with a precise laser engraving made to order, making the collar as personal as you need.
Please make sure you check the full product description at Amazon so you order the correct colour, size and engraving on your personalised collar.
Custome made diamante dog collars are a nice cute feature for your dog.  With good sized names on your collar and diamante center, your dog will stand out.
Made from Real Leather with Faux Snakeskin Finish. Please measure your pet to make sure collar will fit
Best fit for medium / Large sized dogs to ensure the name fits well.  The collar is also adjustable.
As with all personalised leather dog collars, check the product and ordering information before placing your order.  This will ensure you get the right colour and name on your collar.
Leather Adjustable collar at a very affordable price, you will order more than one.
Genuine leather collars are absolutely amazing and are handmade in Spain and are made from a double layer of quality stitched leather. They are available in 12 exquisite colours – Black, White, Red, Orange, Cerise, Baby Pink, Pistachio Green, Dark Green, Turquoise, Dark Blue, Tan and Brown.
With a choice of Diamante or Chic Chrome letters for the name of your pet, and add a pair of charms (hearts, bones or paws) also in Diamante or Chic Chrome to be placed either side of the name to create a truly stunning collar for you furry best friend.
The leather is strong and supple for everyday wear with a sturdy buckle, two slip rings to prevent the extra leather from flapping about and a soldered D ring for attaching a lead.
With a wide range of colours and sizes, these personalised leather dog collars are amazing and are a nice feature to any dog.
Personalised dog bandana and collars are a great feature and look amazing on small dogs.  With a diamonte name tag and a small dog shaped tag, these are a really good addition to your dog accessories.
Come in several colours, these are the cutest little personalised dog collar and bandana sets we have found.  Other cheaper version are available however the materials are not that great.
The collar is made from faux leather and a small simple to close buckle, a bit like a belt.
I will always highly recommend reading the product and ordering information before making your purchase as these are personalised and require some details from yourself.
Personalised Nylon Dog Collar
High quality nylon dog collar with metal buckle.
Simple and effective design, these nylon collars are amazing and are an unbelievable price.
Easily adjustable to fit dogs with neck sizes (18″ – 26″) Always ensure you measure your dog before ordering.
Engraving will be done on the metal buckle. You can have a maximum of 3 lines engraving. Each line can have a maximum 16 characters (including spaces etc).
PLEASE NOTE: THE MORE INFORMATION YOU HAVE ENGRAVED – THE SMALLER IT WILL READ!
Like the personalised leather dog collars these nice and simple nylon collars once engraved will definitely look the part and ensure your dog can be returned safely.
Please always check the buyer instructions before purchasing and ensure your spelling is correct when requesting an engraving.
Custom Leather Dog Collars Over £100
Let your dog enjoy the most memorable walks in his life with Amazing Shiny Brass Spiked Collar!
Made from a high quality leather that is soft, flexible and wear-proof material. The collar is a nice thick collar that is great for medium to large dogs and is amazing for obedience training.
Equipped with 2 'rustproof' d-rings so you can connect your lead or dog tags.  This fashionable handcrafted collar is the stand out collar that all big dog owners should have.
Hand-made item to control your dog. High quality dog collar is crafted of pure selected leather and adorned with rust-proof spikes. Leather that was used contains no allergic substances. This collar should definitely be your number 1 choice.
Waves of Dazzling Brass Spikes are Hand-riveted for Extra Security.  No glue was used to make this dog collar Spikes are riveted to hold forever. The rest of the hardware is riveted as well. The buckle is easy to use and helps you to adjust a collar according to your pet's dimensions. Use cast D-ring to attach the leash and happily walk your doggie knowing he feels nothing but comfort. Your four-pawed friend will be proud wearing this dog collar and scaring away his enemies with bedazzling shinning spikes.
Make your dog stand out from the crowd.  What are you waiting for.
Latigo leather that is used to make this amazing collar is strong and water resistant.  This beautiful design is great for female dogs of all shapes and of certain sizes from an 18inch neck to a 26inch neck. 
SexyBeatDogCollars are handmade in the US and are popular amongst buyers.
The silver hardware and studs are made to last and will not discolour over time.  The studs and jewels within the collar are hand cut and placed with precision into the dog collar and recessed for protection.
It is a truly remarkable collar with great characteristics and amazing look and feel.  This would make the perfect gift for your pooch and make your dog the queen she deserves to be
This Stylish Dog Collar is an excellent accessory, handcrafted by the best craftsmen. So, get this Collar right now at affordable price! It will serve your doggie long and will definitely become his favourite item!
This Collar comes highly recommended by dog specialists around the world.  Mainly because it is made of high-quality authentic leather which is well-known for its strength and durability, so it will be almost impossible for your pet to tear it. Moreover, leather is very soft and comfortable for wearing as there are little possibilities of skin rubbing and irritation. Just don't forget to follow the rule – taking care of leather is important. Water repellent and leather conditioner help to protect its surface and prolong its service time.
Thanks to the awesome design this Collar will definitely amaze everyone. The mix of half-ball studs, that are neatly set in two rows, and large gold-like stars make it unusual. Old bronze plating give them pretty vintage look. Be confident your dog will not remain unnoticed!
Lupine Dog Collar
Lupine collars are guaranteed to last (Even if Chewed).
The one inch collars are suitable for medium and larger dogs.
Made from jacquard woven nylon, with the pattern woven into the webbing (never printed or sewn on.) Features strong bar-tack stitching, welded D-ring and a custom designed side-release buckle. In a range of fashion-inspired patterns with matching leads available.
Two adjustable size ranges. To determine collar size, measure snugly around the middle of the dog's neck, then add an extra 5-percent for a comfortable fit. Machine wash, warm water, mild soap (no bleach or bleach alternative).  There are so many other colours available to choose from.
Blueberry Dog Collar
These amazing dog collars have been around for a while now and come in many colours and designs.  Ranging from X-Small to Large. 
The collar does not stretch itself, please make sure leave ONLY 2 fingers between collar and dog neck. A properly fitting collar and harness won't leave any room for your dog to chew.
The collar is not for tie out. NEVER leave your dog unattended with a collar on.
This collar is a single product. However, it comes with matching lead/harness to complete the look. Lead and harness sold separately however do look great as a matching set.
Made of high density polyester, which imparts softness and durability to the product. Those buckles are made from eco-friendly plastic. The metal D ring is chrome coated to add durability.
Bright, colourful and cost efficient, the Blueberry Dog Collars are amazing.
And Finally….
If you are looking for something a little more extravagent (and have got plenty of cash in the bank) check out this amazing collar.
Designer Luxury Priced Dog Collars

Be the envy of all your friends.  Let your dog be the QUEEN of the Yard.
Amazing Hand cut, hand jewelled and hand crafted by master sapphire cutters, jewellers and artisans.  This dog collar is staggering. 
With a lifetime warranty, this collar is going to give your dog the look of a queen.  It is also going to put a little hole in your bank balance, however, if you can afford it then its a recommended collar.

This collar looks comfortable and great quality.
---
How to Measure Your Dog Correctly
Owning a dog collar will give you more control of your dog when training but also give your dog an identity.  Before purchasing a dog collar your should first know how to measure your dog correctly.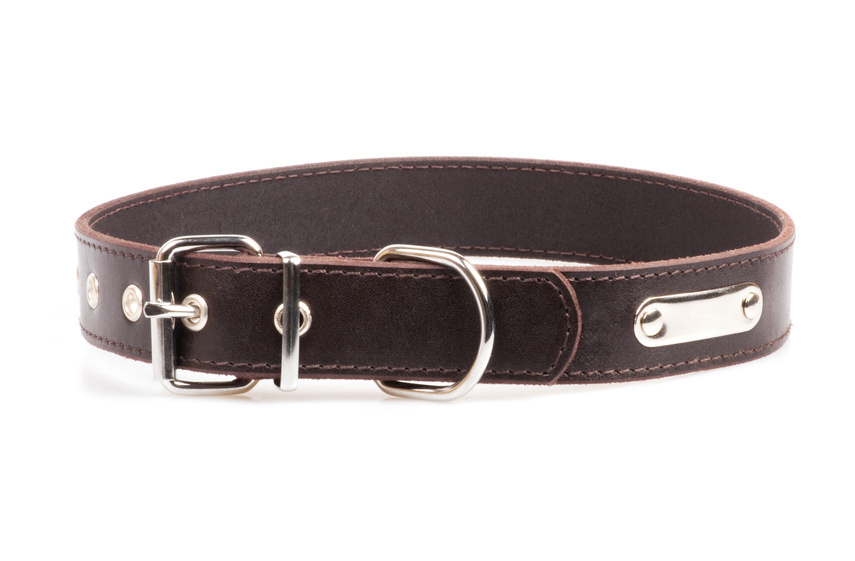 Firstly when measuring your dog, take a small tape measure and place round your dogs neck. However, if you do not own a simple small tape measure then use a piece of string, cut the string at the optimal length and then use a ruler to measure.
Your must then add approximately 5 centimetres to obtain the correct collar size.
Then you must choose a collar width that will be suitable dependant on the size of your dog. A collar with a width of at least 2 centimetres is a good wide for medium to large breeds.  Collars with a  width of up to 2 centimetres will generally fit dogs up to a medium breed (no bigger) and up to 1cm will be great for your small tiny 'toy' dogs.
Adjustable collars are great if you dog is still a puppy.
Dog collars can stretch after being worn so if your dog does grow slightly and you need a new collar, re-measure your dog.  This will ensure you get the right sized collar again.
How to Fit a Dog Collar
Dog Collars should be a nice snug fit.  They should also be high on the dogs neck but not too tight. You should also ensure that the collar is not too loose neither as this can cause your dog to break free.  Collars that are too tight can cause health problems in your dog and affect circulation.
With every dog collar you should be able to slide two fingers between the neck of your dog and the collar.  You should continue to check the collar regularly for wear and tear, fraying and also how the collar is fitting.  If your dog collar is starting to look worn and defective, replace immediately.
Check out this short video on How to Measure your Dog for a Collar;
Save
Save
Save
Save
Save
Save
Save
Save
Save