Are you a dog owner looking for dog toy boxes for your dear pet? Here we have meticulously listed, as per your preferences, some of the best dog toy boxes that are pocket friendly at the same time. They come in a variety of prices ranging from £ 40 to £ 400.
These dog toy boxes are of different shapes and sizes and come in various materials. Most of them are very lightweight and can be easily moved from one place to another. They are the best option to keep all your dog's things like a collar, toys, outfits, leashes, and a lot more. They can be a lot of help to make the interiors of your room litter-free.
Their lovely designs and sober colours mix them naturally with your home interior. Some of them are foldable, and you can keep them anywhere when you are not using them. They are very easy to wash. And the most important is that you can have the name of your beloved pet written on them, which will be liked by your furry friend very much.
This is an article where you will find some of the recent dog toy boxes and personalized dog toy boxes on the market. They come in various sizes, colours and styles and have been chosen by a large number of users on Amazon. So with further ado, let us dive into some of the most reviewed options: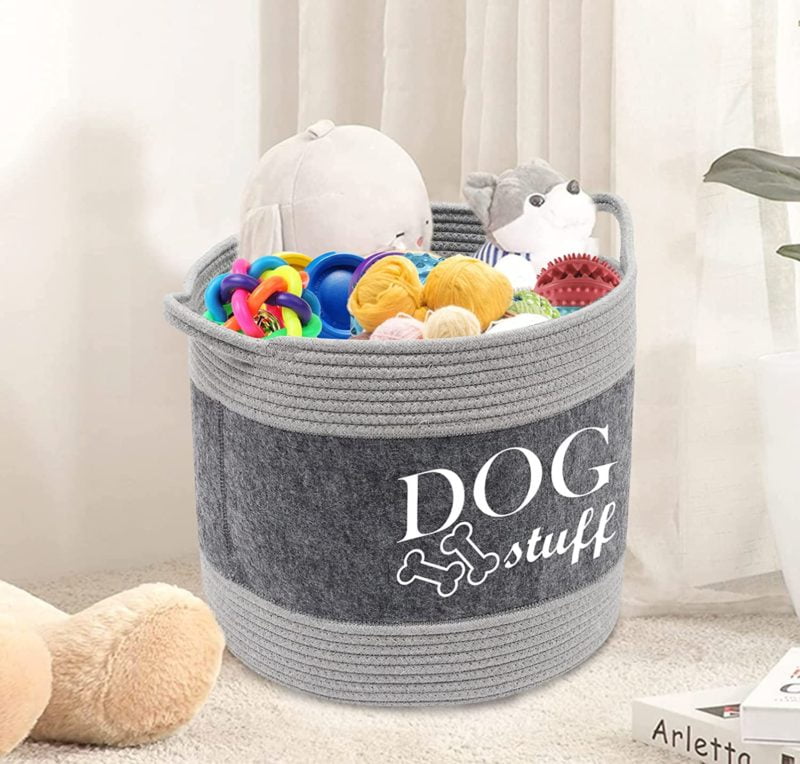 Recommended Budget-Friendly Personalized Dog Toy Boxes For Your Pet
Personalized Dog Toy Box

These personalized dog toy boxes come in beautiful designs which match your home decoration easily. The wood surface has a rustic look, and you can customize the box by selecting your dog name, ranging up to 15 characters. These boxes have 3 cut out paw marks on them, making them more stylish.

Handmade Wooden Toy Box

This is an apple crate style premium quality personalized dog toy box made of wood. These boxes come in 5 different plank styles and designs from which you can choose anyone who will suit your interior home décor. The weathered grey look is a feast to the eyes, and it is a very good option to keep the toys of your pet organized.

Handmade Furniture Dog Toy Box

These dog toy boxes UK are very stylish compared to the others. They are made of wood, and you can customize them to put your pup's name on them. Its sober look makes it a perfect addition to your home interior. They are perfect for holding things like collars, toys, outfits and more.

Morezi Felt Pet Toy Box

These dog toy boxes UK are spacious with a size of 38cm Lx25 cm Wx18cm H. These puppy toy storages are eco-friendly, and the felt component and lightweight along with wood handles make them easy to move. They are functional and stylish and very easy to clean.

Cotton Dog Toy Box with Handle

These dog toy boxes are perfect for holding a lot of your dog's belongings like outfits, grooming supplies, treats, leashes, and so on, and they come in a quite large size (38 cm DIA x 38 cm H). These are very durable, chew-resistant and eco-friendly since they are made up of cotton ropes. It is hand washable and effortless to wash.

Geyecete Dog Toy Basket

These dog toy boxes made by Geyecete are made of full chemical fibre and come with handles. Their dimension of 39 cm Lx 28 cm W x 22cm H makes them suitable to fit on either any of your shelves or even on a changing table. The handles make them easier to be carried from one place to another.

Pet Artist Collapsible Dog Toy Basket

These are personalized dog toy boxes made by Pet Artist that comes in a wide range of designs to fit anywhere in your room, and many colour variants to match naturally with your room's interior. Its main feature is that it is collapsible and can be stored anywhere when not in use. Though it is mainly a dog basket, it can also be used for other purposes. It is suitable even for those dogs that have a chewing habit.

Pethiy Canvas Dog toy Basket

Pethiy brings us this dog toy box in some attractive and vibrant colours. They are quite large to hold in all of your dog's things like collars, leashes, etc., making your room litter-free. They are embroidered and possess quite exciting designs, and the printed texture of these baskets will make them fit right into your rooms.

Xbopetda Fiber Soft Dog Basket

This dog toy box comes with a handle and is made up of felt material that is fibre soft in nature. It is so designed that it will seamlessly fit into any room or surroundings of your house. It can be easily cleaned with a damp cloth. This is a large box that can hold a large number of your dog's toys in it and has a very stylish appearance. It is durable.

Beirui Dog Toy Box

Beirui brings us a personalized dog toy box which comes with an option to customize it by writing the name of your four-legged friend or any other name that will make your puppy happy. There are also a couple of paw marks to add to the look factor of the box. It is made of extremely durable linen fabric, which will last longer than other materials. Though it is quite large (50 x 30 x 25 cm), it is collapsible and can be stored anywhere when not being used.

Cream Canvas Dog Toy Box

This dog toy box UK is made by For The Love of Leisure. It is generally cream or white, but a grey variant is also available. It is made up of high-quality canvas material. All your pup's things can be stored here to make your rooms free of litter. It has a neutral colour, and its look is very stylish.

DhesterPersonalised Dog Toy Box

This personalized dog toy box can be customized with the name of your dog on it. It is made up of linen fabric and cotton, and a metal bracket is there to hold on to the original shape. The production is high quality, ensuring that the text does not get erased or fall in mid-use. It can be folded when it is not being used.

Canvas toy box Morezi

It is a personalized dog toy box made up of canvas and grey. It is quite large (38cm x 26.5cm x 25cm) and helps you keep your rooms clutter-free and clean. It is very stylish and made up of burlap material along with a pair of handles. It comes with a fastened lid to cover your pet's belongings or move them to another place.
In this article, you will find 14 of the most used dog toy boxes recommended by a wide range of customers of Amazon in UK. Though here you can find almost all types of products available in the market, there are also several other brands that you can try for your puppy. Happy Shopping!