Every one of us likes to have a walk with our friend or furry babies. They are very fond of us. They want to accompany us everywhere we go. We also love to take them with us for a ride on our bicycles. There comes the importance of dog bike seats. The dog bike seat is comfortable transportation for our cute puppies to the parks and roads. They can enjoy nature riding in a dog bike seat. You will find it very comfortable and easy to carry your dogs. Our children and our furry babies love each other. They always want to play and go out together for fun. Bring a seat for their bicycle, so they carry their favourite pooches to enjoy together at parks, gardens and beaches.
So for you cute little puppies to ride a bicycle with you like your kids, we refer to the suggested dog bike seats for your dog. They are very pocket friendly and easy to install.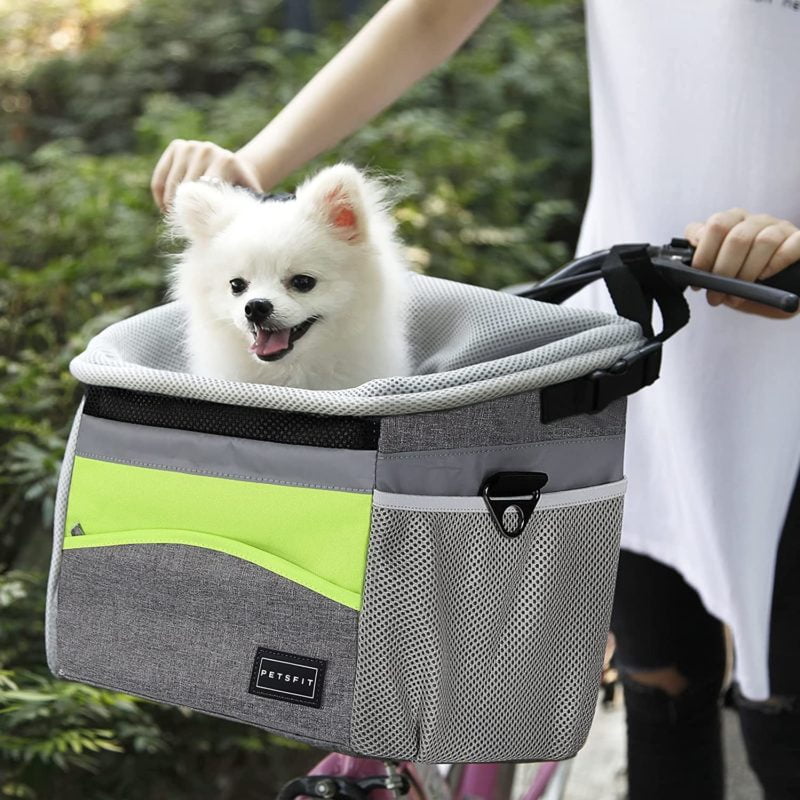 Check Amazing Budget-Friendly Dog Bike Seats For Your Pet
Trixie 13113 Front-Box For Bicycles, 41 x 26 x 26 cm

The dog carrier sea is made of hard nylon and polyester. This is very much stable and can behold on the handlebars. It is very easy to install on your bikes. There is a short leash that prevents your pet to jump out from the bicycle.

Lixada Bicycle Basket, Foldable Bike Front

It is made out of premium quality fabric. It is very durable and sturdy. This dog bike seat is easily removable and foldable. The material is waterproof and easy to clean. It has multiple pockets that you can carry important things for your babies.

Ferplast Small Dog Bicycle Carrier

This is and small dog transport carrier. It is made of lightweight durable plastic. It has a safety belt for dogs' collars and a front netthat prevents them from jumping. It consists of a supporting cushion surface for the dog's paws. The basket can carry up to 7 kg of weight.

PaylesswithSS Rear Mounted Bicycle Wicker Basket for Pets

The materials used to make this dog bike seat is leather, metal, plastic, suede. This basket can carry up to 12 kg. The bicycle basket has a wire mesh cover that is the protection for your doggies. This needs to attach to the bike's rear carrier. It has a soft cushion bed for comfort.

TRAVELIN K9 Pet-Pilot MAX Dog Bicycle Basket Carrier

The dog bike seat is made of polyester on steel frames. This can carry weight without swaying. It allows cooling airflow from the front mesh air vent. It has a furry cushion bed that allows your doggie to sit comfortably. It is very easy to install on your handlebars.

BARKBAY Dog Bike Basket Carrier

This dog bike seat is made from waterproof environment-friendly polyester fabric. It has a safety inner leash and a soft padded bottom panel. The frame has four-sided reflective safety strips for safety at night. It can carry 4.15 pounds of weight.

Pet Carrier Bicycle Basket Bag Pet Carrier

This dog carrier seat is made from Environmental Protection polyester fabric. The basket has a safety inner leash, soft bed panel, and adjustable opening. It has a cooling air circulatory vent. The bag is waterproof and durable. The double shoulder strap allows to carry puppies safely when not ona bicycle.

Pets Fit Dog Bike

It is a four-sided leash that you can tighten to their collar for safety. This dog bike seat has an adjustable elastic band opening through which your pet can keep their head out to get proper ventilation and enjoy the scenery. It has a comfortable removal cushion that provides good paw support. The bag can carry till 6 kg of weight.

ANZOME Bike Basket

This handlebar basket is made from oxford clothes. They are durable and waterproof. It is easily removable and foldable. The basket is very lightweight and easy to clean. It is a multipurpose bag with a safety leash. You can use them as a dog bike seat, a hand carrier for puppies, and a side bag. It has two safety strip that is visible even in dark.

MORO Pet Bicycle Front-box Basket Bike Case Seat

It is a dog carrier basket for bikes made from hard-wearing nylon. It is high quality and sturdy. It is very stable and multipurpose. The integrated short leash prevents pets from jumping. It is a padded panel in the bottom and sides.

pecute Pet Carrier Bag Multifunctional-Dog Bicycle Basket Bag

This is a sturdy and durable dog bike carrier made from oxford clothes. It has a front net vent that provides good ventilation of air. On bothsides, the bottom panel is made from a soft padded base. The above opening is elasticated and your dog can take out their head from there. This can be used as a shoulder bag. The inner leash provides safety to pets.

K&H Pet Products Travel Bike Basket for Pets

This dog bike seat carrier is made from high-quality polyester material. It has a zipper pocket and a mesh pocket. It has a quick install system and safety leash systems for pets. It is very lightweight and removable. It is machine proof and very easy to clean.

Trixie 13111 Bicycle Basket for Narrow Bike Racks

The dog bicycle carrier frame is made of ethylene-vinyl acetate and metal. This material is sturdy safe and durable. There is an upper net that offers protection and ventilation. The short integrated leash prevents pets from jumping out. It can carry 6 kg of weight.

COFIT Collapsible Bike Basket

Chasing tai dog bike seat is made of 600 D Oxford material. The frame is of aluminium. It is wider and more comfortable. It is water-resistant removable, and foldable. The basket has a rain cover. It has an adjustable leash for the puppy's safety. The basket can carry a 5kg weight pet.

Lixada Bicycle Front Basket Detachable Bike Handlebar

This is a multifunctional bicycle basket made with oxford polyester materialaluminum frame. The basket can carry a 10 kg pet. It is collapsible and portable. The material is strong ad durable. This can be used as a hand pet carrier too.
Summary
This article contains 16 good-quality dog bike seats and carriers. They are pocket friendly and easy to install. They are very easily available online. So go and set one in your bike to give your dog an extraordinary bike ride.