Are you worried about what hairdryer would be ideal for your dogs? Let us take you through a mind-blowing list of hairdryers in pour article. You can assume that hairdryers are for human use only, but you would be at fault. A dog blow dryer is a precious tool you can keep in your dog grooming arsenal to groom your dog. A dog hairdryer can be a potent tool if your dog has come back from an adventure outdoors and has taken a bath.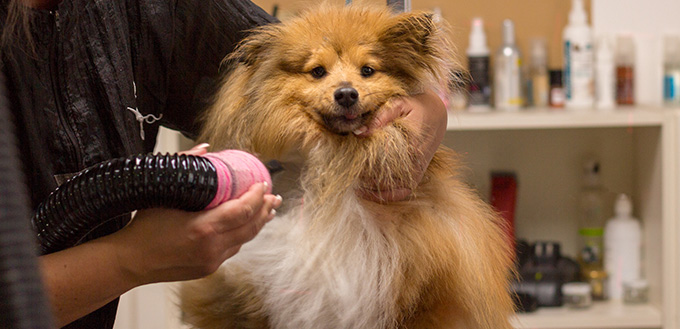 Even though you can use towels on your dog, you need to rely on a dog blaster dryer sometimes to remove the moisture and dirt stuck inside the undercoat of your dog after an excursion.
Maybe you are sceptical and plan to use a human dryer on your dog to meet these demands. A dog dryer is different from a human dryer in many ways, as dog furs are much more intricate than regular human hairs.
14 Amazing Pocket-Friendly Dog Hair Dryer
If you are wondering about choosing a dog hairdryer for your dog or are new to the hair drying scenario for dogs, we have made a list of some dazzling hair dryers for your furry baby which you can choose from –
1.
DAWOO Dog Blower Dryer
This dog blow dryer from DAWOO features twin side motors and an elongated body which takes less than 15 minutes for it to dry bigger dogs. This dog dryer also has a controlled sound emission of 70-90db and also you can stretch the length of the hose to suit your needs along with an interchangeable nozzle.
2.
Uahpet Dog Hair Dryer
This dog hairdryer holds a high efficacy which is 20% higher than hair dryers of the same range. This dog blow dryer features a controlled sound emission, and the hose of this hairdryer can be adjusted as per your needs which makes it easy for you to reach hard-to-reach parts of your dog's body.
3.
KUUBIA Dog Hair Dryer
This Dog blaster dryer from KUUBIA is a dual blend of a hairdryer and brush which can be ideal for styling and treating your dog's furs along with drying. This dog dryer features a dual heat setting mode of 104 and 140 Fahrenheit respectively for speeding up the drying process which can be used for the removal of dead skin, dirt, and tangled furs.
4.
ZanGe Dog Hair Dryer
One of the most popular dog dryers in the world, the ZanGe Dog hairdryer works at a high power of 2800 W which is essential in removing clogged water stuck on your dog's pores. With an adjustable airflow speed from 25 m/s to 65 m/s and a temperature range of 35-70 Celsius this dog hairdryer is suitable for drying your pet's furs year-round irrespective of the season.
5.
Gravitis Dog Hair Dryer
The Gravitis dog blow dryer is one of the hair dryers in the world, and it comes with 4 different detachable nozzles and a 2.5 m expendable hose for drying the underbellies of your dog. With an adjustable airflow speed and an adjustable temperature speed of 30-55 C, this dog blaster dryer is perfect for a hot blast as well as gentle warming.
6.
My Pet Command Dog Hair Dryer
This dog hairdryer from My Pet Command is a bit costly but it's every bit worth the price. With an expendable hose of 1 metre which can be extended up to a length of 2.4 m, this dog blow dryer also includes a free of cost grooming brush and is perfect for grooming dogs of smaller sizes, like Pomeranians and Shih Tzus.
7.
LUOWAN 2-In-1 Pet Dog Hair Dryer
Another popular dog blaster dryer in the world market, the Luowan 2-in-1 Hair Dryer has a special low noise mode which is sure to suit with your dog. This dog dryer also comes with a brush attachment for your dog after blowing, and a 2m adjustable hose gives you ample space to reach your dog's underbellies.
8.
shernbao dog blow dryer
The shernbao dog dryer has some unique features which include heat insulation materials that make it safe for use even in higher temperatures. This dog blow dryer contains a wind volume control switch with a lot of options along with a normal temperature switch and it takes 10-20 minutes for dry dogs and 15-30 minutes for larger dogs.
9.
Gravitis Dog Dryer with Hose
This dog blow dryer by Gravitis is supplied by a 2800w power and has a relatively low sound level. With an adjustable temperature and speed that is easy to control. This dog dryer has an adjustable hose and a safe and stable motor with 3 noise-eliminating covers built inside it.
10.
dicn Dog Hair Dryer
This dog hairdryer from the stables of dicn has three modes – Switched off/Low Heat(/High Heat which can be great for drying all those excess water staying in the undercoat of your dog's fur. This dog blow dryer comes with 3 nozzles and one extendable hose of 8.2 feet along with an extra filter which makes it suitable for dogs with all kinds of furs.
11.
dicn high-velocity dog blow dryer
The second one from dicn to be featured in this list, this dog blaster dryer also has 3 nozzle types – highest wind blow, smooth wind blow, and heat-trapping. With two power modes of high and low, it has an extendable hose length of 8.3 feet, and takes no more than 30 mins to clean dogs of all fur sizes.
12.
AEOLUS Blaster Dog dryer
This dog blaster dryer by renowned world hairdryer brand AEOLUS is suitable for blasting water from dogs with a dense coating. Featuring a drying mechanism without heat, this dog hairdryer involves a two-stage filtration process, and is powered by a 1600W Japanese carbon brush motor along with a 2 m hose for underbelly clearance.
13.
ZanGe Dog Blaster Dryer
The second hairdryer on this list by Zange, this dog hairdryer comes with a 2.5 m extension hose with a soft and stable motor which ensures safety to your dog and is especially suitable to dogs of smaller sizes. This dog dryer contains a high-quality tube of 0.8m which can be extended up to 2.5 m with controls for wind and heat capacity.
14.
HQ Dog Blow Dryer
This dog blaster dryer by HQ has an amazingly powerful heating effect which can be used for 2x faster drying of your dog's coat. Involving a silencing cover that reduces noise by 10%, this dog hairdryer also has an extra filter packed alongside and is powered by 1040 grams of blow force with 4 different nozzles provided alongside.
Conclusion
A dog blow dryer comes in handy in these times of pandemic, when dog grooming parlours remain closed on an indefinite basis and your dog is not getting his share of grooming. Choose one from this list of dazzling hairdryers so that you always keep your furry baby happy and clean.