Vario4 Dog Lead – Four Functions in One!
The ultimate in versatility with multiple applications. The Vario4 Dog Lead has many uses and is great for all walkers. Also, the Vario4 Dog Lead comes in many different colours. Head on over to Amazon and check out the variety and reviews for the Vario4 Dog Lead from EzyDog
The Vario4 Dog Lead is the perfect lead for any activity, whether it be days out, hiking or a training leash that you require, the Vario4 Dog Lead does it all.
The Lead for every application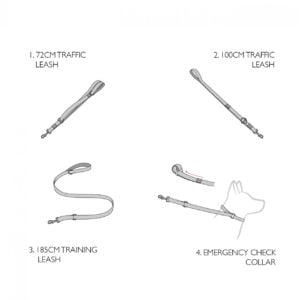 While walking you can go from 185cm to 100cm by simply pulling through the D-ring at the collar end. Bring the handle back one more time and it's now at 72cm. You can then go back to 185cm in length by just pulling on the D-ring. It's that easy!
It also functions as a temporary check collar and can be used as a tether if needed.
Super Soft!
It really is a pleasure to hold, durable and amazingly strong – It is finished off with reflective trim for nighttime safety.
Is there a version for Smaller Dogs?

This Vario 4 LITE lead has been designed specifically for dogs under 20kg, with 12mm webbing and hardware that is smaller but still up to the same high quality that you expect from EzyDog.
Features:
Multiple functions in a single lead
Made from our Proprietary Soft Touch™ Webbing (12mm width for the smaller dogs)
Stainless steel D-Ring that won't rust!
Also, Visit;
4 FUNCTIONS IN ONE LEAD!
Save
Save