Whelping boxes for dogs are designed to protect delicate puppies from harm's way. They are more than capable of shielding puppies from infections, colds, and crushing by the mother as a side effect of hormonal imbalance and mood swings. A whelping box for dogs can be made of items such as premium-quality Plastic, plywood, and even cardboard boxes.
While one of the things you can need for the safe birth and raising of the pups is a dog whelping box, you'll need a durable box that's simple to wash and draft-free.
You must ensure you offer the puppies a space large enough to contain them but comfy enough to eat, play, and sleep in. The puppies may keep within the box for the first five weeks of their lives.
A great dog whelping box is designed to protect the litter from cold or dangerous obstacles if they can roam free. On the mother's side, most whelping boxes come with a rail to prevent the puppies from being crushed by the mother at night.
Dogs use a whelping pen to look after a litter of puppies. The box simulates a cave, just like dogs used before domestication. The boxes, typically Wood, are designed with three high sides and one shorter side with a front entrance low enough to allow the female to enter and exit but still left high sufficient to keep the puppies within. It's meant to have a pig rail around the inside perimeter of the box. This rail is typically 2 or 3 inches wide and 2-6 inches tall.
The rail's peak depends on the puppies' dimensions at birth. A toy breed may use a fence two inches off the ground, and a large breed can need up to 6 inches. The pig rail stops the pups from being suffocated by the mother once she lies down. It allows the puppy to crawl into an area if the mother lays on them.
4 Handpicked Whelping Box for Dogs
Recommended Plastic Whelping Box For Dogs
PetNaps plastic whelping box for Dogs is a fantastic one-piece box that is simple to use and clean. Perfect for your pregnant doggie and their litter when born.
This dog whelping pen is fantastic and easy to lay blankets down and clean up.
It comes in 3 sizes – 24×24 inches, 30×30 inches, and 36×36 inches, and the opening is slightly different on each.
Openings:
24×24 box = 6 inches opening
30×30 box = 6.5 inches opening
36×36 box = 7 inches opening
All boxes are only available in White and stand 12 inches tall. Depending on your dog's size depends on which package to get. To give you an idea, the 30x30inch box comfortably housed a cockapoo mum and seven puppies.
Wiping is easy. Wet cloth or wet wipe and then dry with some kitchen roll/ towel. As the Plastic is simple to clean, a regular clean should be carried out to ensure your pups and mum remain free from any nasty germs or bacteria.
---
MagnaBox Next Generation Professional Dog Whelping Box is made of FDA-approved HDPE plastic, making it the perfect solution to keep moms and babies contained. The grey, lightly textured surface resists dirt and damage and is chew-proof. There are no cracks or crevices to harbour bacteria or contamination.
The box needs no tools to assemble with slip-fit connections and is easily cleaned. The unique design has no bottom to be set on a whelping pad or surface of your choice. The entrance door features unique 1/3 and 2/3 height sliding doors, which allow you to adjust the height of the opening depending on the size of the puppies.
The downside to this box is the wide price range. This becomes the most expensive dog whelping pen if you have a large dog.
---
Some Incredible Custom-Made Wooden Whelping Box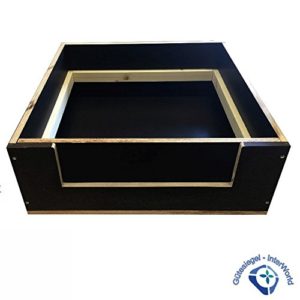 This beautiful hardwood whelping box for Dogs is ideal for mothers and puppies. The bottom plate and the outer walls are solid and stable. At the front, you can pull out the opening with a handle.
The whelping box is made entirely of a screen printing plate and is completely waterproof. The floor is made of a solid screen printing plate of 8.39-inch thickness.
The whelping box comes in parts and easily fits together in just a few minutes. Should the whelping box no longer be required, you can easily take it apart and store it for another time. The box is different from others due to the waterproof printing plate, but it looks fantastic for your dog and litter.
---
Disposable Cardboard Dog Whelping Box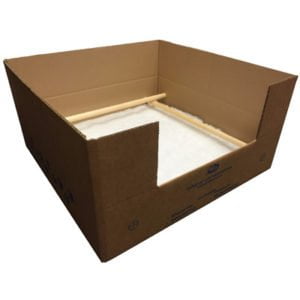 This whelping box is low-cost and disposable to avoid cross-contamination between litters. They come in sizes from 24″ square to 48″ square. They are made from corrugated Double-walled cardboard.
Each box consists of 3 rails and a waterproof liner.
It would be most suitable to consider buying additional bedding for your whelping box, but these disposable whelping boxes are precisely that disposable. However, they can become quite expensive if you have to buy several.
The multiple sizes they come in mean that the disposable dog whelping pen caters to all sizes of dogs and litter and ensures the same type of support as the more expensive whelping boxes. The biggest downside is they don't last as long.
---
What Style Of Dog Whelping Pen Do I Need?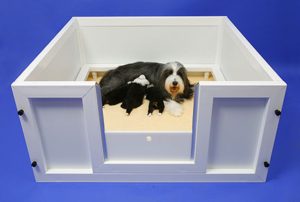 The style size of the whelping box depends on the dog's dimensions. The mother ought to have enough space to change her posture on her side and be able to stretch herself out to the nurse. A large box could permit the pups to crawl out of the group and become cold.
A too-little box could cause the female to change posture or tread on a pup due to insufficient space to put her feet and comfortably nurse. Completely different sizes of commercial dog whelping boxes are offered, and the manufacturer may have suggestions on what size you will need.
The box could also be made of durable material, like wood or plastic boards. You should try and avoid cardboard boxes. Cardboard will absorb liquid and become mushy under the female and the puppy's bodies, thus becoming cold and damp. Puppies are sensitive to drafts, so solid sides are also crucial.
A Plastic Boarded dog whelping box won't absorb odours and is exceptionally straightforward to scrub clean. If you intend on covering a plyboard box with contact paper or covering material, I will avoid using a plyboard as a fabric as this will only absorb odours. You may think about fitting feet on the box to raise it off the floor a few inches during a colder climate or whelping in the winter. This may allow heat air to flow beneath the box, keeping the puppies nicely heated and comfortable.
While cardboard disposable whelping boxes are sensible initially, they will become quite expensive. Having to change them each day becomes exhausting and extremely expensive. Buying straightforward, clean dog whelping boxes will help keep your puppies warm and healthy.
Do I Need Any Bedding In The Whelping Pen?

You will need some bedding within the box that you may need to replace daily. Several breeders use cut newspaper, towels, and sheets to line their whelping boxes. The liners should be changed constantly, so have plenty of liners prepared for the pups' arrival. If you use an old bed sheet or a blanket, you may think about using one large enough so the ends will droop over the side of the box.
It would also be great to clamp the ends down so none of the puppies can accidentally get caught below the sheet and away from the mother. Pine or cedar shavings can even be used. However, they are less comfy than fleece and make additional waste.
What's The Perfect Temperature Of a Dog Whelping Box?

The warmth of the puppies is essential. They cannot regulate their body temperatures for the first few days and are prone to cold, chills, and drafts. This does not mean overheating the dog's whelping box.
Some individuals use heat lamps or heating pads, and others keep that one room around 75 degrees for a few days. It should get on low and underneath blankets if you utilize a heating pad.
Please don't place the puppies on the pad, as this could burn their skin. If you. The female must be within the box with the pups for long periods to permit constant nursing.
Heating the box can make the female uncomfortable and discourage her from being with the puppies for the proper length of time. If the mother is panting or appears dehydrated, decrease heat around the dog whelping box or in the room; the mother's heat can offer enough warmth for the pups.
Finally, having a litter of puppies could be a ton of work! A dog whelping box that's the right size, straightforward to scrub, and safe can make caring for newborn pups easier for you and your dog.
Can I Build My Own Dog Whelping Box?
Of course- if you're good at DIY, why not make your own? Whelping Boxes are generally 4ft x 4ft with an overall height of 2 feet (apart from the entrance) to keep puppies from escaping. Mummy Dog should quickly get in and out of the whelping box, especially for toilet time. The door is mostly half the size of the rest of the walls. Pigtail installation should be around half the width of your dog's chest. These ensure that your dog remains comfortable and can lie on her side after giving birth. Keeping level with the spine.
You can use some thick Dowling wood or a thin drain/water pipe to make the pigtail. The pigtail protects your newborn puppies from a significant accident like being crushed against the wall. It should be 4 inches minimum from the base of the dog whelping box when installing. Your mummy dog will not crush the puppies as the pipe will protect them when asleep. Strong piping is necessary as you don't want it to bend or snap and cause any damage to puppies.
Cardboard / Plastic / Wood – Which is Perfect For Your Pet?
| | | |
| --- | --- | --- |
| Material | Advantages | Disadvantages |
| Cardboard | Easy to Dispose of and very cheap | We, Will, need more than one throughout the time a pup is in as all liquid, pee, and poop are absorbed. |
| Plastic | Great for Hygiene and Keeping Clean | It can be more expensive |
| Wood | Larger Breed Dogs require these | Must be waterproofed and fit where you need them as they can be cumbersome |
Do It Yourself Disposable Dog Whelping Box – Building Guide
Whether you are building a Cardboard, Plastic, or a wooden dog whelping box, you can follow the same method; they should all look similar. I have always loved disposable whelping containers, albeit I have needed several. They protect your puppies more. WHY? Well,
Protect from cross-contamination
Quick and Easy 4-step guide to building a Dog Whelping Box
Part 1: Measure and cut all your sides. Your base should be approx. 4ft x 4ft. The entrance should be low enough for mum to get out.
Part 2: If you use Wood, nail all the sides together… A bit of wood glue wouldn't hurt either. For Plastic, get some solid glue/ adhesive.
Part 3: Nail or glue the base to the sides
Part 4: Attaching the rail should be done with glue, whether Wood or Plastic. Simple enough. 4 inches up from the base, and ensure the Dowling / pipe length is long enough to be a tight fit.
Once your puppies are here, one of the perfect things to try is to allow the mother some breathing space. Sometimes, that little chill-out area away from the little ones is all any mother needs. Having a dog playpen will help stop the little ones from getting in and the mother from getting out.
ALWAYS REMEMBER: New Mothers should be with their children as much as possible, but the children's stress 24/7 can make the mothers ratty and start to neglect the puppies.
Closing Thoughts
Owning a dog-whelping box is the right thing to do if you breed your dog. These boxes are the first step to ensuring the survival of the mum and the pups. Ensuring you have the right equipment for a dog whelping pen is also a significant step towards delivering and maintaining your pet's well-being.
Save
Save
Save
Save
Save
Save
Save
Save
Save
Save
Save
Save
Save
Save