Do you feel irritated when you watch your dog bounce around the car, constantly whining?
It might be fun to see a dog sticking its head out of a car window wagging its tail, but it's dangerous. Safety booster dog car seats are ideal for dogs as they reduce the chances of accidents if the driver slams the brake a bit too hard. The seat belts provided by the booster seats also prevent the dogs from jumping into their owner's lap while driving.
Need a car seat that is dependable for your dog? We suggest you 5 reliable options to keep your pet safe on your next journey.
Transport Your Dog Safely and Comfortably in a Dog Car Seat
At times, it becomes very stressful when Transporting dogs while owning them!
Dogs are not made for cars, and they can quickly become uncomfortable or restless when the vehicle starts to move.
One solution to this problem is the dog car seat.
A dog car seat is safe, convenient and provides an excellent way to secure your dog for short and long car journeys.
Today, we'll be looking at the best dog car seats UK or best small dog booster seats to give your dog the view and security they deserve.
What Exactly is a Car Dog Seat?
A dog car seat is typically a basket or bed that can be plugged into the seatbelts of a car or fasten itself around the back of the seat.
It allows your dog to sit inside the seat whilst remaining safely belted in. The dog can then be harnessed and secured to the dog car seat.
This means the seat itself is braced using its seatbelts, and the dog is braced to the car seat from its harness.
According to new UK law, if you drive with an unsecured pet, it can cost you a £5,000 penalty for 'careless driving', so you must keep your dog buckled up.
If you don't use a dog car seat, a loose dog essentially becomes a projectile in the event of even a small crash.
Also, dogs running wild in the car can damage your seats and belongings and make you unaware of what is going on in front of you on the road. Owning a dog car seat cover or hammock can help protect your interior and help you personalize your car style. For some smaller dogs owning the best small dog booster seat will support your dog's comfort and safety, plus the booster seat will allow your dog to see out of the window.
Top 5 Best Dog Car Seats UK For Small Dogs
Now let's take a quick look at the best dog car seat for small dogs that have been tested and available in the market.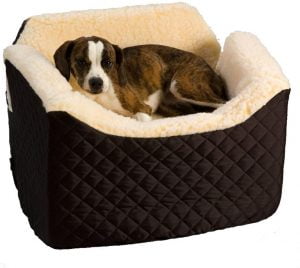 Our top pick in 'Best Small Dog Booster Seat' category is the Snoozer Lookout I.
It is designed to be highly comfortable for your dog on any car journey due to its extra-thick padding. This amazing car seat supports dogs that weigh up to 25lbs and is great for well-behaved dogs.
The interior is made with a Sherpa lining along with pretending lamb wool to help keep your dog nice and snug and warm in the winter but comfortable all year round.
The Snoozer comes in many different colours and small/medium sizes. With the different colours and sizes come different materials, so it is always best to check the product description before buying.
With the many colours to choose from helping you personalise the car seat to match your car and interior, this seat has many more pros than cons.
Pros
Great for letting dogs see out the window
Extremely Comfortable
Well Made and Great Value for Money
Cons
Longer, Thinner dogs will struggle to fit on this seat.
---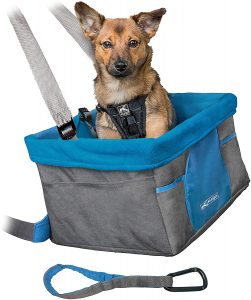 On our list of Best Small Dog Car Booster Seats is the Kurgo Heather. Supporting dogs up to 30lbs in weight, the Kurgo Heather can be installed easily using the car seat belt. This enables you to move the seat wherever you like in the car, even the middle seat. The Heather allows your small dog to sit up and view the world passing by and keeps your dog comfortable. This seat is also waterproof and very sturdy.
There is a limited range of the Kurgo Heather as it is only available in two colours; Orange or Blue. The seat's body is black and simple to wipe and clean when required.
When taking your dog out on a journey, this seat is a great choice as it is so simple to clean should your dog like getting wet and muddy.
Pros
Strong Sturdy Design
It can be used in the front
Installation is Easy
Cons
Bit Small and Cramped for 30lb dog
---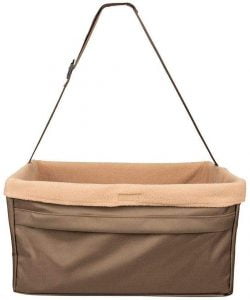 Finally, the Solvit Tagalong Dog Car Booster Seat is a luxury seat that helps keep your dog lifted and protected. Fully lined with a comfortable and easy-clean fleece that will help keep your dog protected, comfortable and warm.
The Solvit Tagalong comes in three sizes, from Large to Jumbo, and can house more than one dog at a time. Keep a constant check on your dog seat as some customers have reported damage in a short period and low use.
Pros
Houses more than one dog
Easy Clean
Lightweight
Cons
Has been said that the Solvit does damage quite easily through wear and tear
---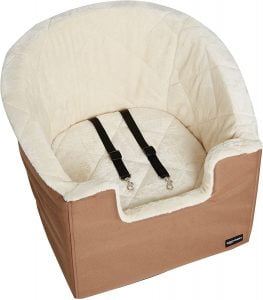 This bucket-shaped booster seat by Amazon Basics is designed specifically for smaller dogs and is perfect for those frightened of the car or prone to car sickness. It is 18.5 x 17.7 x 15.7 inches and weighs 2.6 pounds.
There is an opening at the bottom of the seat to thread the car's seat belt through and secure it to the car. There are two adjustable tether straps for safety, and the exterior is made of durable oxford fabric. The interior is a comfy quilted flannel plush top, removable and washable.
Pros
Bucket – seat style with removable cushion
Soft flannel interior with polyester exterior
Machine washable and dryer safe
Cons
The safety tether is poorly attached
Flimsy foam shell that collapses easily
Low-quality materials rip easily
---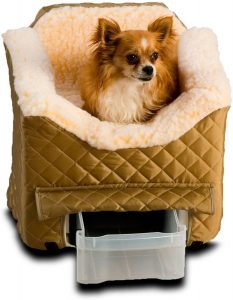 Although much more expensive than other dog seats, the Snoozer Lookout II has extra nifty features that most other car seats don't have. The price does let this car seat down. However, it is a fantastic car seat that comes complete with a small tray so you can feed your dog whilst on the road.
Made from more of the same materials as the Snoozer I, the Snoozer II is just as comfortable, just as safe and just as beautiful.
Available in both small and medium sizes and a whole host of colour schemes to suit you and your car, this seat is a great seat for those long car journeys.
Pros
Multiple Colours to help match your car interior
Extremely Comfortable
Great for Long Car Journeys
Simple to Install
Tray for Food / Treats
Cons
More Expensive than the Snoozer I
Limited Stock Available
---
How to Choose the Best Small Dog Car Seat
Choosing one of the Best Small Dog Booster Seats should involve the same amount of looking as you would for your child. There are several things to look out for to help you find the perfect dog car booster seat.
How to Make Sure Your Dog Car Seat is Safe For Your Dog
Measurements
Simple to Use
Cleanliness
Fitting Guides
When to use
Materials
Measurements: Always check the measurements of the seat and your dog. Ensuring there is enough space for your dog to sit comfortably on short or long journeys.
Simple to Use: Taking the seat out and re-installing should be an easy task and not damage the seat.
Keeping Clean: Taking your dog on a walk will result in dirty dog paws. These are then put on the seat and eventually can start to smell. Being easy to clean is an absolute must.
Fitting: Most dog booster seats require your car to have a headrest to hook the seat onto. Always check fitting instructions for your dog car booster seat and check they fit your car.
Use: If you are a regular long-distance traveller, a more expensive luxury car seat is necessary. If you take smaller trips now and then, a cheaper model will be more suited.
Material: Keep your eye on your dog once they start using a car booster seat, as they can get quite itchy and uncomfortable. Depending on the materials used, your dog will not travel well and cause distress when driving.
Should I Install My Dog Car Seat in the Front or Back?
Dogs, like children, are best to be seated in the back of the car. This will prevent damage if airbags deploy in an accident. Great placement of any dog car booster seat is behind the driver's seat so you can check on your dog in the mirror. The perfect place is in the middle, but most cars don't have a headrest in the middle seat, which can be difficult.
Dogs can be placed in the front passenger seat; however, it is not advised. If you choose to put your dog in the front of the car, make sure the seat is pushed right back. This helps prevent the airbag from hitting your dog in the face if the airbags go off and protect them.
Final Words
A dog car seat is highly recommended nowadays for travel safety. It is an excellent add on to your dog accessory arsenal and will allow your dog to travel with you in the car in comfort and safety.
These dog car seats are some of the best available, and each offers an effective way to secure your dog in comfort. Whether you need a smaller car seat for a tiny dog or puppy or a larger one for your medium dog, there's something here for you!
If we had to choose one model over all others, it would be the PetSafe Happy Ride Booster Seat (Deluxe), but it depends on the size of your dog.
Hopefully, we have made it easier for you to find a booster seat. We looked for the best models for your dog's safety and comfort in mind. If you're still unsure, a local pet store can help guide you in your decision.
If you've got any questions about anything we've covered today, please let us know down in the comments section. We'll be sure to get back to you promptly!
Also Check: