We often look forward to the well-being of our dogs. In today's time, a dog stroller can be a great tool to help dogs and pups while they are on their daily walk. It is specially made for dogs who are sick, deformed or old. It is well equipped and made for dogs to carry. If you want to know more about dog strollers, read the article below.
The biggest reason dog owners look for the dog strollers for their pets is mainly down to the dog's age. More senior dogs may need more support when out for a walk / getting around. Your dog may have had surgery so cannot walk, but the fresh outdoors will still help alleviate depression in your dog. And ultimately, when out for a walk, you are not lonely, and you can take your dog with you, fitting into the dog stroller and walking around like you would with a child.
Some owners can feel embarrassed about having a dog stroller for their dog. Let me tell you, DON'T BE! Be Proud. Your dog is your friend, and will appreciate that you have taken them with you, even in a dog stroller. Some dogs get tired very easily, and a dog stroller will be the answer, ensuring you have a long walk without worrying your dog will stop walking with you.
The dog buggies listed below are the because they are weatherproof and waterproof, which helps if you are on a long walk and the heavens open, your dog will stay dry and safe.
[TOC]
6 Superb Dog Strollers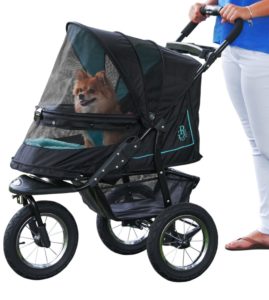 Pros: Our number one choice in the dog strollers! This dog stroller may be more expensive than the others but is the by a long way. If considering purchasing any dog stroller, do not consider anything higher than the maximum of £500.
Why is this the dog stroller? Well, it has air in the tyres for a start, while most dog buggies have plastic. Your dog will enjoy the smoothest ride across any terrain with air tyres. The no-zip system is also an amazing feature and saves a lot of time when trying to get your dog in and out.
The quick, hassle-free, no-zip system is simple and easy to use. And Finally, the quality of the dog stroller is second to none. High-quality plastic, metal and an amazing Panoramic Window, ensuring your dog is the most comfortable and can see the amazing sights whilst out in the dog stroller.
Cons: One of the biggest frustrations is the delivery of the product. Unfortunately, this is not the manufacturer's fault, and items can be delivered slightly damaged. As with any product purchased from Amazon, return it straight away, and you will receive a replacement and, more often than not, issue free.
---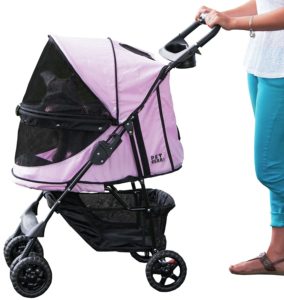 Pros: This dog stroller is one that you will not regret purchasing. It's been the selling dog stroller and doesn't look like slowing down.
This product is built to last, and there are suggestions from people who have owned this product for 2-4 years and still using it to this day. It is built with high-quality materials with a cute, stylish design.
Although we have rated this second on the list of dog strollers, this is the number one for affordable dog buggies. With similar features such as a locking latch and no zip, at Half the Price, why would you choose anything else?
This dog stroller feels great, looks amazing and rides very smoothly. And finally, I cannot leave this without talking about the sturdy design this product has PLUS the array of different colours available.
Cons: This great product has only a couple of flaws that we could find. For some reason, the smell of the new product doesn't seem to disappear. This can last for a couple of weeks and can become overbearing if stored in a small space. Regular use in different weather, and it should quickly disappear.
The second issue is that the nylon is a little on the thin side. The material seems to wrinkle very easily and will not disappear, whereas other dog strollers have much thicker material and are wrinkle-free. Also, being one of the dog buggies with a sturdy design, the wheels aren't great. Unlike the much more expensive product, which has air tyres, this dog stroller has cheap plastic wheels and can sometimes feel made from foam.
---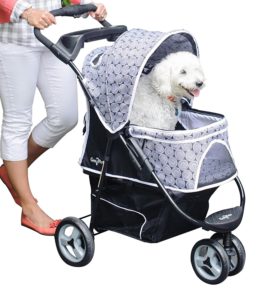 Many dog strollers with high quality like this will sell easily for £300 plus. There isn't a requirement to pay that much for a dog stroller unless you want to. This stroller is very simple to put together and when choosing whether to buy or not, check the dog size. This will be as accurate as you need to ensure you choose the right size dog stroller for your pooch.
Cons: Having read through the suggestions on Amazon, it is clear that many buyers of this dog stroller are not keen on the cheap material used to make the zip. Once the zip breaks, it is irreplaceable, making it useless and just another stroller to push around.
---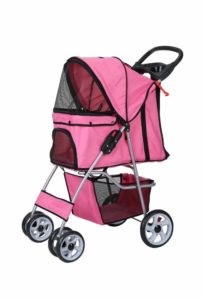 Pros: WOW! The price of this product makes this a great purchase for any dog owner. If you are looking for a quick purchase at a low, extremely affordable price, then this dog stroller is for you. If you own two small dogs, they should easily fit inside this stroller. This dog stroller also features cup holders and a fantastically smooth ride for you and your dog(s). It is also available in a choice of 4 colours, Pink, Blue, Green and Red.
Cons: The price is already really low, but with no explanation for why the blue and pink models are cheaper than the red or green. PLUS, this dog stroller may not be as sturdy as the above featured dog strollers. However, it doesn't feel flimsy or cheap. For such a low price, you won't be disappointed.
---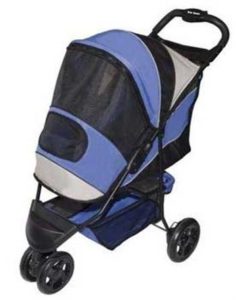 Pros: Continuing the theme of dog strollers, this dog pushchair is slightly more expensive than the previous suggestions. However, it again has some unique features. One of these is that it is very simple and quick to put down. It is also very simple to steer.
The carrier underneath is larger than other dog buggies and can store plenty of useful items you may need when out and about. The main use of this stroller is for medium-sized dogs and can easily be closed with a zip.
Cons: This dog stroller works well on grass but will easily start to annoy and irritate your dog if you do this for a long period. When you do purchase this dog stroller, check it thoroughly. Like anything you purchase, the item can be damaged accidentally. Some buyers have reported that the front wheel is damaged on arrival. This is sometimes the case with many three-wheel strollers/buggies, as the single wheel isn't strong enough to survive any heavy bangs.
---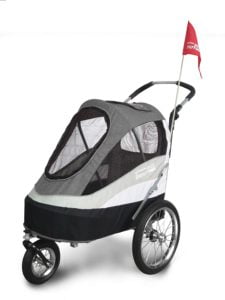 Pros: Like the #1 choice, the Pet Gear Pet Stroller, this three-wheel, chic design is a great choice for your pet. With a built-in suspension for additional comfort and amazing wheels for a smooth ride, this dog stroller has it all. The wheels are a whopping 8 inches in diameter and the rear wheels have a locking function.
The dog stroller also folds neatly down to fit in the boot of any car and includes a quick-release system on the wheels to provide an extra few inches to help store in the smallest of places, within reason.
It is lightweight and simple to assemble, which allows anyone to quickly put together and take apart
Cons: As great as the product is, size is also an issue. Labradors and dogs of that size are not capable of fitting in the dog stroller with much room, causing discomfort in your dog. Anything smaller than a labrador and you will be fine, springer spaniels tend to have the most comfort and room. The price is again quite high in comparison to the cheaper dog strollers but you will not be disappointed.
---
What Should I Consider Before Buying Dog Strollers?
Always check the instructions, descriptions and size suggestions where available. You need to make sure if you're going to spend the money, your dog will fit. If you want to buy the dog stroller for your dog then making sure the dog fits comfortably is a must. A dog stroller that is too large will make your dog slide about and become irritated. A dog stroller that is too small will be cramped and uncomfortable for your dog. Buying the dog stroller is like buying a Dog Bed, always check the size.
Can my dog be supported in the dog stroller? If the answer is, "I don't know" then check. Although the dog strollers have great support and a smooth ride, if your dog is too heavy, your dog will bounce around, feel every bump and you will struggle to push. This will cause injuries to yourself and to your dog. Posture is great for you and your dog and any strain on pushing or bouncing around inside the dog stroller and you will have issues in the long term.
Why are you going to be using the dog stroller? If you haven't already decided, do so before buying. The last thing you need to do is purchase the dog stroller available and then never use it. If you feel you only need for short walks around the block then consider one of the cheaper options. This will do the trick and will save your bank balance.
Final Words
There are literally hundreds of dog strollers on the market and you can be very easily spoilt for choice. There are so many things to consider when buying a dog stroller including what do you need the dog stroller for. If you want the dog stroller to take your pet to the vets when required or a quick stroll around the park, then go for a cheaper option. But if you have an active lifestyle and like hiking, running, jogging, biking or any outdoor activities, and your dog is a big part of all of that, then aim for the higher-priced dog buggies.
When researching which dog stroller you think is good, remembering that our suggestions are only our opinions, consider where you will use the stroller most. If you are lucky enough to live somewhere nice and warm with a great summer then you will definitely require a great sun guard on your dog stroller.
Protecting your dog from the baking hot sun whilst still ensuring your dog is safe, can breathe through a great airflow passage into the dog stroller is always an absolute must. Cold, wet and windy countries, just like the world, then choose a dog stroller with weatherproof/waterproof features. Most of the dog strollers suggested have these but always check before buying.
When first looking at dog strollers, you may think, "What on earth is that?" but once you purchased one and reap the benefits, you will quickly be the envy of all your friends. If you travel a lot with your dog then a dog stroller is a must, just like a great lead or dog crate.
Save
Save
Save
Save
Save
Save