Dog lovers love to take out their dogs everywhere they go. If you put the Hi-Vis dog coats on your dogs you can point them out easily from distance. It is important to put on them a visibility coat when they are not leashed outside. It lowers the risk of losing access to your dogs in public. Read this article to know more about Hi-Vis waterproof dog coats.
Keeping your dog visible on those nights and long walks is ultimately the most important thing you can do. If you walk your dog on the streets, through a park or on a field, your dog's visibility is essential. This is not just for yourself but for road users and other pedestrians/dog walkers. All dogs should own hi-vis waterproof dog coats as their accessories. This will always ensure that you are safe and easily visible to everyone around.
Hi-Vis Waterproof Dog Coats – Buyers Guide
Things to Consider When Purchasing
Size of your Dog
You should always ensure the comfort of your dog. Any jacket, vest or harness should fit your dog comfortably without irritation. Choosing the right hi-vis coat or jacket is really up to you. There are so many to choose from.
Check out this YouTube video:
The style of the jacket can also be very important to some dog owners. Personalised Hi Vis coats are also great to own. Adding anything to your vest design makes this personal to yourself and your dog. These jackets are a nice little touch from a simple logo to your dog's name.
Price
Like any product you purchase, the more you pay the better the quality, "you get what you pay for" and with hi vis waterproof dog coats, there is no exception. Amazon has a variety of coats available and the dearer you go the better the quality. The cheapest ones are poorly made and I would be surprised if they were even waterproof. Made with very thin material and a flimsy strap, they blow about in the wind and lift over the dog head at every opportunity.
If you cannot afford the expensive ones, then aim for somewhere in the middle as these have good quality material and well-made coats. The buyer's guide table above gives you a guide on prices to help you choose.
5 Amazing Hi-Vis Waterproof Dog Coats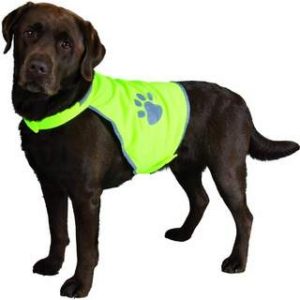 This safety vest is the ideal solution to your worries about pet dogs in the dark, more safe for people and animals. The vest has reflective piping and paw prints and is neon yellow, made from durable polyester. The vest is extra easy and quick to put on due to Velcro and is fully adjustable at the stomach and neck. Machine washable at 30 degrees.
Comes available for all size dogs and with a simple Velcro strap, is very easy to fit any dog.
---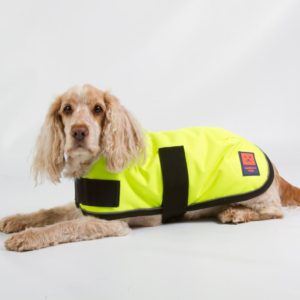 The Shower dog coat is a perfect quality, comfy coat designed to keep your dog dry, warm, and clean. made up of strong polyester material that is waterproof, windproof, breathable, and washable. The coat is lined with warm fleece and has adjustable front and body straps and reflective piping. The shower is intended to suit most dog breeds excluding Greyhounds, Dachshunds, and Whippets. Special versions are available on the market for these breeds. Please check alternate listings for these breeds.
Before taking any measurements please ensure your dog is standing still, looking forward and on all fours. To order the right size measure from the rear of your dog from the withers to the start of the tail. Please then refer to the size chart and breed guidelines that you may find on the Amazon listing. Shower Dog Coats are generously sized so if your measurement falls between sizes we recommend you order the smaller size.
Sizes available are from 8inches all the way up to 30inches. The Ginger Ted Shower also comes in various colours, all with the safety reflective piping ensuring visibility of your dog.
---

Petlife Flectalon coats/jackets are leading the way with brand design in our opinion.
The lightweight jacket is made from Flectalon and a high-visibility fluorescent fabric with reflective branding.
The Hi-Vis Waterproof Dog Coats significantly outperform any other dog coat currently on the market for safety, thermal efficiency, and comfort. They are available in 11 different sizes to suit a variety of dog breeds.
Flectalon® is an insulation material that is now manufactured in the UK. Flectalon® is an extremely efficient material combining trapped air thermal insulation with multiple mirrored surfaces. These reflect hot or cold back into the coats.
You should always measure your dog from the collar to the base of the tail when purchasing a jacket. This will ensure you choose the right size for your dog.
---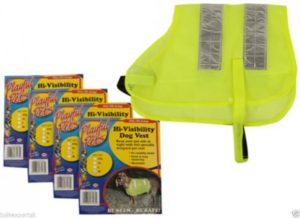 Pet Safety Vest Extra Large
Hi-Visibility Strips
Hook & Loop fastening
Washable
Approx. size – approx 11.5″ along the back and approx 29″ around the body
---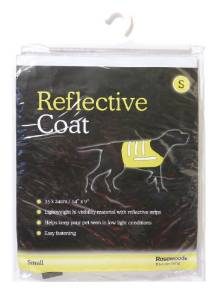 Lightweight hi-visibility material with reflective strips
Helps keep your pet seen in low-light conditions
Easy fastening
Hand wash only
42 x 29cm/17″ x 11″
---
What Are The Products Available Apart From Waterproof Dog Coats?
Other than hi-vis waterproof dog coats, there is also a wide range of other hi-vis products that are also a lot of fun. By clicking the links below, why not check out some other amazing products that will ensure the safety of your dog;
Closing Thoughts
Dog Safety when out on walks should be high on everyone's priority list. The dog walk should always be fun, rewarding, and very safe. Hi-Vis Waterproof Dog Coats make it just that. With some of the most amazingly designed coats on the market, you and your dog can feel safe on every walk. By reading through this page and checking out some more in-depth reviews, I hope this has helped you decide. It would be appropriate if you always did your research as well as these are our opinions only and not that of anyone else.