Potty training a young puppy can be difficult and even frustrating if you have no idea what to do. But several aids like potty pads, also known as pee pads for dogs, can help you with the situation. The thought behind using a potty pad is finding a sanitized and consistent area for your dog to go potty. Read this article if you want more insights.
Potty Training, your puppy, can be one of the most frustrating parts of owning a dog. In this How to Potty Train a Dog With Pads chapter, I will provide some useful hints and tips to help you on your way to successful potty training. You can rest assured that using these potty training tips and some of these amazing potty training products. You and your dog will be rid of those potty nightmares.
How To Give Potty Training To Your Dog?
Building love and trust with your new dog is just the start of enjoying your training journey. The main part of potty training your dog is being patient, being very consistent and most of all, continuous praise.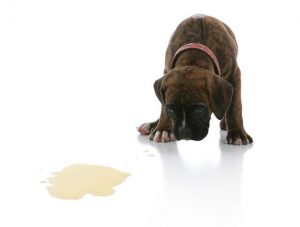 Some dog potty training checklists state they can train your dog to be potty trained in just seven days. Although this can be true, this is not the case for puppies and is more aimed at little older dogs (1 year and older). The size of your dog should also be taken into consideration. The smaller dogs have a much smaller bladder meaning more trips to the loo.
If you have taken your dog from another home, old habits will be difficult to change, but it can be done. You will also have some wet nights. This is natural. Just like with children, accidents do happen. The more you take your dog outside when they need to go and reward when they have gone, the quicker and easier the training becomes.
When Should I Start Potty Training my Dog?
Anytime from 12 weeks onwards should be a great time to start. This is when your dog's bladder and bowels are moving enough for your dog to recognise something is happening. You can then help them understand that that feeling initially requires a trip to the puppy training pad and then outside.
If you use a dog cage/crate for your dog at night, you may find your dog has licked or eaten its waste. This can cause delays in your training and require more behavioural training and rewards. There are plenty of tools available to help you understand How to Potty Train a Dog in the most effective way. Sometimes within just 5-10 days.
What Should I Use to Potty Train My Dog?

There are hundreds of different products for you to choose from very cheap puppy training pads to extremely expensive indoor porch potties. As always, I will provide you with the products available that will help you choose the right product for you and your dog. I also will not fill the page with 10 or 20 products. This time around, I will provide you with 3 AMAZING Products that will help you with Puppy Potty Training through to Older Dog Training.
Check 3 Amazing Puppy Training Crates

Puppy Training Crates are the way to start your training journey with your dog. Dogs will rarely poop or wee within small areas (pups up to approximately 8 – 12 weeks might still have accidents). The Ellie-Bo range of dog cages are fantastic and cater for all size dogs. They also have amazing Playpens that will keep your dogs safe when outdoor too. The Ellie-Bo cages and playpens are built to last and of very high quality.
Unlike your conventional dog crates, the Ellie-Bo model has two doors for easy access. Other features also include steel, non-chewable, and a mat easily removed for cleaning. The crate also folds down for easy storage when not in use. Heavy Duty latches that will keep your dog secure inside. As the biggest selling dog cage on Amazon, the Ellie-Bo is an amazing item that any dog owner should have, especially when training.
Pros
Price
Strong and Sturdy
Easy to Store
Carrying Handle
Two Doors for Easy Access
Multiple Sizes and Colours
Cons
Some Dogs can chew the tray
Catches can be a Little Stiff
---

The second stage of potty training is dog training pads. Simple Solution has the range of puppy training pads and products available. The puppy training pads come with an amazing absorbent that prevents mess. They also include an aroma that helps entice your dog to wee and poop where the pads are. Simple Solution has designed possibly the dog and puppy training pads on the market. You can purchase these in small/large boxes, which are readily available. Suitable for small or large breeds due to the five layers used to help soak up more urine than any other puppy pad.
Pros
Great Value for Money
Super Absorbent
5 Layers To Help Soak Up More
Built-in Aroma to support Training
Cons
Dogs Known to Chew Them
Have been known to leak
---
Indoor potty training is and always has been a difficult task. Training your dog to wee or poop in the correct place can be hard. Then teaching them to go outside to do the same is even harder. The Homdox Indoor Potty Training Grass Mat is amazing. Other products are available that do the same, yet they are nearly five times more in price. I found this product a great purchase for any dog/puppy owner. The removable tray is easily cleaned and maintained to ensure regular use. Great for dogs that hate bad weather as the grass patch looks and feels like your standard artificial grass. Indoor potty training grass mats are ideal for anyone living in an upstairs apartment or flat with no garden. This product also helps the workers who leave the house for long periods throughout the day.
Pros
Great Quality
Sturdy and Reliable
Easy to Clean
Great for Flat Owners
Cons
Cheaper models are available but not as reliable
---
How to Potty Train a Dog? Check Step-by-Step Process

Many dog trainers and experts abide by the same training rules and principles regarding the big question, "How to Potty Train a Dog" Should I use Pads? Should I use Crates? All dog trainers will advise that puppies and dogs be confined to a small space. This will always help your dog, especially whilst learning to go outside for a wee or poop. You could use a dog crate for this or box a section of a room like us. A lightweight table that can easily be lifted again in the morning generally does the trick, as long as it is high enough for your dog NOT to jump over.
This prevents your dog from moving freely around the house and finding somewhere new to do their business.
Steps to Follow While Potty Training Your Dog
Feeding schedules are massively important. Regular and consistent food and feeding schedules are an absolute must with the right foods.
Always make sure that your dog is let out to relieve itself after meals, a night's sleep, a nap time and when they let you know. Keeping a routine will also help.
All dogs rely on scent to help them where to poop or pee. Taking them to the same spot each time helps.
Whilst training your dog, it may initially be to wait outside with them whilst they do their business. This will help when you praise them as they know you will have to see what they have done.
Treats & walks after a good deed is always the reward for any dog. If your dog has a dry night, give them lots of praise and a treat.
Check out this YouTube video for more instructions on potty training
What Signs Should I look for When Potty Training?
Potty trained dogs will tend to let off some key signals that they need to leave to go toilet. General Barking, sniffing around, scratching at your door could be key signs that your dog needs to relieve itself. Keep your eyes peeled for these signs. We noticed one sign with Ralph when he needs a poop: he folds his tail down under his legs and walks to the door. This is a quick sign that he is ready to get out and do his thing.
Potty Training: Pros and Cons
Here are some key principles to follow when learning how to potty train a dog with pads, crates and grass mats:
Do not punish your dog for accidents. This will only instil fear in your dog. Instead, continue your training journey.
Every dog owner that potty trains needs eyes and ears everywhere. If you catch your dog about to wee or poop indoors, a loud CLAP of the hands will quickly startle them. Lead them outside to ensure they are following their training.
DO NOT RUB THE DOGS NOSE IN EXCREMENT
Keep your puppy company when they are outside potty training
Use a proper cleaner to clean up any mess – this prevents the dog from smelling their ammonia and stops them from repeating the act in the same place.
Summary
It has always been said that if your dog has an accident in the house, then rub its nose in it. They will soon stop. This is cruel and should not be done. Learning How to Potty Train a Dog is a long process, just like having a child. It would be great if you had lots of patience. No dog trainer will ever suggest this. Accidents happen, and, as with children, it's what you do afterwards that helps move forward. Training should always continue until you are confident your dog has succeeded and does not require further training.