Sometimes life gets in the way and you forget to put out some water for your beloved dog. Investing in good quality dog bowls feeders and waterers can save you a lot of time and ensure you never forget to feed and water your furry friends.
There are so many pet feeder and watering concepts on the market today so it can be a bit difficult to establish which one is the best solution for your specific pet and its specific needs. Larger dogs that have to venture outside in the heat all day should always have an efficient water supply and those who live inside permanently should never be neglected.
Types of Dog Feeders
When it comes to getting the right dog feeder for your perfect pooch, it can often be confusing when confronted with all the various types of feeders out there. Finding a bowl or feeder for your dog may initially sound like an easy task, but when shopping and confronted with travel dog bowls, automatic dog feeders, raised dog feeders, slow-eating dog feeders and even heated dog bowls, concerned pet owners may find themselves at their wits' end trying to determine the right one.
Your pet and your pet's health, diet and nutrition matter to you, and as a result, their type of feeder should too. In this brief guide, we will go over a few of the most common types of dog feeders and waterers and help you find the right feeder for Fido. At the end of the day, pets are family, and this guide will help you treat them that way.
Travel Dog Bowls
Perhaps one of the most common, and most versatile, dog feeders are travel dog bowls. Travel dog bowls are for the pet owners on-the-go the like to bring their dogs with them. Often collapsible and compact for easy storage, travel dog bowls are great for transportation.
Most travel bowls are small enough to fit in your pocket, making them ideal for taking with you, and a good travel dog bowl is typically dishwasher-safe. Given their compact size, travel dog bowls are ideal for small to medium-sized pets. Naturally, larger dogs require a larger travel dog bowl, and as a result, your travel dog bowl may not be as easy to store as travel dog bowls made for pets of a lesser size.
Also good for pet lovers on-the-go, or who spend more time out of the house than they'd like, automatic dog feeders are great for ensuring that your dog gets the attention it needs. Automatic dog feeders store around ten pounds of food in a container and, once programmed by the owner, can dispense as much food as the owner chooses up to three times a day. Automatic dog feeders are not dishwasher-safe and require hand-cleaning between refills, but they do have a long operating lifespan.
The luxury of automatic pet feeders is that they allow the owner more ease in feeding their dogs, allowing them to avoid the tedious task of lugging out large bags of food and bending to scoop them into a dog bowl three times a day. Automatic dog feeders also help to prevent pet obesity with their portion control system.
Given their advanced options, an automatic pet feeder will typically run more expensive than the average dog bowl at approximately forty to fifty dollars on average. However, if you are on the go or worried about just how much food you should be measuring out for your pampered pup, an automatic dog feeder will be an excellent investment.
Check out our article on Automatic Dog Feeders
Raised dog feeders are one of the preferred choices for pet owners with large dogs. The main benefit of a raised dog bowl is that it prevents large dogs from having to stoop down too far to reach their food. The legs on raised dog feeders are typically adjustable and collapsible, allowing the raised dog feeder to service a variety of pet heights and then easily be shrunken down for storage.
Many raised dog feeders work with a variety of bowls, so another benefit to purchasing a raised dog feeder is that you're not stuck with a certain type of bowl; you can interchange bowls for a wide variety of looks as long as they fit in the standard raised dog feeder, which most bowls do.
Check out our article on Elevated Dog Bowls for Larger Dogs
Raised Dog Bowls
Welcome to our site on raised dog bowls, I guess you're are here because you care very much about your dog and only want the best for him or her, one of the most important factors of your dog's life is how he or she eats its food, there are many things that need to be considered when choosing your dog's food bowl, raised dog bowls are becoming more and more popular as people are starting to see the benefits they bring to their dog's life, I will now outline a few of the benefits a raised dog feeder can bring.
Benefits of Raised Dog Bowls
One of the main benefits a buying a raised dog bowl will bring to your pet is its posture, keeping your dog at a good angle and keeping the spine in line whilst eating especially for the bigger dog, a raised dog feeder will stop your dog from bending up and down allowing to keep the spine in line.
Buying an elevated dog bowl will give you peace of mind that your dog's digestive tract will stay in good condition for years to come, this is because when a dog eats from a raised bowl the food will reach their stomach a lot faster than if they were bent over, so making digesting the food allot easier, this in its self is good reason to get a raised dog bowl, especially for large dogs.
Health Benefits from Buying A Raised Dog Bowl
A large dog will strain to bend down to reach a normal floor food bowl, this puts a lot of the strain onto the dogs' forearms and their waist area, so getting a raised-up dog food bowl will take all this strain away.
Also, a dog food bowl on the floor will put a lot of strain on your dog's shoulders and hips these are generally the first joints to give out on a dog, by getting a raised dog feeder you can help your dog extend the life of his or her joints if your dog eats off the floor now and you buy a raised dog bowl watch in a couple of weeks how much better they move and play and their overall health, you will be amazed.
Now we have outlined the befits of a raised dog bowl we can have a look at the things to consider when buying one, firstly how big is your dog do you need an elevated dog bowl for a basset hound or a Labrador, as for the Labradors, Great Danes, Doberman pinchers a raised dog food bowl is a must but for the smaller dogs maybe you don't need one.
Don't forget the size and what the food bowls will be made of as getting the wrong size can put your dog off from eating out of it, also if it is made from metal you may not want to keep it outside due to rust the water bowl will probably be ok but the food bowl will probably rust.
Raised Dog Bowl Stands What Ones to Choose
Larger dog breeds bring their owners a lot of joy, along with the need for more exercise, longer walks and special collars. But one of the chief concerns for large breed dog owners should be the need for a special large dog bowl stand.
One of the main reasons for choosing raised dog bowl stands for larger dogs is that they are more comfortable. Typical dog bowls make eating uncomfortable for all but the very smallest of dog breeds because the bowls require the animals to bend down to the floor to eat their food.
This method of eating essentially has the dog leaning over to touch their toes while they are eating. This is a reason that many dogs will lie down to eat their meals because standing on all fours while leaning down is too uncomfortable for them.
Raised Dog Bowl Stands Healthier Option
A dog feeding bowl on a stand is also a healthier option. When dogs don't have to lean over to reach their food, the strain placed on their muscles and joints is lowered. Additionally, since the elevated bowls limit the amount of food and water that the dog will gulp down at one time, digestive problems are reduced. Problems such as bloat and vomiting can be eliminated.
Another reason to use elevated dog feeding bowls is the variety of types available. Bowls come in styles as simple as a wood dog bowl stand and as elegant as a wrought iron dog bowl stand. If the dog eats their meals in the owner's kitchen amidst oak cabinets, a wood elevated dog feeder might be the perfect touch.
But if the dog eats their meals in the colourful family room with the rest of the family, then bright and colourful wrought iron dog bowl stands might better suit the owner's needs. If the dog eats their meals in a sleek contemporary dining room, a Trendy Pet feeder, with its slick black resin, might be the best choice. With the variety of colours and styles available, the dog bowls can be purchased to match the decor of the owner's home.
A final reason to consider elevated dog feeders is that owners can purchase adjustable dog feeders. This is especially important for owners of puppies because adjustable elevated dog bowls allow the owners to change the height of the bowl as the dog grows. Examples of these feeders include Posture-Pro and Neater Feeder dog bowls.
Including the right kind of dog bowl for a pet is just as important as making sure they get the right exercise and the right type of food. Since purchasing raised dog bowl stands for larger breeds can bring them lasting comfort and health, the bowl's additional convenience and beauty should make them a clear choice for many owners.
The Best Choice Is Raised Dog Bowls for Large Dogs
Raised dog bowls for a large dog is in my eyes is a complete must if you want to be giving your pet the best possible life he or she can have, there are many reasons why I believe that raised dog bowls for large dogs are a must for a healthy life for your dog, here are some reasons why you should choose raised dog bowls.
Raised dog bowls for large dogs make it more comfortable.
Buying an elevated dog feeder for a large dog makes the whole eating process a lot more comfortable, a good example of this is when you see your dog lay down to eat or drink this is because it is more comfortable for them to do this as the food bowl is at the same height to them putting less stress on their joints like their spine or front legs.
The dog finds it easier to swallow the food or water from that position, this is a couple good reasons a raised dog bowl should be used, due to the fact the dog standing straighter is good for his or her joints and that they can swallow and digest the food or water allot better.
Reduce Air Intake with Raised Dog Bowls
With large dogs if they have to bend up and down or stay in a bent-over position to eat or drink this will cause a lot of trapped wind, this can over time cause health problems for your dog such as bloat which most dog experts say can be cured or prevented by using an elevated dog feeder, this isn't the case for all dog breeds so ask your local vet before investing in a raised dog bowl.
Clean Fresh Water with Raised Dog Bowls
Large dogs need a lot of water to keep them hydrated and cool throughout the day, if your dog stays outside most of the time and is fed outside then an elevated dog feeder for a large dog is best, due to the fact of keeping the water as fresh as possible as if the food bowl is on the floor other animals could drink from it also debris will blow into it so keeping the food bowl up high will give your dog the best possible water at all times.
Let's talk about the owner for a second as we need a little bit of help from time to time and having an elevated dog food and water feeder does just that, as not only does the raised feeder save your dog's back it saves yours as well especially if you have a bad back already.
Reduce mess
If your dog is one that leaves a trail like a hurricane behind him after he eats, a raised dog feeder might help. Because the food is at your dog's natural height, he doesn't have to move around so much as he eats. When he eats just above his bowl most of the crumbs fall right back into the bowl. Same with a large raised water bowl – larger bowls catch more of the drool. Your floors will have a lot of less soggy food crumbs this way.
Overall, an adjustable raised dog bowl is a great tool for large dog owners. It is both safer for the dog and more convenient for you, the owner. Having a large dog can be a messy thing when he or she eats.
Having a raised dog bowl for a large dog helps due to the natural position they are at when the dog is eating, as when the dog eats from the floor they struggle to swallow making them shuffle around putting the food and water everywhere when they are comfortable in there eating this doesn't happen so much so stopping the mess and keeping you happier.
Slow Feeder Dog Bowls
Slow feeder dog bowls are great for dogs with finicky stomachs or dogs that just like to have fun. Slow dog feeders are designed for interactive dogs, giving dogs limited food before they are challenged to spin or otherwise change the angle of the contraption to get more food.
Slow dog feeders help to prevent bloating, obesity and food regurgitation by slowly giving your dog the exact amount of food it needs to promote good digestion. Additionally, slow feeder dog bowls will keep your dog entertained, making slow dog eaters more than just a bowl, but an activity that will get your pet engaged.
The average slow feeder dog bowl will hold up to four cups of dog food, and, depending on the brand, a slow dog feeder may be dishwasher-safe or require hand-washing. Because of their interactive design, slow dog feeders vary greatly in appearance, some engaging your dog in a maze or pattern that they have to follow to retrieve their food. As an added bonus, the whimsical nature of slow dog feeders allows slow dog feeders to come in a wide array of colours.
Personalised Ceramic Dog Bowls Are A Great Gift
Every dog owner knows that their pet has its own unique qualities that separate him or her from all others. What better way to celebrate that individuality than with personalised ceramic dog bowls? These cool dog bowls make a great purchase, whether they are presents to pets from their owners or personalised gifts for dog lovers from an owner's friend.
I can't think of a better gift to someone who loves their dog than personalised ceramic dog bowls. Ceramic material is used in several household items due to its versatility. Common items include knives, flooring and rooftops. One reason that ceramic material is so commonly used is that it withstands harsh elements, such as fire, frost and extremely wet conditions. This sturdy and dependable nature of ceramic material makes personalised ceramic dog bowls a wonderful gift idea.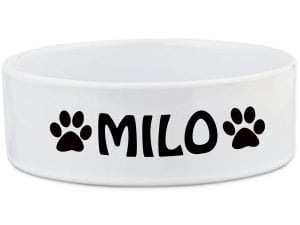 Check Price On Amazon
Different Designs of Ceramic Dog Bowls
Another reason to choose custom ceramic dog bowls is that they can be purchased in a variety of designs and colours. If an owner's Irish Setter is endearingly loud and boisterous, an owner can easily pick a custom ceramic dog bowl in bright colours to match the dog's personality. On the other hand, if the owner is a proud companion to a demure and dainty poodle, the owner could easily pick hand-painted dog bowls in shades of pink and lavender.
Additionally, finding hand-painted dog bowls that come made in ceramic material is quite easy. The hand paintings give the bowls an extra burst of personality that a regular store-bought plastic bowl can't have. Some items that hand-painted dog bowls may feature include the dog's name, heart designs, paw prints and dog bone patterns.
For owners with larger or older dogs, ceramic elevated dog bowls may be the best choice. Picking ceramic elevated dog bowls will lift the bowl closer to the dog's level and make the eating process much more comfortable. While the bowls themselves may be made of ceramic material, ceramic dog bowls with a stand often feature stands made from other materials, such as wood or stainless steel.
Heated Dog Bowls
Heated dog bowls are excellent choices for those that live in cold environments. One of the main uses of heated dog bowls is preventing water from freezing, even when the temperature reaches twenty degrees below zero. Another beauty of heated dog bowls is that they are highly energy-efficient given that they use only twenty-five watts of energy.
One drawback of heated dog bowls to some owners is the cord required, limiting the placement of the heated dog bowl to areas with outlets. However, cord length varies among heated dog bowls and the cords are typically steel-wrapped and chew-resistant. Heated dog bowls are also ideal for outdoor pets that need water unaffected by the cold or other surroundings.
Wooden Raised Dog Bowls Are the Choice of Many People
Gone are the days of plain and uninteresting dog bowls. No longer does the home or yard need to have unimaginative plastic bowls cluttering up the area where the dog eats. For any dog owner looking for unique dog bowls for their pets, wooden raised dog bowls offer a stylish option that benefits both the dog and the owner.
One primary reason that dog owners enjoy wooden raised dog bowls is the stylish touch that a wooden dog bowl stand adds to the home or yard. In the same way that a hardwood floor demonstrates elegance beyond tile or carpet, a wood dog bowl stand gives an added touch of elegance that a regular plastic or metal dog food bowl cannot.
Versatile Raised Dog Bowls
Also, because these types of raised dog bowls have a base made of wood, their look can be very versatile. Owners wishing to be environmentally conscious might choose the sustainability of bamboo for their wooden raised dog bowls, while others might go with a mahogany or oak base to match the decor of the home.
Another reason to pick an elevated wooden dog bowl is the convenience options that they offer owners. In addition to the traditional dog stand, owners can pick a wooden dog feeder. The wooden dog feeders have an attachment that allows the proper amount of food and water to automatically fill the dog bowls daily. This allows the dog owner to fill the attachment once or twice a week instead of worrying about having to fill the bowls every day.
For additional convenience, many of the feeders also function as raised dog feeders with storage capacities. These feeders have an extra compartment underneath the area where the bowls sit. In this compartment, owners can store dog food, treats, toys and leashes.
Health Benefits of Wooden Raised Dog Bowls
While elevated wooden dog bowls offer many advantages for dog owners, they are loved by many owners because of the benefits they provide to the dogs themselves. By elevating the dog bowls up off the floor, dogs can eat at a more comfortable level that reduces the strain put upon them by traditional plastic and metal bowls. The elevated bowls also encourage the dogs to eat at a slower rate, which in turn reduces the amount of gastrointestinal distress that many dogs experience after a meal.
For dogs and owners alike, wooden raised dog bowls provide a preferred alternative to plastic and metal bowls placed directly on the floor. The animals will appreciate the increased health and comfort provided by these bowls, while their owners can enjoy their convenience and the way these bowls complement the beauty of their home.
What to Look for In Single Raised Dog Bowls
The search for the right raised dog food bowl will lead a pet owner to choices that range in the number of bowls that the stand will hold. Double bowl dog feeders are very common and preferred by many owners, but single raised dog bowls have five distinct advantages over other types of dog food bowls.
The first advantage of single elevated dog bowls involves the differences in size and bulk. Double bowl dog feeders come in one piece and can often be quite large. While most of the double bowl stands are lightweight, the size alone can make them difficult for some owners to manoeuvre. If the dog has a habit of moving the stand, as many dogs do, ease of manoeuvrability offered by a single bowl raised dog feeder will be a very welcome feature.
Another advantage that single raised dog bowls offer makes for ease of cleaning. While their double bowl counterparts have a bulkiness that makes them difficult to scrub, most single stands can be held in one hand, making scrubbing them clean of food and germs far easier.
Benefits of A Single Raised Dog Bowl
Additionally, cleaning the raised dog bowl stand is made easier by the variety of materials that the stands are made from. Easy to clean products such as ceramic dog food bowls and stainless steel dog food stands make cleaning a much quicker job than the cleaning required by traditional plastic food bowls that many pet owners use for their pets.
The variety in materials also makes single bowl dog stands good choices for pet owners who want their pet bowls to closely match the decor of their home or yard. Whereas the traditional plastic or metal food bowls may stick out among a well-sculpted garden, a ceramic dog food bowl can match the exact designs of the sidewalk or other gardening decorations. Likewise, a wooden dog bowl can be purchased to match the exact type of fencing off a yard or the specific type of flooring inside the home.
A fifth advantage of the single bowl dog feeder is that it allows a pet owner to carefully control the amount of food offered to the pet, while still allowing for plenty of access to water. One of the ways that the veterinarians suggest combating a growing pet obesity problem is to make sure the pets have specific meal times. However, it is recommended that the pet has access to water throughout the day. Having single elevated dog stands allows the owner to leave water out while removing the food portion and the empty food bowl.
Raised Dog Bowls That Look Good
Pet owners looking for a sleek and easy to clean product that also goes well with almost any decor should opt for a single raised dog bowl. When it comes to providing the most convenient for both owner and pet, these types of feeders are among the best.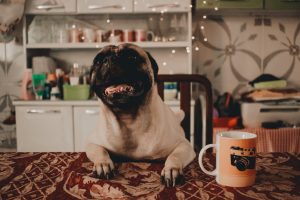 Pricing​
For most people, price is one of the top concerns next to quality and practicality. So, to make things a bit more convenient, let's go over some of the standard price ranges. The more advanced the dog feeder, the pricier it will be. Automatic dog feeders and heated dog bowls will run in the higher price range due to their need for power, either via battery or plugging into power outlets in your home.
In the middle of our price spectrum sits the slow dog feeders and the raised dog feeders. Slow dog feeders range in price depending on the material they are made of and the complexity or ornateness of the maze your dog has to work through to access the food. For raised dog feeders, what you are really paying for is the stand. Depending on whether the stand is adjustable and collapsible.
Now, at the bottom of our price list are the travel dog bowls. Travel dog bowls are fairly basic, given that their only special feature is collapsing capability for easy transport and compact, stackable sizes. One thing to remember though when comparing prices is that with dog bowls, you get what you pay for.
The more expensive the bowl is, the more special features you will tend to get. For instance, when it comes to a cheap travel dog bowl and a pricier one, the difference may be that the pricier version is dishwasher-safe, sturdier, longer-lasting, made of higher quality material, collapsible and stackable while the less expensive one is not, and is instead merely a small plastic bowl.
Similar differences also exist between the pricier and inexpensive versions of the other dog feeders we have discussed.
Nutrition​
One thing to consider when buying a feeder for your dog is the nutrition benefits the bowl provides. It may seem like a bowl doesn't directly provide your dog with the nutrition it needs, which is true, but it can be a significant aid in it. Obesity is not just on the rise among humans; it can and is affecting dogs too.
Dog owners may want to spoil their pets and give them all the treats and food their hearts desire, but often this can do your pet more harm than good. Pets need regulated diets with portion sizes that are right for them.
The benefit of some feeders, particularly automatic dog feeders and slow dog feeders, is that they can help you easily regulate how much your dog is eating. As briefly mentioned before, automatic dog feeders are great for easy portion control. Instead of having to take the time to carefully measure out portions of your dog's food, you can adjust the settings so that the feeder dispenses exactly how much food you would like your dog to receive exactly as often as you would like to.
This helps prevent overeating by your dog and incorrect measurements when you are in a hurry. Slow dog feeders are also great for portion control and help your dog properly digest their food.
Because dogs have to work to get the food out of the specially designed bowl, they get the exercise that helps ward off obesity while simultaneously being entertained. Additionally, since it takes time for the dog to get the food, it prevents them from scarfing the food down all at once and giving them indigestion or an upset stomach that could result in diarrhoea or regurgitation of their food.
Similarly, the length of time it takes the dog to eat the food gives them a long time to digest the food, meaning that they will realize when they are full faster, helping to prevent them from overeating. No matter what size your dog is, both of the aforementioned feeders will work great in your endeavour to see that your dog receives the proper nutrition that it needs and deserves.
One of the good things about all of the various types of dog feeders detailed in this article is that you can find a version of each in your run-of-the-mill pet store. From the top store chains such as PetSmart and Pets At Home to ordinary stores like Walmart and Target to your online shopping centres such as Amazon and eBay, these types of pet feeders are all fairly easy to come by.
So, no matter which feeder you decide is right for your beloved barker, you're sure to be able to find it in stock wherever you look. When you select your feeder, remember that different feeders will suit different dogs. So, if you make sure that you make your purchase with your pet's best interest in mind and utilize the help of this guide, you'll be making a good choice for your beloved dog.​
Let's jump straight into our Dog Bowls Feeders and Waterers…
Top 5 Best Dog Bowls Feeders and Waterers
If you like uniformity, then the Bergan Gourmet Pet Feeders and Waterer is the best solution for you. These water and feeder solutions look very similar and are highly efficient for feeding large and medium-sized dogs. It is a great solution to ensure your pet is taken care of if you have to leave home for a weekend and cannot find someone to sit at your house.
Pros – The matching set is meant to feed larger pets even when you are away. There are two sizes of feeders which can dispense 13 lbs or 6 lbs of kibble depending on your pets feeding needs. The two water dispenser sizes differentiate between 3 gallons and 1.5 gallons of water for a great variety for your unique pet.
The towers are detachable for easy cleaning and maintenance and the design will prevent the dispenser from tipping over easily. The product is also BPA free, so you do not need to worry about any chemicals getting into your dog's food or water.
Cons – Food and water levels should be monitored regularly to ensure the kibble has not clogged up or to ensure there are still sufficient levels of food and water.
Best suited for – This pet bowls feeders and waterers are perfect for medium to large pets such as Basset Hounds, Sheepdogs, Terriers and Dobermans. They hold a great amount of food and for those dogs that love to eat and drink a lot.
Check Price On Amazon
The Lalago Pet Food Feeder and Waterer Set for Dogs are made of environmentally safe, non-toxic plastics for an optimized safe use for your pet and the surrounding environment.
Pros – No plugin or electrical feed is required for these feeders and waterers to function. The base is easily dissembled for cleaning and has a non-slip bottom to prevent pets from tipping the dispensers over. The feeders and waterer's size is 12.6" L x 6.9" W x 12" H and is a perfect solution for medium to large dogs. Your pet will have full access to as much water and kibble as they need even if you are not around.
Cons – Aggressive dogs may be able to tip the dispensers over.
Best suited for – Perfect for feeding larger dogs such as Labradors and golden retrievers or for owners of multiple small dogs such as Yorkers or Fox Terriers.
Check Price On Amazon
If you have an active dog that ventures outside in the hot weather or runs around a lot, then the H2O Waterer may be the best one for you and your pal. The built-in H2O automatic waterer can be mounted to any wall or fence so it is perfect for both inside and outside.
Pros – Mounting it to a wall will prevent dogs from moving the dispenser or tipping it over. The dispenser comes with a drain for easy emptying and cleaning and receives direct feed from an attachable hose that will ensure your pet is never left without water. The dispenser can contain 1.5 gallons of water and is made of durable materials for heavy-duty use.
Cons – Regular cleaning of this bowl is required and it should be checked to ensure no water wasting occurs if it has not been assembled correctly.
Best suited for – Perfect for active dogs that require a lot of water such as Rottweiler's, Bullmastiffs, Golden Retrievers and Huskies.
Check Price On Amazon
The Petnet SmartFeeder allows you to manage the times and portions of your pet's meals. It is a great solution to keep pets from overfeeding and to balance their health. The Petnet SmartFeeder operates through rechargeable batteries for smart functionality.
Pros – You can monitor the amounts of food your dog eats and you can set specific automatic feeding times for your pet. The rechargeable batteries will save you a lot of money and the SmartFeeder can contain up to 7lbs of food. You can set it for 1/16 – 1 ½ cups of feeding portions. You can also alter the feeding sessions from anywhere in the world with your iOS device. The dog feeder is also very slick looking and will look great in your home.
Cons – The feeder can only work on a Wi-Fi connection and requires an iOS device to operate.
Best suited for – This dog feeder is best suited for dogs who have problems eating too much. The portion set will allow your dog to only eat what they are supposed to eat and not overindulge. This could also be good for those busy dog owners who need a little extra help feeding their dogs on each meal.
Check Price On Amazon
These dog bowls feeders and waterers are made of durable plastic and have stainless steel bowls for a rust free long term use for your cat or small dog. The PetSafe dog feeder comes in a wide range of sizes to suit your dogs needs.
Pros – The same feeder can be used for water and food for emergency solutions. Your pet will have 24-hour access to fresh food and water. The stainless steel bowls are removable for easy cleaning and the tower tops can be opened for easy refilling. It is ideal for indoor use and is dishwasher friendly.
Cons – You can't monitor food and water level at a glance. You need to open the top to ensure the feeder has sufficient food and water.
For pet types – This is a good option for any dog due to the different capacities that you can get. It is best used for dogs that eat inside and not outside.
Check Price On Amazon
Pet Bowls Feeders and Waterers
are a perfect solution for people who are on the move a lot and are sometimes unable to feed their pets daily. They are specially designed to keep your pets water and food clean and pest free while you are away or at work. The variety of feeders allows you to provide for any pet's unique feed.
Also Check: