Like humans, doggies also suffer from several bone problems and joint pains as they get aged. YuMove tablets deliver them the required aid to remove their pains and promote smooth movements. This article explains the benefits, available varieties, and doses for different aged and weighed dogs. So read this article to know more about this tablets.
When giving your dog a Joint Supplement, your dogs quality of life can massively change and improve for the better. Lintbells YuMove Tablets can improve your dog's joints and functions will give your dog a new lease of life. Your dog does not have issues with arthritis or joints then it is not ideal to give your dog any supplement as this can be more harmful to your dog.
If your dog is at risk of arthritis or joint problems, these supplements will help.
YuMove Tablets- Get Details Here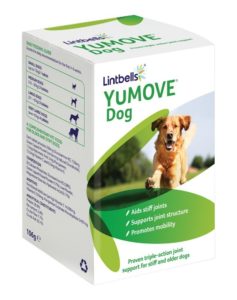 YuMOVE Tablets support active dogs and give older dogs a new lease of life. YuMOVE tablets are tasty tablets, so you can give them to your dog any time of the day – either with their meal or simply as a tablet on its own. Th tablets provide a source of unique Omega 3's ETA, proven to soothe stiff joints and improve comfort in the joints.
Benefits of YuMove Tablets
Improve joint comfort
Support joint structure
Promotes mobility
Glucosamine HCl is the purest form available (99.8% pure)
Green Lipped Mussel provides natural Chondrotin, unique Omega 3's (including ETA) and is a rich source of glycosaminoglycans, amino acids and minerals
How many YuMove Tablets To Give To My Dog?
1 tablet for up to 15kg
2 tablets for 16-30kg
3 tablets for 31-45kg
4 tablets for over 45kg
About Lintbells
Lintbells is a UK based company dedicated to improving the health of dogs, cats and horses. Founded on sound nutritional science and focused on the highest quality and performance, our supplements deliver the promised health benefits to your pet.
YuMOVE Tablets
Proven triple-action joint support for stiff and older dogs, YuMOVE Tablets are a premium joint supplement for dogs that soothes stiffness, safeguards long-term joint health and promotes mobility. It's proven to work in just six weeks.
One of the amazing one
Aids stiff joints
Supports joint structure
Promotes mobility
Clinically proven
Have you noticed any of these signs in your dog?
| | | | |
| --- | --- | --- | --- |
| Lags behind on walks? | Appears reluctant to walk, jump or play? | | Has difficulty risen from a resting position? |
Key features of YuMove Tablets
Aids stiff joints

VitaEase Green Lipped Mussel from the crystal clear waters of New Zealand provides an incredibly concentrated source of Omega 3. With four times more active Omega 3's than standard versions, VitaEase Green Lipped Mussel is proven to soothe stiff joints.

Supports joint structure

High strength Glucosamine provides the major building blocks of cartilage.

Natural Chondroitin found in VitaEase Green Lipped Mussel helps to maintain healthy cartilage and joints for longer. Man anese supports collagen formation in the cartilage, tendons and ligaments.

Promotes mobility

YuMOVE Dog Tablets contain a form of Hyaluronic Acid proven to reach the joint within 2 hours, helping to lubricate and cushion the joint. Vit mins C and E are antioxidants that neutralise free radicals, helping to maintain joint mobility.

Naturally tasty

YuMOVE Dog Tablets come as a tasty tablet, so you can give it to your dog whenever is most convenient – either with their meal or simply as a tablet on its own during the day.
YuMove Tablets Include Natural Ingredients That You Must Know
Lintbells source one of the highest quality ingredients available to make YuMOVE Tablets is VitaEase Green Lipped Mussel are farmed in the clear blue waters of New Zealand. They are then carefully harvested and cold extracted for one of the possible natural qualities.
This attention to sourcing and processing means the VitaEase Green Lipped Mussel contains 4x more active ingredients than standard versions. Lintbells believe in using ethically-sourced, sustainable ingredients. This means that they can supply you with a product that is good for your dog and the environment.
| | | | | |
| --- | --- | --- | --- | --- |
| | | | | |
| Daily Recommendation | 1 tablet | 2 tablets | 3 tablets | 4 tablets |
| Loading Amount | 2 tablets | 4 tablets | 6 tablets | 8 tablets |
YuMove Tablets: Experts Advice
Currently, the seller on Amazon and has over two thousand suggestions, it is clear to see why YuMove Tablets are the good ones for your old dogs. YuMove tablets give your dog that new lease of life. From long like a tired old dog to a new, friendly, lively dog you probably always remembered. YuMove tablets are sold all over the internet, but Amazon is in our opinion the price with speedy delivery.
Purchasing YuMove Tablets
The tablets come in a variety of packs/sizes. from 60 u to 300. Click the age below to take you to Amazon where you can choose and purchase YuMove tablets at a great price.
---
Does Your Dog Need Dog Joint Supplements?
Most dog owners know about dog supplements but how do you know your dog needs them? You should always give your vet a call if you notice any of the below symptoms;
Hurts your dog to get up after being laid down
Regularly licks joints
Avoids running wherever possible
Avoids going up or down steps
Often limps
Regularly cries out for no reason
Lacks the motivation to play or do anything energetic
All of the above signs of joint problems can be helped with the regular and proper use of dog joint supplements.
Your dog feels the same type of pain as you do. If you suffer from back, leg or joint pains, then you know how much this can hurt. This is the same as your dog, the only difference, is your dog cannot tell you what is hurting.
Ideally, If you notice any symptoms you should speak to your vet immediately and ensure that your dog is treated with the right care. Furthermore, this'll ensure your dog has the quality of life available
Final Words
Most dog lovers have their dogs from being a pup, just like myself. From speaking with friends and relatives, the hardest part of having a dog is when they get old. They start to struggle walking and begin to look like very different dogs. With YuMove Tablets, you get your 'friend' back.
Your dog will be given new lease of life after just a few short weeks. Lintbells have been aro d for a long time and are becoming a very popular product indeed. Keeping your dog active and alert helps the older dog through the day to day activit s. I would recommend YuMove to all my friends and family due to its high demand and its popular and positive feedback on Amazon.