Welcome to this fantastic page that shares the best automatic dog fetch machine! You're most likely aware of these products if you're a pet owner. They're automatic machines that shoot balls across the garden or the house (generally 10-30 feet), so your dog will chase and fetch them. They use batteries/plug typically into the mains.
Dogs love the game of chasing balls and fetching them back. Automatic dog fetch machines are the best options for keeping your dog indulged in this exciting game even when you are not physically present. These devices will throw balls automatically to a certain distance, and your dog will be chasing those balls and will bring them back to it.
5 Incredible Automatic Dog Fetch Machines For Your Dogs
| Image | Name | Product Description | Rating | Check Price on Amazon |
| --- | --- | --- | --- | --- |
| | GoDogGo | Bright Electronic Ball Thrower for hours of entertainment | 5/5 | |
| | iFetch | Most popular machine on the market for smaller dogs | 5/5 | |
| | iFetch Too | Same as the iFetch but design if for bigger dogs - Amazing product | 5/5 | |
| | All For Paws Hyper Fetch! | Indoor and outdoor ball thrower with option to use remote control also | 4/5 | |
| | Doggy Fun! | Cheaper than the others but still a good Electronic Ball Thrower | 3/5 | |
| | Pet Safe | Electronic ball thrower for indoor or outdoor use | 4/5 | |
If your dog is wise enough to be trained to bring the balls back to some of these machines, the puppy will enjoy hours of amusement chasing balls with no involvement from you whatsoever!
Now let's look at the top 5 automatic dog fetch machines in detail: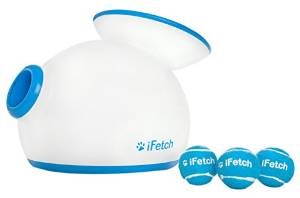 This is, in our opinion, the best ball thrower on the market today. After its launch in 2014, iFetch quickly drew the attention of dog owners everywhere. The iFetch looks like cool fireballs to a great distance and can be in or outdoors.
The iFetch can either be plugged into the wall or operated on battery power. The iFetch also provides great life from your batteries with up to 30 hours of use. You shouldn't need to worry about purchasing batteries regularly.
The iFetch uses small, soft blue balls that are harmless to your dog. They are easy to fetch and pick up. Once placed in the machine, they also fire after a couple of seconds. Once your dog is used to the device, you can quickly train your dog to place the balls in the machine to prevent human intervention. This will allow you to continue with your daily chores/activities whilst your dog continues to get the exercise and entertainment it needs.
Read OUR FULL PAGE REVIEW FOR THE fetch and fetch TOO.
---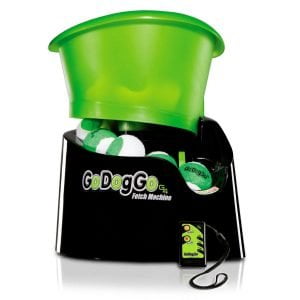 Though not as popular as the iFetch, the Go Dog Go Fetch Machine has many plus points. The design of the machine makes the eye of its owner and the dogs. The Go Dog Go can also fire regulation tennis balls and more petite-sized balls. This pet-safe launcher is extremely powerful and fires balls further than other automatic fetch machines, which is more suited outdoors.
Although this is not ideal indoors, the Go Dog Go Fetch Machine does tend to appeal more to dog owners as the power and durability of the machine make this more appealing. This is the best outdoor automatic dog fetch machine out of all the automatic dog fetch machines.
READ FULL-PAGE REVIEW FOR THE GoDogGo FETCH MACHINE
---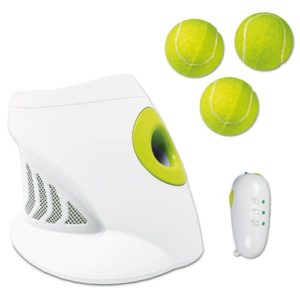 Dogs love to play fetch, and with All For Paws, Hyper Fetch, your dog will always be able to play its favourite game without you having to keep throwing the ball. Includes a remote control so you can also interact with your dog and decide when the ball should kick out.
With an option to choose the distance the ball will go (10ft, 20ft and 30ft), they can have fun indoors and outdoors.
Hyper fetch is rechargeable which means you can take it anywhere you want without worrying about plugging it in.
---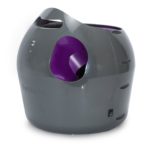 The PetSafe automatic ball thrower is a premium choice in automatic fetch games. Safety and fun are top priorities, meaning your dog can play with the ball thrower with or without your help.
The automatic dog fetch machine is easily transported by the carry handle on top and is made to use just about anywhere. It uses batteries or plugs it in.
The ball launcher comes with two standard sized PetSafe tennis balls. If you want to mix up the game, adjust one of the six angle settings or one of the nine distance settings to get the game going. Launch anywhere between 8-30 feet. Don't worry about your pup over-working themselves while playing. The ball launcher has a 15 minutes interval rest feature to ensure your pet gets the downtime they need between play sessions.
There are so many features on this launcher, and with the PetSafe brand, you can guarantee a great quality product.
---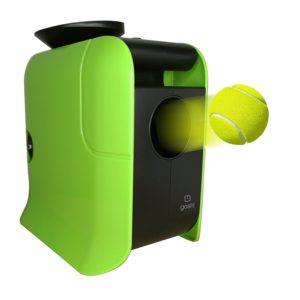 The Smartpult can carry up to 5 balls and Launch distances of 3, 6, and 8 meters of fun.
SmartPost uses mini tennis balls suitable for small dogs to medium dogs. Large dogs should play with caution as some large dogs may choke on more petite balls.
Control SmartPult with your phone. Play with your dog from a distance, or set up for automatic play.SmartPult uses 50mm mini tennis balls. A flickering blue light signifies that your machine is connected to your phone via direct Wi-Fi. You can then control SmartPult using your App.
---
Things to Consider When Purchasing Automatic Dog Fetch Machines
Size of your Dog – The iFetch and Smartpult shoot more petite balls, so it works best with small dogs, while the GoDogGo Fetch Machine hits tennis ball-sized balls and is a good choice for larger dogs. Recently, the iFetch Too was released, so big dogs can now have an iFetch toy of their own.
Space is also a key factor when purchasing an automatic dog fetch machine. The iFetch has three different settings for the ball to travel distances of 10, 20, or 30 feet. The GoDogGo Fetch Machine does fireballs further, so it is not ideal in your house.
Check out this YouTube video if the iFetch is in use:
Final Words
Every day automatic dog fetch machines are becoming more and more popular. With a busy work/family life, sometimes you can forget your dog's exercise. With an automatic dog fetch machine, your dog can still get the level of entertainment and training required daily without any burden to yourself.
We recommend the iFetch to all our friends and family, and it is our top recommendation to you. The K-9 Kannon is fun for manual dog throwers and keeps the kids entertained. If you don't have much space, then the Nerf launcher is excellent as you don't have to leave your seat. Just stomp and go!