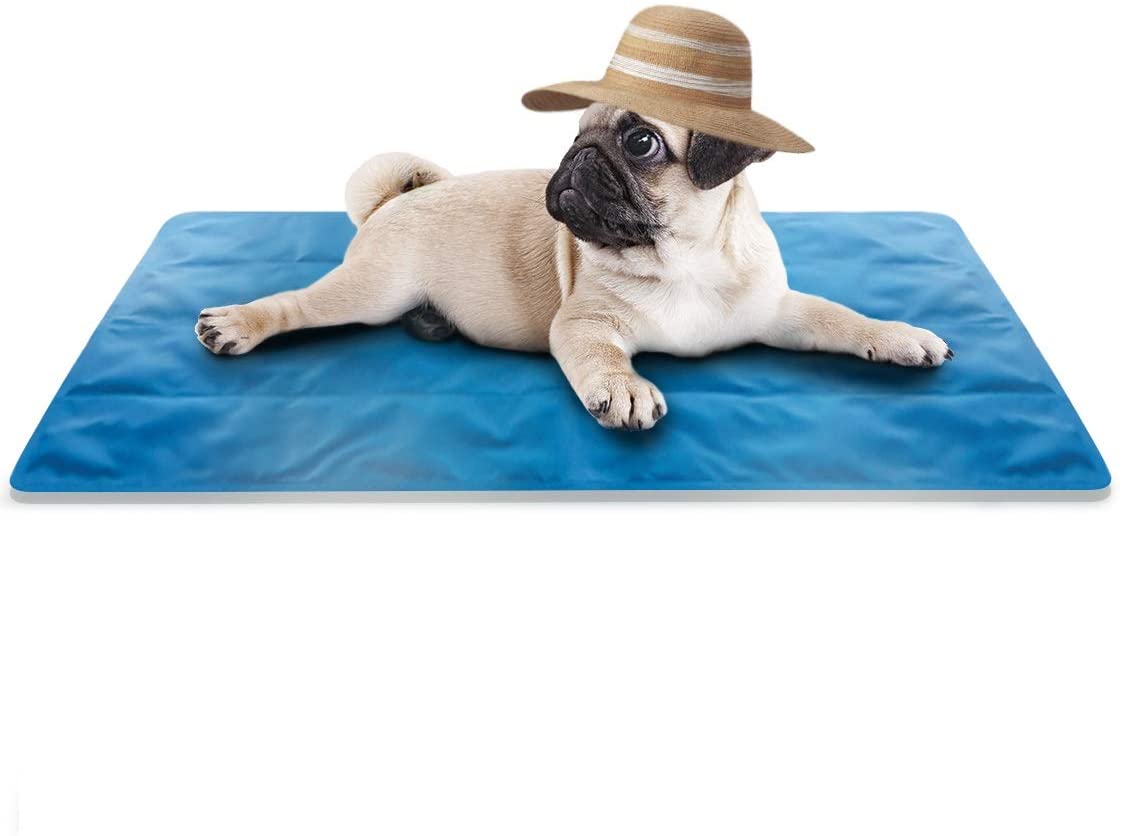 Wow, summer is here in the UK and most humans are loving it. But what does it mean for our dogs. 2 things. 1. If you are sensible it will mean less walking as the heated paving will burn your doggie's paws. 2. Find several ways to cool your doggie down. Although dogs know how to pant which helps cool them down sometimes, this heat can be unbearable. Introducing dog cooling mats to your home can really solve the problem. Sun cream for dogs & ice lollies just isn't enough sometimes.
We have seen many videos over the years of dogs being left in red hot cars, or left in a conservatory in the summer. This is just unacceptable. Would you leave your child in a car on a hot summers day? Whether the windows are down or not, your car gets ridiculously hot and needs more than just a window open.
We have purchased a paddling pool for the kids, that we let the dogs use too, and it has worked wonders. This however comes with several flaws. The main one is, a wet dog/human in the sun will burn quicker. So what can we do as pet owners?
Dog Cooling Mats are a great way of keeping your doggie cool at any temperature. Whether you are travelling in the car or just simply sitting at home. Dog Cooling Mats will ensure your doggie remains comfortable and cool in any weather. They can simply be placed on the couch, the floor, the outside, the car, anywhere really. They are perfect for any size dog, you just need to buy one that your doggie fits on.
Keeping Your Doggie Cool in Hot Temperatures
If you are a keen traveller and love taking your doggie with you, finding a sun-protected spot is a must for your furry companion. Sunburn and heatstroke in doggies are much more dangerous than in humans and can cause organ failure. We always take a child's tent, and dog cooling mats to ensure our doggies are looked after. We use the dog cooling mats in the car also when travelling. Ralph often gets travel sick and a lot of the time I believe it's because he gets too warm. Since using a dog cooling mat he hasn't been sick in the car.
Now that the temperatures are soaring, we are finding it difficult at night for Ralph and Rupert to sleep. We introduced dog cooling mats in their bad and WOW have they worked. Instant sleep, comfort and above all else, less irritation.
Dog cooling mats range in prices and can be as low as £3 and all the way up to £20+. What I will say from experience is that the lower-priced ones quickly become replaced by the more expensive ones as they don't seem to work as well.
Let's take a look at the best dog cooling mats for your dog in the Summer
Best Dog Cooling Mats to Beat the Heat
If you are looking for a stylish and different looking cooling mate then look no further than Pet Gel. Bright & Colourful design that will catch the eye of you in an instant. Most cooling mats on the market look and feel the same. They are pretty boring, they all do the same thing, they all look the same and are just plain boring.
Pet Gel have gone out there and designed a different style to help your doggie cool down, and the mat looks amazing.
One amazing feature of the Pet Gel Dog Cooling mat is that it is ready for self-cooling after 15 minutes. The Pet Gel also has a waterproof material making it suitable for outdoor use too.
Placing the Pet Gel into a bed, car, crate or even in the garden is a great way of getting your dog to cool down and feel comfortable. With such a quick recharge at just 15 minutes, your doggie can go get a drink and by the time they come back, it will be ready to go again.
Check Price On Amazon
Getting your dog onto a cool mat and using it regularly can be difficult. If you don't believe your dog will use one but you wish to try, this is a cheaper option. If you have a medium or a large dog, the price for either is the same so sometimes a larger one may work out better anyway. But do check the size just in case the medium is too small.
Like most cooling mats, the Rosewood Chillax is activated by the pressure applied by your doggie. For 3 to 4 hours your doggie will be cool and relaxed in these soaring temperatures.
No need to plug the mat in making it safe and effective in a car, bed or crate.
Check Price On Amazon
Petic is our number 1 choice because of the amazing material used to make this dog cooling mat. Made simply from composite PVC which is amazing for doggies / and probably cats due to the scratch resistance and the that it is waterproof. As a cooling mate, your doggies heat is easily taken away and evaporated in the air through areas your doggie is not lay on.
Simple to clean with a brush and some water. In these temperatures, it will dry in a matter of minutes and you will be fine again.
This dog cooling mat is a great addition to any dog owner as it shouldn't need to be replaced for a long time. It is simple to clean and is scratch resistant making it the most durable we could find on the market.
With its simple design, you can use it in beds, crates, cages, cars, and floors allowing your doggie to be kept cool anywhere.
Check Price On Amazon
Next up is the Mega Jumble Dog Cooling Mat. Although the price is amazing, it comes only in one size. Ideal for dachshunds, chihuahua's etc this mat is a great, Small, dog cooling mat. At a mere 60 x, 40cm not much space is required but it definitely does the trick.
As with all the dog cooling mats we have viewed, this is a self-charging, automatic cooling dog mat. The cooling procedure is triggered by the weight of your doggie on the gel inside. When your doggie moves, the procedure to recharge starts. No electric, no fuss. At such a small size, there is nowhere you cannot take this mat.
Check Price On Amazon
The scruffs brand is a popular brand and the quality of their mats are understandably high quality. Customer service at Scruffs is extremely highly rated. This cool mate isn't the cheapest mat on the market but for a doggie that likes to have a quick lie down then, this is for you. Cools for up to 1 hour to 5-10 degrees less than the surrounding temperatures. Once used, leave for 1 hour and the cooling process can restart.
Scruffs have provided 4 different sizes of their mat and made them easy to clean, so for messy dogs, this is perfect.
The gel inside the mat is non-toxic so if your doggie decided to rip or chew it, then he/she will be safe. Just remove from them as soon as possible.
Check Price On Amazon
Summary
Dogs can become very irritable in this heat just like humans. You need to make sure that they are not only hydrated, but they are also cool and out of the sun. Dogs can sunburn and that can bring on even more problems.
Getting one of the dog cooling mats will help. If you can get your doggie to like the cooling mat, where ever you place it, they will go. This makes it easier to keep them out of the sun or extreme heat.
We have chosen the Pet Gel cooling mat as it has the best design and is also a reasonable price. Not only that, the 15-minute self-cooling process really helps Ralph and Rupert stay cool and comfortable in these hot temperatures.
Even though the gel inside these cooling mats is non-toxic, that doesn't mean it's ok for them to start eating it. These things are not meant to be consumed and should always be removed once your doggie starts to breakthrough. Training your doggie to stop chewing everything will really help reduce the risk.