Parents around the world will know exactly what a Dog Nerf Toys is but dog owners may not. Nerf toys are not just for kids and grown-ups to run around shooting each other with a Nerf Blaster Gun. Dog owners will generally own one of the many different Dog Nerf Toys such as Nerf Dog Balls or squeaky toys. However, there are many more Nerf Toys available that your dog will learn to love along with you and your children.
Amazon has a wide range of these Nerf products available and this page is designed to give my views on each of the Dog Nerf Toys for Outdoors. As with any product, research and testing yourself is always required but we want to provide you with some information to initially help you make a great decision.
[no_toc]
Check Dog Nerf Toys Here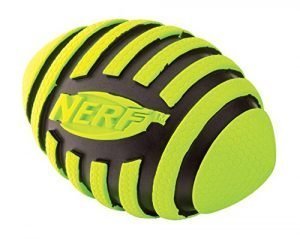 Nerf American Footballs originally were made from soft foam. These are great for indoor and outdoor use and for training purposes. Nerf improved on the foam football and created the rubber Nerf Dog American Football with a squeaker.
Squeaking with every bounce and bite, your dog will love chasing this ball around the garden/park. This American Football comes in medium and large sizes (5 to 7 inches) so depending on the size of your dog depends on which size to buy. Made from highly durable rubber, a customer who has purchased the Nerf Dog American Football has stated that it has survived chewing from Pitbulls and Labradors. These dogs generally destroy all their toys but the Nerf ball has survived long periods of doggie abuse.
---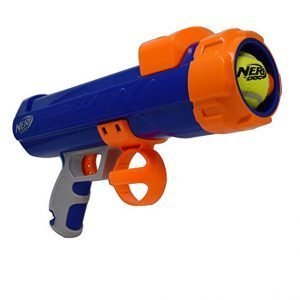 Nerf Dog Toys don't come much cooler than the Tennis Ball Blaster. Everyone in the family will love this toy. A tennis ball blaster gun that can fire a tennis ball up to 50 feet, is hours of fun. Kids and Parents will enjoy being in the wide-open fields and taking this blaster gun with them. Dogs can collect the ball and drop it in front of you as the launcher has a fantastic hands-free pickup. By simply pressing down on the ball with the end of the gun, the ball fits into the end of the gun ready for the next launch. A great set with four brightly coloured tennis balls. One of the great features of this blaster is that you can purchase regular tennis balls to replace any lost Nerf Balls.
---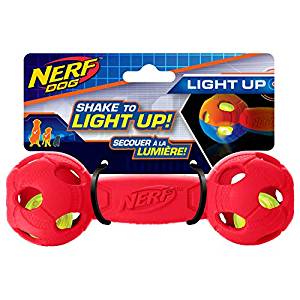 Dog chew toys that last longer than a week can be quite difficult to come by however, these barbells chew toys from Nerf are amazing. Ridged, durable and tough exterior make this a great chew and fetch toy. Ralph regularly tears to pieces any fetch toy he has been purchased however, the Nerf Barbell Toy has lasted a long time. Available in various colours, this toy is definitely worth every penny.
---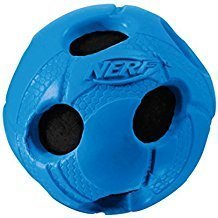 Purchasing a rubber or tennis fetch ball for your dog is a good idea, but they never last very long. Why not purchase an all in one. This Tennis ball wrapped in Rubber makes it one of the toughest, long-lasting, most durable fetch balls available. Small, Medium and Large dogs love chewing through fetch balls but the Nerf ball has been designed to withstand this.
Although probably dearer than purchasing your standard tennis or chew balls, you will only need one of these.
---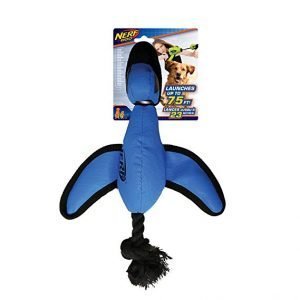 Elasticated, slingshot Dog toy can fire the duck up to 75 feet without any stress. Designed with a sturdy woven nylon exterior this Nerf Duck Launcher Toy will provide your dog with plenty of exercises.
Although the toy has been reported as easily rips if your dog is well trained it will bring it back in one piece.
---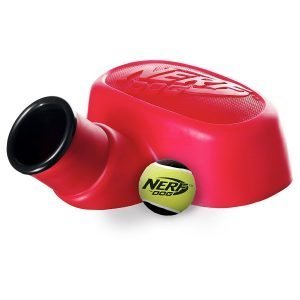 One stomp is all it takes to launch any standard tennis ball up to 75 feet. The Nerf Dog Tennis Ball Stomp Launcher is the fun, easy way to give your friend the exercise he craves. The sturdy plastic stomper needs no adjustment – the neck is already angled for optimal loft. It's foot-activated, making it especially good for dog owners with shoulder injuries. Standard sized tennis ball included.
Great for outdoor use the Nerf Dog Stomper Toy is an exciting toy that gets all the family involved. Test each other on how far you can launch the ball while your dog fetches and returns it.
---
Summary
Many of the Dog Nerf Toys above are great accessories for you and your family to enjoy some great outdoor time. Searching on Amazon for Nerf Dog Toys will help find other toys that are available. All of which are of the greatest quality with the Nerf brand.
If you are struggling to buy your doggie something amazing for Christmas or Birthday then look no further, Nerf toys are just amazing!