GoPro Dog Chest Harnesses and Cameras are excellent tools through which you could know what your dog is up to during your little walking trips. The GoPro Fetch Dog Harness comes with adjustable straps and a mounted camera to make your dog videos. It helps you to connect with your pet more as you come to know more about the dog through these videos.
Owning a dog is always great fun. Venturing out in the woods with a ball or a stick and letting your dog roam free, as long as he/she is well-behaved. Recording your dog's adventures is the next step in seeing the world as your dog sees it. Owning the Perfect GoPro Dog Chest Harness and GoPro Camera will help you easily attach to your dog and then view the world through your dog's eyes. We have chosen the harnesses carefully and found some amazing products like the Aodoor GoPro Dog Chest Harness and of course the GoPro Fetch Harness.
Then trying to choose the perfect GoPro camera. GoPro is an ever-evolving company that will always improve on previous products and with the GoPro Camera Range, this is still true.
The GoPro Fetch dog harness is the official product from GoPro and of course will be highly recommended by GoPro users worldwide. Although this product is probably the perfect GoPro dog harness available, many other products will provide your dog with a similar comfort level and a sturdy mount for your GoPro camera.
The Perfect GoPro Dog Chest Harness
The GoPro Fetch Dog Harness includes three adjustable straps that ensure a secure fit of the harness. These straps also work alongside the padded plates for that additional security when mounting the GoPro to your dog. The mounting points of the GoPro are on the chest or the back giving your multiple options for your doggie videos. Although the chest function is a great POV when your dog is out, if you own a small dog then you will get better quality videos from the back mount.
The harness adjusts to fit dogs up to 120 lbs and as little as 15 lbs catering to all breeds. The harness is waterproof and easy to clean which will ensure the harness lasts, especially if your dog loves rolling in the mud.
Attaching the straps is extremely simple and very quick to do. The tether loop will prevent the camera from becoming dislodged should it take a bump or knock whilst your dog is out.
Like most harnesses, the GoPro Fetch Dog Harness is almost unnoticeable by your dog due to its weight. Getting your dog used to the harness, like any other, will require that little bit of training. Fit the harness then treat your dog, then attach the camera. This will be strange at first and your dog may try to scratch or remove it. Keep trying until your dog ignores it, using treats each time.
Once the camera has been attached to your dog's harness then you can start to play with the settings. Ensure the right tilt and view on the camera so that you are recording directly in front of your dog.
One downside to the GoPro Fetch Dog Harness is the mount on the chest does tend to slide. This can cause the camera to move and not stay in the same position. You will need to adjust regularly. However, if you have a dog with a larger chest then this problem may be avoided as the harness will be snugger. For perfect quality, mount the camera on the back of the dog and the footage will be much steadier and clear with minimal obstructions.
---
Possible GoPro Cameras You Must Know About
Once you have purchased your GoPro Dog Harness, you are obviously going to need a GoPro or other Action Camera to fit the harness. Although there are other models around, GoPro leads the way in the action camera market.

HERO5 Black is the most powerful and easy-to-use GoPro ever, thanks to its 4K video, voice control, one-button simplicity, touch display, and waterproof design.
Smooth stabilized video, crystal-clear audio, and pro-quality photo capture combine with GPS to make HERO5 Black simply the perfect GoPro. And when it's time to edit and share, HERO5 Black automatically uploads footage to your GoPro Plus cloud account to provide easy access on your phone. Then, you can create amazing videos automatically with Quik, the GoPro editing app.
The GoPro Hero 5 comes has amazing 4k Video Capability, 1440p, and 1080p.
The new scheme of the Hero 5 Black with the rubberized exterior makes it easier to hold, and it benefits the camera when it comes to shockproofing. The Hero 4 Black, feels well protected without its protective case even when out of the water, the whole thing feels like it is solidly constructed.
Some of the older GoPro cameras are limited in the size of cards they can handle. The GoPro Hero5, Hero5 Session, can accept cards up to 128GB in size. As with all things like this, if, you are purchasing a new card for your GoPro try to get the largest capacity that will work with your camera.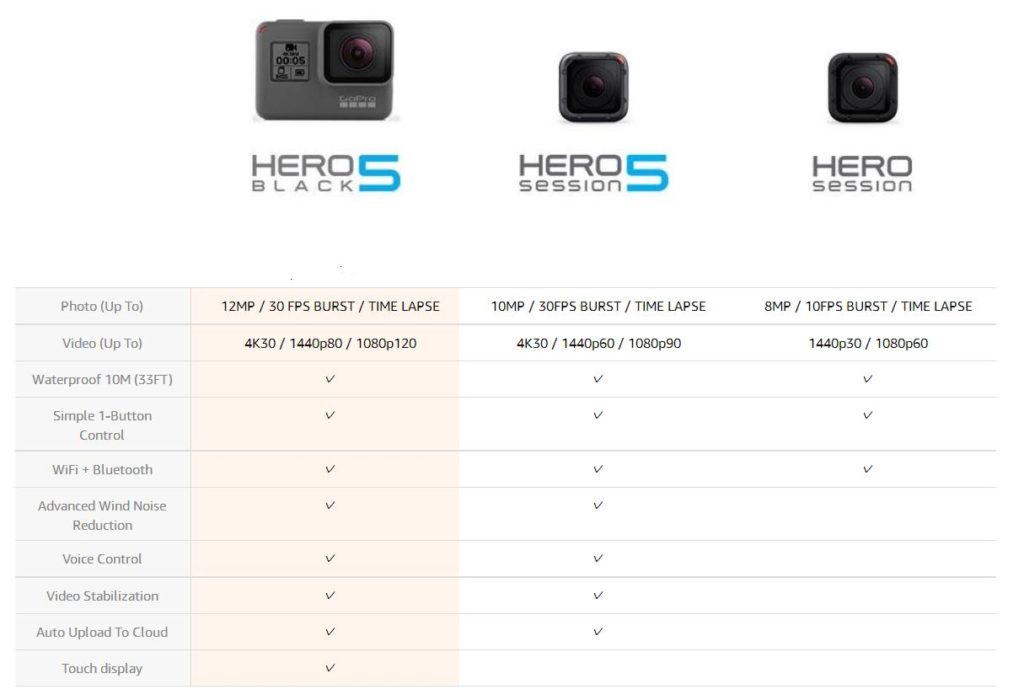 ---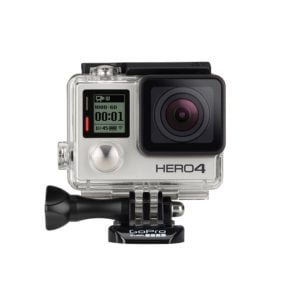 This camera works really well with all the Harness and is the one camera I would trust. This simple-to-use camera has all the settings you need for a fully functional action camera. With easy-to-navigate menus and settings, you can capture all your favourite moments quickly and easily.
The video and picture capture on this camera is amazing. With a huge 12mp Camera and 30fps video, you won't need any other action camera. The video capture is amazing and one that is recommended worldwide. GoPro is a well-known name and brand and one I am sure will be around for a very long time.
As with all action cameras, this GoPro Hero 4 has built-in WiFi and Bluetooth technology helping you connect to the GoPro App and other accessories.
With cinema-quality videos and customizable settings, you can set the exposure, time-lapse and many other amazing features on this camera. The high performing audio and cinema-quality video make these home videos a must keep. Connecting these cameras to your dog is a must, especially for the more active dog.
The camera is also waterproof down to 40m and can withstand the most extreme weather conditions. The QuikCapture function is also another amazing feature. With the simple click of a button, you can record, power on and capture anything including wide-angle views.
---
GoPro Additional Accessories
This accessory kit has it all. If you are purchasing the Harness and the Camera, you may as well get the accessory kit as well. This will then mean that not only your dog can enjoy the GoPro Hero Camera, but so can you.
Features of the GoPro Accessory Kit: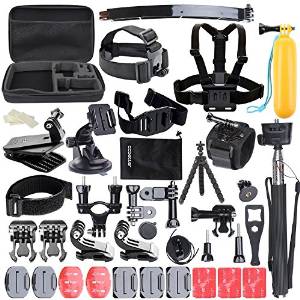 Removable triangle suction cup mount: Sucker with CNC processed aluminium adapter pad and plastic screw. Work with GoPro for low-angle shots, and strong and firm suction to reduce the vibration. A bobber can be used as a float, handgrip, or stand: Not only will the bobber keep your GoPro afloat if dropped in the water, but it also functions as a stand or hand grip.
WiFi Remote Velcro Belt Band Wrist Strap: Long enough to fit around bulky ski coats or just around your wrist comfortably. Attach your WiFi Remote to your wrist, arm, bike handle, steering wheel – virtually anything. Anti-fog inserts 12pcs: Prevent your GoPro Hero camera housing from fogging,12 pieces per pack, put back to seal the bag after use.
Mini Retractable Tripod with Ball Head and Foldable Legs(Silver): Small, Lightweight and portable, easy to store. Suitable for all kinds of cameras, digital cameras, web cameras, and camcorders. Motorcycle Bike Handlebar Seatpost Pole Mount & 3-Way Adjustable Pivot Arm: Attach your GoPro camera to handlebars, seat posts, ski poles, and more. max for 4cm diameter tubes. You can also clamp to the chainstay, small roll bars, bolt-heads, and kitesurfing control bars, or even use it to create a handheld boom, any pole that is in the size range above. Comes with pivoting orientation arms allowing for 3-way adjustability, ensuring you can get the angle you want.
Backpack Strap Quick Release Clip Clamp Mount 360 Degree Rotation:360 degree rotation, the direction, and the angle can be adjusted to your needs. Easily clip or remove it from the backpack, hat .etc. Insurance Tether Straps: Use these camera tethers and adhesive anchors to further secure your GoPro camera in extreme conditions. Helmet Extension Arm Monopod Mount + Curved Buckle Basic Mount + Sticker + 2 Screws Kit This helmet extension arm lets you attach your GoPro camera to your helmet for filming great action videos. Attach the bracket mount to the helmet using a strong 3M adhesive sticky pad, slide in the buckle, attach the extension arm, and then your camera. The bracket mount is curved to fit the shape of a helmet surface.
Closing Thoughts
The GoPro Cameras are 1 of a kind and have revolutionized home video. From cliff diving to going on a run, these cameras have changed the way we video day-to-day activities. Now you can video from your dog's view. Buying the right harness to fit your dog and your camera is key to ensuring your camera fits well and looks great while keeping your dog comfortable at the same time.