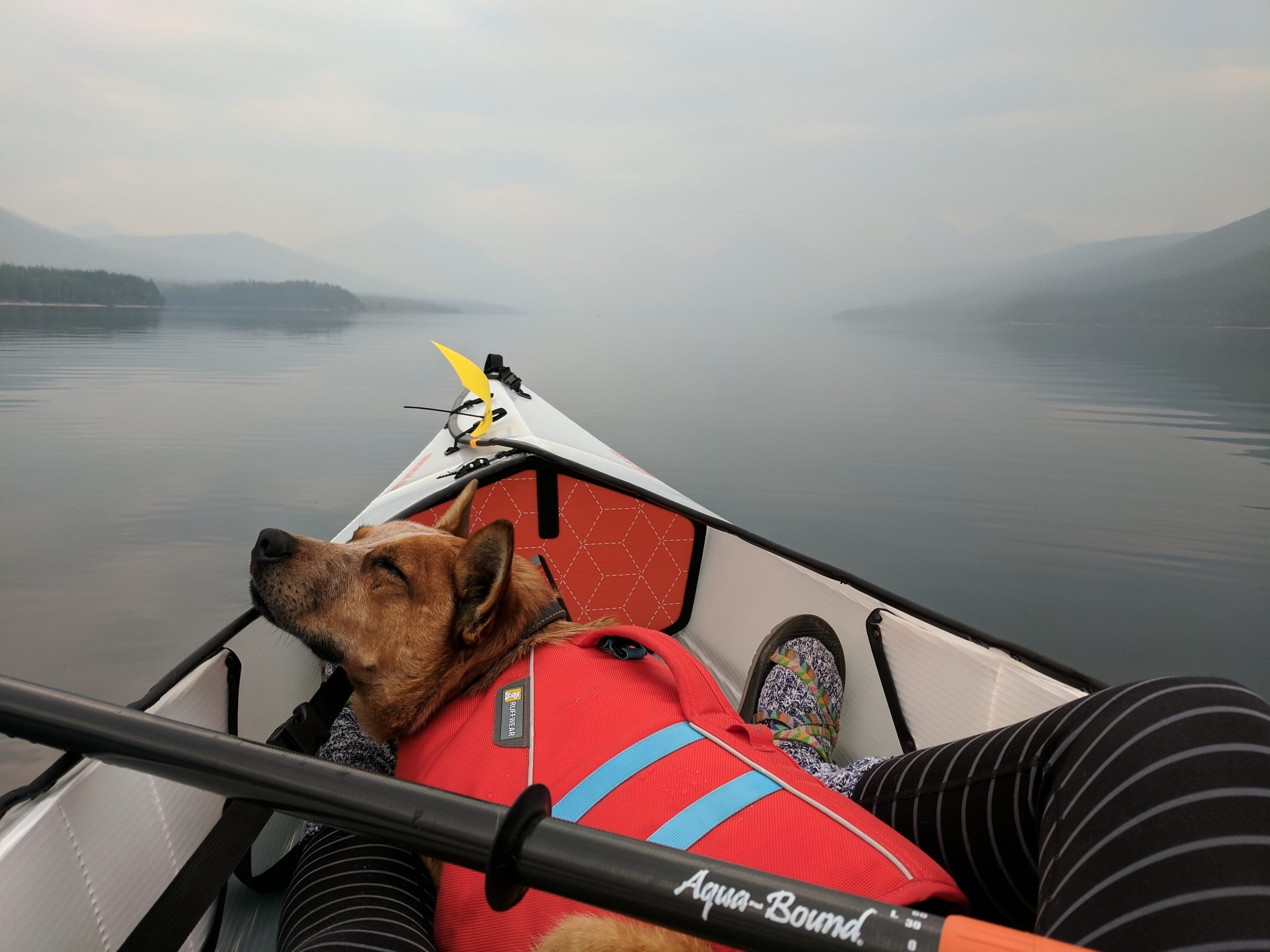 It is no secret that most dogs love and enjoy Kayak riding very much. Kayak riding is considered one of the outdoor activities involving a pet. Before you begin to search for the kayaks for dogs, remember to measure your dog's combined weight and the items you will carry with you, as you wouldn't want to overload the kayaks.
There are many activities you can do in the world that people believe they cannot do when they own a dog. Or they leave their dog behind. Kayaking is a fantastic experience each time, and sharing these adventures with your dog is a must. Searching the internet for the Kayaks for Dogs, you will find some fantastic images showing dogs enjoying their kayak adventures with their owners.
Choosing a Kayak That is Dog Friendly
Dog-friendly Kayaks are easy to find as there are so many to choose from; however, choosing the good one is much more difficult. Continue reading to take away that stress as we provide several vital specifications you need to look for if you wish to choose your own fantastic Kayak.
Required Kayaking Gear
Besides the obvious, a kayak, your dog will require a few additional items. Here is a quick rundown of the Kayak for dogs for you to take with you.
Point to Note: A meal for you and your dog is essential and has plenty to drink. Plus treats to help your dog training to ensure they continue to behave.
Safety Tips For Kayaking With Your Dog
Safety should always be your number one priority for your dog, especially when out in the open waters. You will have a lot of points to consider about keeping your dog safe, but here are the leading and most important;
Make sure your dog has a life jacket.
Sun Cream is required on dogs' noses in warm weather
DO NOT tie your dog up to the boat
Take a little more food and water than you think you need
Stay in calmer looking waters as your dog may panic
Previously we mentioned that one of the essential pieces of equipment your dog will need when out in a kayak is a Dog Life Jacket (aka personal flotation device). Your dog could be the strongest swimmer and confident around water, but there are many stories of dogs being lost or even drowned. The current in rivers and streams can sometimes be too intense for your dog to cope with. Having a dog life jacket will ensure your dog stays afloat.
Another essential safety point is to never tie your dog to the boat with a rope or harness. This is so dangerous as your dog will not be able to escape should your Kayak turn over. Also, whilst underwater yourself, you will find it difficult to untie your dog whilst trying to save yourself. Instead, please keep your dog with its collar in a safe place, so should the boat turn over, you can grab hold and pull your dog to safety.
Re-hydration is essential for any human or dog on a kayaking trip. The sun can dehydrate you quicker than on land away from moisture while near open water. Take plenty of water and food to ensure you keep hydrated and safe. A vet bill, after all, is not what anyone wants.
Train your dog, using treats, and then once trained and you're comfortable, then, attempt going out on the water. Start shallow as your dog may get scared the first time.
Size of Kayak
Choosing the Kayak for you and your dog depends on the size of your dog. Kayak dimensions must allow for a little extra room for your dog. Dogs like to move around and can take a while to get comfortable. Ensure that there is room to allow this.
The Kayak's width is also important. Standing dogs need to be able to do so comfortably and not slip or slide. They should be able to stand still on the Kayak without falling out.
Finally, how much weight the Kayak can take must be considered. You don't want a lightweight kayak and a large, heavy dog. This will make the journey a considerable struggle, and you may also sink.
Sitting on/in the Kayak
There are two types of kayaks for the most popular dogs. Sit on kayaks and sit-in kayaks. Medium to large breed dogs prefers to sit on kayaks as they are open and allow plenty of free room. Dogs like water can jump in and climb out whenever they wish. Most sit on kayaks users find much more stable whilst your dog is riding with them.
Smaller dogs, like Ralph, tend to like the sit-in kayaks. Smaller dogs want to find smaller, cosier spaces to rest and get comfortable. Some will even sit on you. Your dog will make its mind up once comfortable in the Kayak.
Dual or Single Kayak
A single seated kayak is precisely that, one seat with just enough room for you and your equipment (your dog could sit on your lap or top of the Kayak). Larger dogs will require a tandem kayak which provides a second seat so much more room for your dog and equipment.
Fishing vs Inflatable vs Hard Kayaks
It is suitable for standing & sitting, making it one of the kayaks for dogs and a fishing kayak. These are much more stable than most kayaks as, when fishing, you may need to stand several times. If you are kayaking with your dog, then a fishing kayak is an excellent accessory for those calmer waters.
Some dog owners panic when they see inflatable dogs together; however, inflatable kayaks have seen technology improve. Inflatable kayaks are considered much more durable than hard-shelled kayaks. Keep your dog's nails trimmed to prevent any punctures, as the outside layer for the inflatable Kayak is made from the same material as a white water raft.
Furthermore, the weight capacity seen in an inflatable kayak is higher than a hard-shelled kayak. This makes them stable and comfortable for small or large dog breeds. St. bernards or Great Danes are probably better suited to an inflatable kayak.
7 Kayak For Dogs


Our number one choice for Dog Kayaks is the Perception Tribe sit on top Kayak. At a whopping 13 and a half feet, this Kayak provides room for all the family (3 adults or two adults and a large dog). Perception Tribes kayak is great for the ocean or a gentle cruise down a lake. The Kayak is also extra stable due to how low the water it is.
Another great feature is that the seats are easy to stow away. They can be folded away. Finally, to keep any unwanted water from getting to you, then the Perception Tribe comes complete with "scupper holes."
---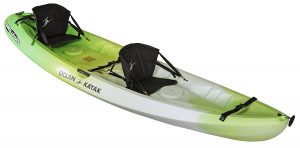 Up next is the Ocean Kayak Malibu Tandem Kayak. This Kayak is a previous seller on Amazon and is a well-known dog kayak. The size of 12feet long and its sit on top Kayak makes this the perfect Kayak for you and your dog.
The Ocean Malibu Kayak can hold up to 190kg in weight (approximately two adults and a Child / Medium dog). The design is perfect and allows for storage of all your items or even up to three paddlers.
Including in the Ocean Malibu are three comfortable seating positions complete with wells, handles and straps. The Kayak is highly stable and durable, with a robust and sturdy deck for your dog to sit on whilst you are out on your adventure.
---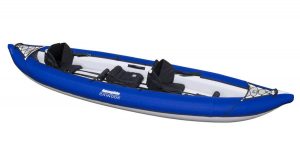 Inflatable kayaks are becoming more and more popular, so more people are taking dogs with them in an inflatable kayak. Inflatables these days are made with a much more durable material that prevents punctures and makes them even more potent than a hard-shelled kayak. You still need to ensure your dog's nails are trimmed, but that is all.
Some of the main features of the Aquaglide Chinook are the size of the cockpit and the boat's length. The cockpit size allows up to 3 adults to sit safely and comfortable, or two adults and a large dog (as we are looking at the dog kayaks). The cockpit size makes it even easier to get your dog on board. The length of the boat is shy of 13 feet and supports up to 250kg in weight, allowing a St. Bernard and two adults to be on board and your baggage – comfortably. The Aquaglide Chinook may be inflatable but is made with advanced puncture-resistant PVC that gives extra stability on your travels.
---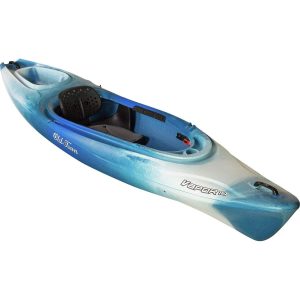 Most Amazon customers or kayak lovers tend to go for the hard-shelled kayaks, and the Old Town Vapor 10 is where they head for. Providing plenty of legroom, the Vapor 10 is a well-made kayak that allows its owners to sit inside and enjoy a comfortable ride whilst your dog sits between your legs.
Although only suited for one adult, your dog can come along for the ride as long as it is only a small or medium-sized dog that can fit between or on your legs. The Vapor 10 Kayak is a mere 10 feet long and is lightweight, making it easy to transport. Although not our favourite, if you are looking for an excellent, quiet, peaceful kayaking adventure for you and your dog, then this is what you need.
---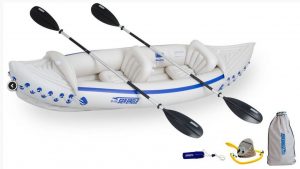 Some users of the Sea Eagle ER330 have said this may be the dog kayak on the market. It is a trendy choice, that's for sure. It is affordable, high quality and above all else, looks excellent. Once you have received the Kayak, you are good to go straight away. The kit comes complete with all your need to get going. A boat. A pump. Some seats and a carry case.
Sea Eagle has made this with puncture-resistant material, so your doggie will struggle to get through this. Also, allowing up to 225kg in carrying on, take your giant pooch with you and have plenty of room for a good meal. Once the Sea Eagle has been deflated, you can carry it anywhere. It weighs just 11kg, so that it will fit snug into the boot of your car.
---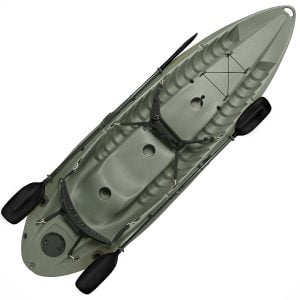 Fishing Kayaks are a great way to relax in the open waters whilst having relaxing fish. Taking your dog along for the ride is simple with the Lifetime Sport Fisher. As it is a fishing kayak, your can easily stand or sit without any worries.
Complete with a 6inch storage hatch, you will be able to keep spare clothes/food nice and dry. The Kayak is 10 feet long and is excellent as a single or tandem kayak for you and your dog.
There are also several footrests for different seating positions. You or your dog may find any of these comfortable.
---

Finally, last but no means least is the Coleman Colorado Inflatable kayak. This fishing kayak can support a large dog and an adult or two adults making it great for fishing with a friend (dog or human). The Kayak has been deemed one of the inflatable kayaks, and with its puncture-resistant material, your dog won't get through. The Coleman Colorado also gets through the water extremely well. At a very affordable price and a respectable 10 feet 9 inches, the Colorado Coleman is an excellent addition to any fishermen looking for something a little different.
---
Things To Consider When Kayaking With Your Dog
Your Dog: Taking your dog kayaking can be a fun experience for everyone if your dog enjoys it. Sometimes dogs don't like being in a kayak or the open water. Training your dog is a vital part of kayaking with your dog, but you may need to look elsewhere if your dog becomes anxious. Not all dogs are cut out for being a kayaking partners.
Nobody wants to be stranded with an over-anxious or hyperactive dog in the open water. The results can be dangerous for you and your dog. Ensure your dog is a lover of the water and comfortable sitting and relaxing whilst sitting in the Kayak.
Introduction to the Kayak: Some humans can be scared of a kayak so imagine what they look like to a tiny dog. Introducing your dog to the Kayak first is an excellent way of allowing your dog to get comfortable. Desensitizing your dog will make your kayak experience much more fun with your dog.
Leave your dog to sniff and search around the Kayak on their own, in or outside, to allow them to get used to its size of it. Then, once they seem relaxed, start getting them to sit inside. Put their favourite toy in and let them play, or even their favourite blanket. Using dog treats as rewards or finding them gives them an incentive to stay in the Kayak.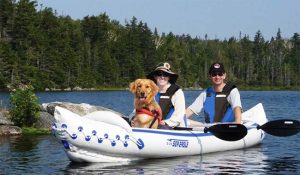 Getting in and Out: Training dogs to do anything is always tricky, so why would getting them in and out of a kayak be any different? Even with the dog kayaks, dogs need time and training. Use other methods and techniques to get your dog in and out. As mentioned earlier, start on land. Whether in your house, garden, or beach, your dog will be more comfortable than on a rocking kayak.
As you help your dog to jump into the Kayak, use the sit training command immediately. As your dog sits, then give them a treat. This quickly teaches them to sit on the Kayak, which is the correct behaviour. Also, when they leave the Kayak, get them to sit straight away before giving a treat – smaller dogs can be lifted and put in, but you still need them to sit.

Speed: Remember, you are not out for white water rafting. You are out for a nice trip down the river/lake at a slow speed. Once your dog is comfortable getting in and out of the Kayak and has mastered the sit command at the correct times, it is time to focus on paddling. Allow them into some water for a short trip or paddle.
Starting Your Journey: The main reason for training your dog to be extremely well controlled at sitting and staying is the start of your journey. With any raft or Kayak, you will need to be outside the vessel to get it into the water. Your dog will have to be in the Kayak on its own for a short period.
As the boat starts to move, your dog may feel the need to jump out. This is not ideal. Whilst moving the Kayak, continue with the sit and stay in command to ensure your dog stays in the seat. Likewise, when you start paddling, your dog can get a little startled at first but can quickly get used to them.
Staying Put: Dogs can be distracted by wonderful, wondrous things on their travels. From a tiny leaf blowing in the wind to some birds/wildlife roaming around the trees. Either way, when in a kayak, your dog can encounter beautiful things and want to jump out and explore. When in open water, it's not quite that simple.
Sitting Command: Continue using the sit and stay command, as this is an essential part of your dog's training and journey in a kayak. You can train your dog in your local parks where it's busier with people or wildlife. Teaching them to stay by your side is a simple and effective way to remember in a kayak. Use the same commands at all times.
Final Words
Hopefully, this guide has helped you make a much more determined choice on the Kayak for your dog. Finding a kayak suitable for both you and your dog has now been made more accessible, from a kayak with a little more room to an inflatable kayak that you may not have thought about before. If you are a fan of the water, definitely take your dog with you. Dog kayaking can be lots of fun, and it's a great time to be had. Taking your friend with you can make the experience much more fun if your doggie behaves.