Tried watering the garden only to see your dog jump at the water firing out the hose?
Our pup, Ralph, loves the hose and wants to throw his mouth in front of the water instantly to get as much as he can. Moving water is healthier and safer for your pets, and the PetSafe Drinkwell Pet Fountain provides enough moving water to keep your dog hydrated all day, every day. Automatic Water Fountains are a brilliant way of providing a healthy water supply all day.
Pet Fountains are becoming more and more popular as flowing water is healthier. Your dog will naturally drink more due to the gentle flow and ensure a clean, bacteria-free water supply.
PetSafe Drinkwell Pet Fountain Benefits
Your pet's health is important – moving water is naturally healthier, and having a Pet Fountain allows your dog to drink fresher water.
Pets Drink More Moving Water
Not only is your dog's health important, but the amount of water your dog drinks is just as important. Dogs can be stubborn and not go to their bowl. A Pet Fountain can ensure your dog naturally drinks more water, becoming a healthier-looking dog by the day.
Moving Water is Healthier
Stagnant water can produce all sorts of diseases which can seriously harm your pets. Mosquitos are naturally attracted to stagnant water and, in turn, create a Heartworm.
What To Look For in a PetSafe Drinkwell Pet Fountain?

All pet fountains are very different. Here are a few bullet points to consider when purchasing.
How easy is the Pet Fountain to clean?
Is the Pet Fountain too big for the room?
Is the filter easy to clean/replace?
4 Effective PetSafe Drinkwell Pet Fountain
As there are so many Pet Fountains out there, we have reviewed only the PetSafe Drinkwell Pet Fountains as these are the perfect on the market and great value for money. All can be purchased at Amazon at amazing prices, and with a speedy delivery service and live feedback from real users, this makes Amazon our most suitable choice.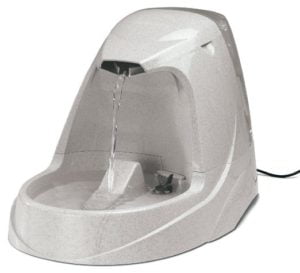 The PetSafe Drinkwell Platinum Pet Fountain and the Original are amazing indoor and outdoor use choices. The platinum fountain also comes in a MINI Version (see table above). Both these are by far perfect one, and PetSafe has ensured that. PetSafe seems to understand what the consumer is looking for with these, and they do not disappoint.
Pros
Components are top-rack dishwasher safe
Carbon and foam dual filtration
A steady stream of water
Holds 1.3 gallons of water in the reservoir
Suitable for dogs and cars
Cons
Pump cleaning kit sold separately and not included in initial purchase
---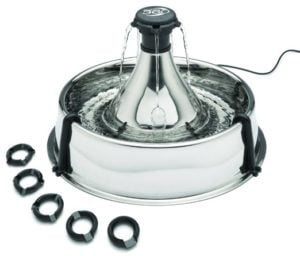 Interchangeable Spout Rings create up to five individual streams
Replaceable Charcoal Filter removes bad taste and odour to enhance the taste
Replaceable Foam Filter keeps Pump and water cleaner by catching hair and debris
Receiving ramp reduces splash and sound of falling water
Dishwasher safe (excluding Pump)
Pros
Stainless-steel material lasts longer than plastic and is top-rack dishwasher safe
Provides a free cleaning kit with the initial purchase
Carbon and foam dual filtration
Customizable, multiple water streams promote fresh taste, movement and aeration
Suitable for cats
Cons
Holds 1 gallon (128 ounces) of water in the reservoir, which is less than other models
Indoor use only
More expensive than other models, but does include the cleaning kit for free
---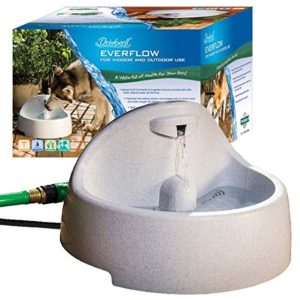 Always ensure with a PetSafe Drinkwell Pet Fountain overflow that you keep the water topped up, or you can quickly burn out the motor.
The Petsafe Drinkwell Everflow Indoor / Outdoor Water Fountain can be connected to an outdoor hose and will always refill, meaning you don't have to
You can use it indoors, but the fact it can be connected to a hose means this fountain will always be filled, and the motor should never burn out.
Pros
BPA-free, UV-resistant plastic components are top-rack dishwasher safe
Carbon and foam dual filtration
Steady stream of water promoting fresh taste, movement and aeration
Holds 1.5 gallons (192 ounces) of water in reservoir
Can attach to hose, so no need to refill
Indoor or outdoor use
Suitable for cats
Cons
Some reviews claim the pump is louder than others available
Pump cleaning kit sold separately and not included in initial purchase
---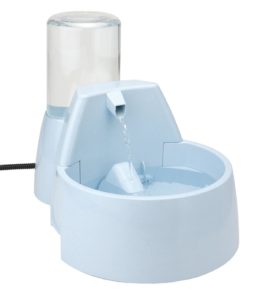 With 8.5l Water Storage, this Pet Fountain is great for Larger Dogs. The PetSafe Big Dog Fountain has a free-falling stream that entices pets to drink more water. Adjustable flow control and receiving ramp reduce splash of falling water.
In nature, moving water is much fresher than stagnant water. The movement constantly breaks the surface tension of the water and draws oxygen from the air into the water. This process is called aeration, and it makes the water more appealing to drink. Pets may be drawn by instinct to moving water for this reason.
Research shows that one of the most suitable ways to improve your pet's health is to get them to drink more water, and the perfect way to do that is with the Drinkwell Big Dog Pet Fountain. The Pet Fountain filters and aerates continuously moving water to keep it much fresher than standing bowl water. In addition, the constant circulation inhibits bacteria growth keeping the pet fountain cleaner.
Pros
Holds 8.5 litres of water
Anti-bite cord cover
Non-slip feet
No assembly required
BPA-free
Cons
The fountain is slightly noisy
It is sometimes difficult to clean the inside part of the fountain.
---
Closing Thoughts
Pet fountains are a great way to ensure your pet regularly drinks like Ralph. We can never tell when he is drinking or often enough. Flowing water will ensure he regularly drinks.
While you do need to replace the filters, which are also available at Amazon, your pet's quality of life and health is key, and these will ensure that.
Preventing kidney issues, bacteria growth, and dehydration is always an utmost priority. These affordable fountains ensure and prevent regular trips to the vet for bacterial infections that could cost you hundreds or even thousands of pounds!