Is your dog overweight? Having a large fat doggy means lot of food restrictions. But they can cheat when you're not around! To keep an eye on your doggy, get a pet camera treat dispenser. Through the camera you can see the live footage of your doggy's activities from anywhere. Through the pet camera treat dispensers you can always keep an eye on your puppy.
As dog owners, we should treat our pets similarly to how we would look after a child. This also includes a monitor or pet camera to use whilst away from the house. Below, we've reviewed and listed the perfect pet cameras/pet camera treat dispensers for monitoring your dog and looking after them when they are alone.
There are many types of pet cameras. Some will mostly record your pet or stream the video to your phone, others will also allow you to provide a treat.
The most popular pet camera treat dispenser, in our opinion, is the Petzi. One of Petzi's main features is while you can record in great quality and provide high-quality audio to your phone, you can also treat your pet remotely with just a little tap of a button.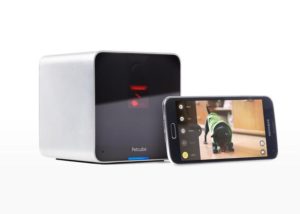 With a Pet Camera / Pet Camera Treat Dispenser you can watch, interact, and treat your pet and most have features such as:
Instant streaming using your phone
Video and Picture capture
See in the dark with a night vision feature
Speak & Listen to your pet
And with a pet camera treat dispenser, you can treat your pet
Choosing the Perfect Pet Camera Treat Dispensers

Having a dog is just like having a child or a baby. This is why we need Pet Cameras. Our dogs can teach themselves to get into places they shouldn't or investigate rooms/places that you really don't want them to.
When it comes to the safety of your dog, you can never take too many precautions, just like when you have a baby. We have to be aware of all surroundings and be on our toes of any dangers that 'may' occur before they actually do. One of the perfect ways to do this is with a Pet Camera / Pet Camera Treat Dispenser. A Pet Camera Treat Dispenser is a great way to distract your dog by just quickly shouting through your phone and quickly pressing the treat button to eject a treat into the room. Distracting your dog from whatever they are about to get up to.
We looked into many factors of the Pet Camera and Pet Camera Treat Dispensers; (i) Value For Money (ii) Reliability (iii) Feature Quality. Let's take a look…
Pet Camera & Pet Camera Treat Dispensers – Buyers Guide
If you want to shop for either a pet camera or a pet camera treat dispenser, then there are many things that ought to be considered. All of the below tips can assist you to make the perfect decision.
Not all cameras give the power to check what your pet is doing from your smartphone – this can be ESSENTIAL. This feature on most of these pet cameras helps you really understand what your pet is doing and be ready to support/train your dog wherever possible.
Live Stream – Live streaming is the most significant feature of pet cameras. When reviewing, you should purchase a pet camera that comes with a mobile app. The app simply permits you to look at the live feed from any location
Motion Activation – Some pet cameras advanced features including motion activation recording. The motion activation can send an alert/message to your phone indicating that your pet is running/moving. This is a great feature to help you if your pet is prohibited from a particular location of the house and has got loose
Night Vision – Night vision is vital if you're employed late or out of the house for long periods of your time
Voice Compatibility – Talking to your pet through the camera is one of every of the most recent options. additional usually than not, this may create your dog bark, however, it will check that your dog is alert and not being mischievous.
Treat Dispenser
Treat dispensers are actually the foremost recent development in technology. having the ability to supply a treat to your dog via your sensible Phone is out and away the simplest factor technology can give for your dogs. If you are out all day and have left your dog a minute, simply merely activate the video, speak to your dog, then give a treat (if your dog has behaved of course)! to require it even additional, automatic dog feeders will give a full meal at set intervals do you have to select this feature.
Setting up your Pet Camera
Setting up a security camera or pet camera could sound overwhelming to a number of you – particularly to people who aren't technical school savvy. Today's pet cams are a lot less complicated and most are wireless, some guaranteeing sixty-second installations! With the arrival of wireless pet cams, you'll be able to merely set the new camera on a shelf and transfer the app.
Owning a Pet Camera or Pet Camera Treat Dispenser is unquestionably a requirement for any pet owner.
5 Incredible Pet Cameras and Pet Camera Treat Dispensers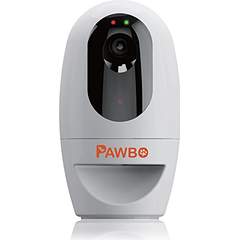 Pawbo brings you closer to your pets like you are actually in the same room. The 720p camera gives you clear, amazing quality and makes two-way interaction with your pet.
The Pawbo includes an app that allows you to video chat with your pet at the touch of a button. Listen and respond appropriately whilst you are on the go. Pawbo brings you to a close! True multiple entertaining apps, bonding you and your creature, with different games.
---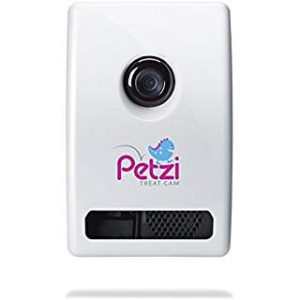 Petzi Pet Camera Treat Dispenser is by far the easiest and most reliable treat dispenser available. We love this product. Its simplistic design and easy-to-use functions are the reasons why the Petzi should be the number-one choice for any dog owner. Take a look at some of the features below;
Remote treat launcher with the included camera
night vision and wide-angle lens
High-quality audio
Compatible with Apple and Android smart devices
Place it anywhere with the universal mounting kit
---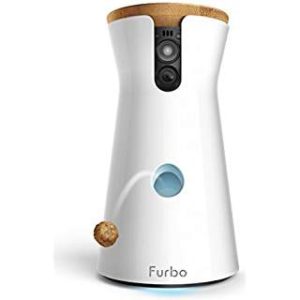 The Furbo Pet Camera Treat Dispenser has some wonderful options that other similar products do not have. It additionally features a very elegant style that enables the Furbo to be placed anywhere and go unnoticed.
FUN TREAT agitated
HD CAMERA & visual sense
TWO approach CHAT
BARKING ALERT
PHOTO & VIDEO STORAGE
---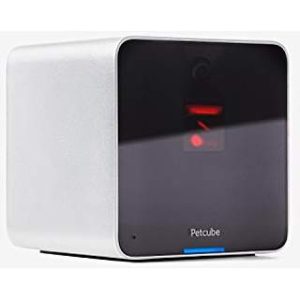 Although the PetCube is not a Pet Camera Treat Dispenser, this camera has the fun element of displaying a tiny red dot on the ground that your pet can love and chase for hours! This helps as an excellent exercise tool for your dog.
Beautifully designed with brushed aluminium and rounded corners, the Petcube camera is an innovative, top-quality device you will be proud to place in any space. You'll love the elegance of your Petcube, and its appearance as much as you will love playing with it to interact with your pets.
---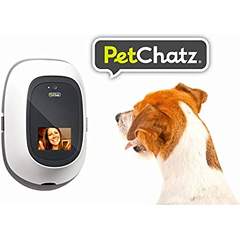 As a pet parent, you regularly worry that your pet is lonely without you – With PetChatz, you'll be able to make sure that never happens and "be there from anywhere" for your pet. With amazing interactive capabilities, PetChatzHD is the last product you may ever require to keep connected with your pet! Motion & Sound Detection Keep tabs on noise and movement while you're away with our timely alerts and "Silent Mode". From rough play to thunderstorms to unwanted guests, you'll be able to stay on top of what happens once mum and dad have gone away!
Easy Set-up mounts the bracket over any plug socket, fix your PetChatz unit and secure the unit to the bracket. Within minutes you'll be able to chat along with your pet. Reward Them with PetChatz Treatz® With one single click. You'll be able to reward your precious pets with extremely wholesome, all-natural treats specially developed to be safe and wholesome for each dog and cat.
---
Closing Thoughts
In conclusion, pet camera treat dispensers are a great way to keep your furry friend entertained and well-fed while you're away. Not only do they provide a fun and interactive experience for your pet, but they also give you peace of mind knowing that your pet is taken care of. With a variety of options available on the market, it's easy to find one that fits your needs and budget. Whether you have a dog, cat, or even a rabbit, a pet camera treat dispenser can be a great addition to your home. Give your pet a treat and enjoy the peace of mind of knowing they are happy and healthy.
———–
Save
Save
Save
Save
Save
Save
Save
Save