A slicker brush for dogs is great for your four-legged pal. It helps them manage the unruly hair on their fur coats. These are useful for dog breeds such as Golden Retrievers, Cocker Spaniels, Yorkshire Terriers, and St. Bernards. Long-haired dogs can get the most benefit from this tool. As their long hair coats often get matted, a slicker brush can be a rescue tool.
Slicker brushes for dogs have excellent variants, such as Rakes, Bristle Brushes, Pin Brushes, etc. Each comes with its unique quality brushing technique. Rakes are the kind of brush that goes under the thick coat of dogs. It can remove the dead coats or tangles inside the long haircoats.
Another formation of slicker brushes is bristle brushes. They are used in short-haired dog breeds. It can brush away the loose hairs from a dog's hair coat and stimulates the skin. They are used on small puppies such as Pugs, Boston Terriers, and Italian Greyhounds.
Another variant of slicker brushes for dogs is pin brushes. It looks the same as we humans use to comb our hair. Pin brushes are oval-shaped and consist of loosely arranged wires with pins on them. It can pick up the loose strands from dog coats. This kind of brush is most suitable for grooming purposes for dogs.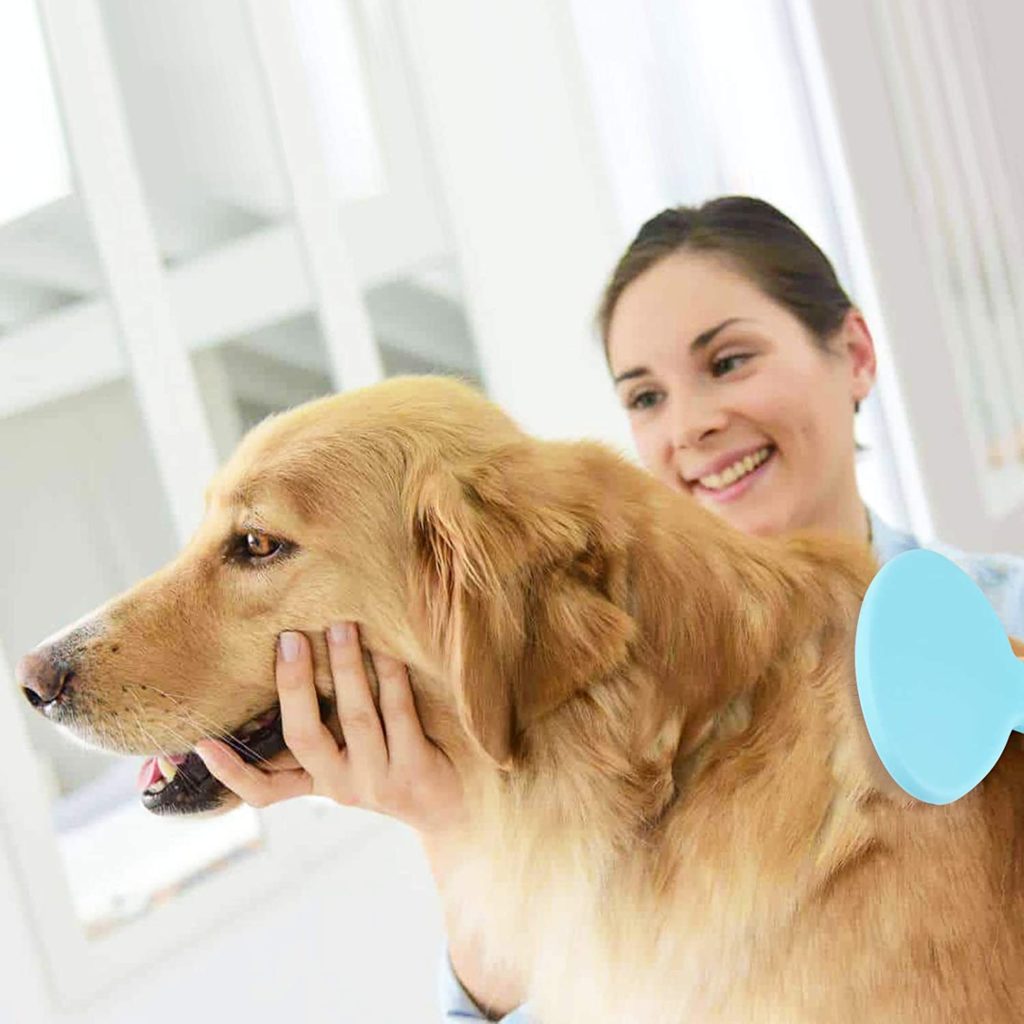 Why Do You Need A Slicker Brush For Your Dog?
A slicker brush is used for dogs to remove tangles, mats, and loose fur from their coat. It is especially useful for breeds with longer or thicker hair, as it can effectively remove dirt, debris, and tangles without causing discomfort or damage to the dog's skin. Additionally, regular brushing with a slicker brush can help distribute the dog's natural oils throughout its coat, promoting a healthy and shiny coat.
What Are The Features To Consider While Buying A Slicker Brush?
When buying a slicker brush for your dog, there are several important features to consider:
Bristle type: Look for a brush with fine, flexible bristles that can effectively remove tangles and mats without causing discomfort to your dog's skin.
Bristle length: Consider the length of the bristles, as longer bristles may be more effective for removing tangles, while shorter bristles may be better for removing loose fur.
Handle: Look for a brush with a comfortable and sturdy handle that allows you to easily control the brush while grooming your dog.
Size: Consider the size of your dog and the size of the brush. You may need a larger brush for a larger dog and a smaller brush for a smaller dog.
Quality: Look for a brush that is made with high-quality materials and is built to last.
Ease of cleaning: Some slicker brushes are easier to clean than others, Look for a brush that can be easily cleaned with a damp cloth and that the bristles do not fall out after cleaning.
Price: Look for a brush that fits your budget, but also keep in mind that a higher-priced brush may be more durable and effective in the long run.
12 Effective Budget-Friendly Stylish And Efficient Slicker Brushes For Dogs
Closing Thoughts
In conclusion, a slicker brush is an essential tool for maintaining the health and appearance of your dog's coat. When choosing a slicker brush, it is important to consider factors such as bristle type, bristle length, handle, size, quality, ease of cleaning, and price. By selecting a high-quality slicker brush that is well-suited to your dog's coat and your own grooming needs, you can ensure that your dog always looks great. Regular brushing with a slicker brush will not only remove tangles, mats, and loose fur but also promote a healthy and shiny coat. Happy Grooming!
You can also check