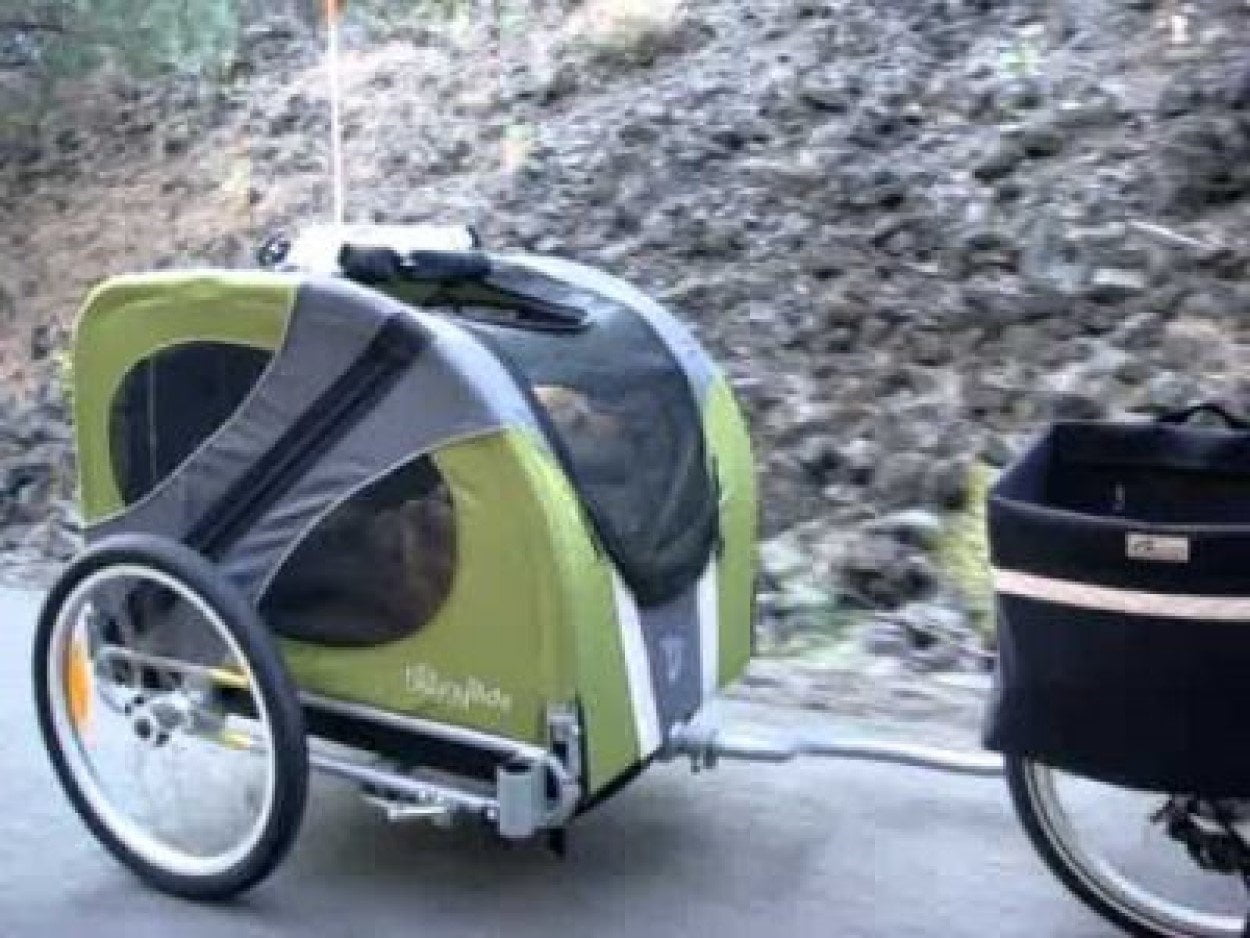 In today's time many equipment and objects regarding the well-being of our dogs are produced in the markets. Dog bike trailers are a great thing for dogs to ride. If you want to go on a bike ride along with your dog, you can buy a dog bike trailer and attach it to your bike. This way you and your dog both can enjoy an awesome adventure.
Anyone with a bike knows the enjoyment and freedom you can have when out and about on the open roads. Taking your dog with you can be very challenging as the lead, and the dog can get caught under your wheels or pull you in the wrong direction. The Best Dog Bike Trailers will help eliminate any risks with bike riding with your dog, and owning one will make the bike ride enjoyable for all.
They also allow you to take your dog anywhere and everywhere with you, so they never need to be left at home alone. Dog Bike Trailers are great for hooking up your trailer to your bicycle and heading out on the open road with your dog. Unlike Dog Strollers, where you have to push the dog along (a bit like a babies buggy), a Dog Bike Trailer needs to be pulled along.
Without taking too much time, let's ride' straight into our Best Dog Bike Trailer Reviews…
Best Dog Bike Trailers – Buyers Guide and Reviews
Our Best Dog Bike Trailer's front runner is the Solvit HoundAbout, the Large Dog Trailer. Structurally solid and extremely well-built, this dog bike trailer is great for dogs weighing up to 100lbs. The wheels on the bike trailer are wide, and the trailer itself rides quite low to the ground, which helps keep your dog safe and comfortable on any journey.
In our opinion, the Solvit HoundAbout provides your pooch with one of the smoothest journeys of all the dog bike trailers. One cute little feature is the number of easy to access pockets available. These are right-sized for dog poop bags and treats, which is great when taking a break from your travelling.
A removable, waterproof cushion is also available should your doggie have an accident whilst you are on the road. The Cushion is simple to remove and clean.
Overall, the Solvit HoundAbout bike trailer is a great accessory for small dog and large dog owners. High Quality, Waterproof, Safe and Comfortable, the Solvit has everything you need to be out and about with your doggie every bike journey.
Check Price On Amazon
Burley Tail Wagon is our second-best dog biker trailer, and you will find this a very popular choice among dog owners. It is also extremely good value for money. Taking your dog for a ride in the trailer is a great experience for the owner and dog. Your dog will also feel like he has been spoiled.
The Burley Tail Wagon is a brilliant dog bike trailer that will keep you and your dog comfortable and safe on your journey, maintaining full control of your bike. The mesh covering allows your dog to breathe comfortably with the windows closed. With the windows open, your dog will be completely exposed to the open air and allowing your dog to enjoy its surroundings.
Burley Design are completely focused on building and designing bike trailers so each dog bike trailer is designed by people and a company that is 100% capable of creating the best dog bike trailer.
One downfall is the weight capacity. Only allowing for dogs up to 75 pounds can be a real issue as bigger dogs will need to walk, unfortunately, however, if your dog is under 75 pounds, they will have the ride of their life.
To ensure your dog is riding with the best of them the nthe Burley Tail Wagon will be the dog bike trailer for you.
Check Price On Amazon
For many of us, travelling and camping are regular occurrences. Family days out and bike rides down muddy trails are great family events, and taking your dog with you helps keep all the family together.
The mesh window on the dog bike trailer is huge and your dog will be able to breathe easily whilst taking in the scenery on your travels.
The Doggyride Novel comes complete with a cargo hold up top which is great when you need somewhere to stow away your gear when on a journey. Another great feature of the Novel is that the wheels can be removed and replaced with legs so that the Novel can quickly become a static home for your doggie. Add a small bed and your doggie has somewhere nice and warm to sleep.
As well as having a huge window and a roof rack, the Novel has some additional storage pockets which can hold more personal objects like phones and keys so they are out of sight. Furthermore, there is a memory foam base that is around 2 inches thick. This is easy to remove and wash should you need to but adds to the comfort for your doggie.
Finally, probably the more nifty feature of the Novel is the additional kickstand
It also has a kickstand, which is a huge benefit if you have a larger dog who'll tend to tilt the lightweight frame as they get in and out of the trailer.
Check Price On Amazon
With any type of shopping or purchase, everyone will always be looking for the best deals and the best value for money. Searching for the best dog bike trailer is no different. Although the best value for money or the best-priced dog bike trailer doesn't always mean the best product overall. Although the 2 in 1 Pet Bike Trailer is one of the cheapest on the market and has some great features, we found it difficult to put it above the Solvit Houndabout.
Support for dogs up to 66 pounds the mesh windows deflect insects and dirt from the trailer and protect your dog. There is also a cool hand brake included that prevents the trailer from rolling away when not in use. Other safety features include a flag for high visibility when out on your travels.
With all these cool safety features you may be wondering why the 2 in 1 Pet Bike Trailer is so cheap. The weight of the trailer is one major flaw with the product. It is made from steel which adds a huge amount of weight making it difficult to pull or initially accelerate when starting your journey.
However, you can use this as a doggie stroller with the handle at the back so if you are struggling to pull, you can always push.
If you are a looking for a cheaper dog bike trailer that is safe then this is it
Check Price On Amazon
Finally, we have the DoggyRide Mini Dog Trailer. Great for regular small journeys with your tiny pooch.
This trailer is so small and lightweight that you will barely notice it when pulling along. With its low weight and centre of gravity, you will not need to adjust your riding position or style too much keeping you comfortable on your journey,
Complete with a rain cover which is great if you get caught out in the bad English weather. Most people in the UK will avoid going out on their bikes in the bad weather however, some avid riders will take to the road no matter what the weather. Taking your dog with you should always be an option and the rain cover gives you that option.
If you want to keep the cost down and the journeys short, this mini trailer is a great accessory for you and your doggie. It is also a great starter if your dog has never been out on the road before and you want to see how they like the journey before expanding into a more expensive model.
Although it is not suitable for larger dogs, it does fold away and store away nicely. The frame is also built to last. Catering for all dogs is something DoggyRide have tried to deliver and they have definitely met the needs of dog owners. Being so lightweight your dog can take to the roads with you and enjoy the journey just as much as you.
Check Price On Amazon
What Should I Look For in a Dog Bike Trailer?
Like any product you buy for you or your dog, there are many key features you should always look out for if you are wanting the best out of your dog bike trailer. We have listed the key features required to ensure you purchase the best dog bike trailer, should you decide to choose one different from the above list.
Safety – A safe and sturdy trailer is key to every journey for your dog. If the trailer is not designed for rough terrain, you may need to keep looking.
Size – Make sure that the trailer is suitable for your dog and likes the weight. Your dog should be able to sit up, lie down and comfortably turn a full 360 degrees. If your dog has little space, it will be cramped and uncomfortable and not enjoy the ride.
Secure Hitch – Having a secure hitch on your dog bike trailer will help keep a secure sturdy ride on your trailer. Bike Trailers with a poorly made hitch can cause the trailer to tip on corners or even cause your bike to go off course, making it much more difficult to steer.
Handling – Handling a dog bike trailer is not something you can see and evaluate. It can only be checked once you are on the open road. Once you have the trailer, it is best to try it out without a dog inside. This way, you can get used to the trailer and its handles when attached to your bike.
Comfortable Floor – a comfortable floor is always a great addition to a dog bike trailer. Some come complete with memory foam, which helps smooth a comfortable journey for your dog should you hit some bumps in the road.
Portable – Some people like to take the trailer in the car before heading out on their bikes. Having a foldable dog bike trailer is always great for those long road journeys before heading out on your bike.
These listed are easy to determine with any of the best dog bike trailers as they are visible and stand out when you are looking at them. If you want your pet to remain calm and comfortable throughout any journey, then each of the above will ensure that it is maintained throughout the lifetime of the dog bike trailer.
Summary
Enjoying a nice simple bike ride with your dog can be made even simpler with the best dog bike trailer. Taking your family and your dog(s) with you on any bike ride is always great family fun and will keep you all entertained for hours and hours. It would be best if you didn't have to leave your dog at home when you're out with the family, and these trailers will ensure you don't have to.
Choosing the best dog bike trailer should also be a simple decision, and the five we have reviewed above are our best choices for safety, comfort and durability. Please also do your research, but we hope that the above has helped simplify your decision.