Do you feel thirsty whenever you stroll here and there outside your lodging? Is a bottle of water hidden in your bag at the time of travel? If you can carry your water bottle, why not for your pets? A dog water bottle is very much needed for your pup, which you can simply purchase from online stores.
The dog water bottles especially are required during travelling to keep them hydrated. The dog travel water bottle is formulated of three different categories of materials – plastic, stainless steel, and Silicone. Among three of these, as per quality, stainless steel is the best. It's more reliable. It can retain the water cool on hot summer days. Silicone and plastic water bottles are much easy to carry. However, Silicone is more flexible than the plastic one.
The size of the water bottle is another vital issue. A portable dog water bottle is available in multiple sizes in this global market. As per the height and the extent of travelling, you must select the water bottle. The available sizes vary from 5 to 45 ounces.
This article stands a variety of dog crate water bottle. You can quickly grab your preferable bottle from Amazon. Here you'll get the products with high reviews.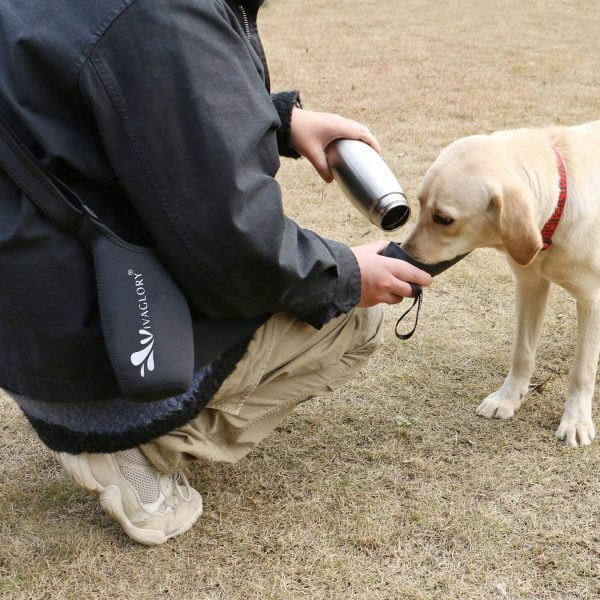 Recommended Portable Dog Water Bottles For Your Pet
Lixit-Top-Fill-Dog-Bottle

Lixit Top fill bottle has become one of the most prominent dog crate water bottle because of its patent. The valve included in this bottle has been patented with a ball tip. The capacity of preserving water in it is 44 ounces. The type of this bottle lid is flip top. For this, one can easily carry this bottle for a long stint. Two flat sides of the bottle are helpful for mounting.

Tuff-Pupper-PupFlask-portable water bottle

Tuff Pupper PupFlask portable dog water bottle is present with you and your furry playmate at every hook and nook in this world. The material of the top of this bottle is Silicone. You can easily flip up the top at the time of your puppy's drinking. After finishing, just flip down. The leafy shape of the upper portion is much attractive. You can carry 40 ounces of water in it.

Vannon-Upgrade-Dispenser-Leakproof-Diameter

Vannon Leakproof water bottle is one of the best bottles for your favorite pet. The interior portion of this bottle is prepared of Silicone with twofold Stainless Steel balls which make it enduring. It's leakage proof and can hold up a sufficient amount of water to keep your dog healthy all the time.

Traveling-Portable-Lightweight-Dispenser-Rotatable

Traveling-Portable-Lightweight water bottle is very uncommon in design. You can rotate the bottle effortlessly. The portable dog water bottle is also beneficial to save additional space in your travel luggage. The little push button allows you to open and close the bottle with a single hand. It has plugged silicon gasket that gives warranty of no leakage.

UPSKY Dog Travel Water Bottle Bowl Collapsible Dog Bowl

UPSKU dog water bottle becomes super hit for its dual usage. There are two different chambers. One can be used as a feeding plate and another for water. It has leak-proof security. You can bargain this bottle for safe travelling.

FPVERA Portable Dog Water Bottle

FPVERA water bottles for dogs are enough durable and lightweight to carry outside. The colors of the bottles are much impressive for delightful drinking. It can hold up to 19 ounces of water. The leak-proof water bottle has a single button to open and close with just one hand.

Hestarpet Dog Water Bottle for Walking

Hestarpet portable dog water bottle is one of the most usable water bottles with a bowl on it. You can employ one hand for using this bottle. The silicone gasket of this bottle has compelled it more durable and leakage-proof. You can easily take an adequate amount of water. Even cleaning of this bottle occurs so simply.

EasyULT 420ml Portable Dog Bottle

EasyULT has created a fantastic bottle with the best quality of the material. It is harmless, non-toxic, and retains water fresh. The layout of the bottle is a swivel.

Madeking Upgrade Portable Dog Water Bottle

Madeking Upgrade Portable Dog Water Bottle lets you roam freely outside with your pups. The bottle is formulated with an automatic dispenser. The spiral layout assures you not to be leaked out of the water from this bottle.

Cappaw Dog Water Bottle For Walking

Cappaw has introduced a multifunctional dog water bottle with a decent quality of materials within a reasonable price. It has two diverse parts one for conserving foods and other for water.

Portable Dog Water Bottle For Walking 19 Oz or 12 Oz

Whether it's extended hiking or a road trip, Portable Dog Water Bottle 19 or 12 Oz is perfect for the bigger size of pups. The bands around the lip are made with Silicone which can protect against leaks. The nylon lanyard material is enough solid.

PETKIT Dog Water Bottle With Filter

PETKIT dog water bottle consists of good quality lead and BPA free materials. Silica gel is obtained for making the rings. It is safe to be used for touring.
Wrapping Up
This complete article has described the best 16 dog water bottles for you. We wish you may now fetch the best-branded bottles for your pets. Enjoy your trip without any bother.