Keeping our pets clean and healthy is an important aspect of pet ownership, and one area that often requires attention is their paws. Whether it's muddy walks in the park or snowy streets, our furry friends' paws can quickly become dirty and even bring harmful pathogens into our homes. Portable paw cleaners are a convenient solution for keeping your pet's paws clean and hygienic, no matter where you go. In this article, we will take a closer look at the benefits of using portable paw cleaners, the different types available, and how to choose the most suitable one for your pet.
What Are Portable Paw Cleaners?
Simply put, they are exactly that, a Paw Cleaner that is portable. Taking these paw cleaners anywhere helps keep your personal belongings such as cars and homes clean. Dogs getting dirty on walks is common but being able to clean your doggie's paws before they return home is difficult. With a portable paw cleaner, you don't need much space or time, just water.
Clean your doggie's paws and you're safe to put them back in your car for the journey home. Also, once you have used the paw cleaner, you can simply empty the dirty water and no worries of water getting everywhere too.
Things to Look for When Buying a Portable Paw Cleaner
Durability and Comfortable: The bristles in some brushes can be extremely uncomfortable for your doggie. If the portable paw cleaner does not have soft bristles, don't get it. They must be soft and comfortable to ensure that your doggie is able to get fresh clean paws without any hassle and discomfort. The cleaner should also feel like a massage, not a scrub so make sure they are more silicone or rubber made.
Design: Not only should your paw cleaner keep your dog's paws clean but it should also keep the dirt inside until you clean it. Being made from silicone and rubber is also a must for additional comfort. Training your doggie to use the cleaner initially that might cause more problems for you and less for them. However, like anything with dogs, a little training will certainly help your doggies start to like the paw cleaner. Cleaners with a handle are always much easier to use than without especially when your doggie has not used a paw cleaner before.
Let's take a look at them now.
4 Amazing Portable Paw Cleaners For Your Pups

Paw cleaners are such a simple devices. This simple little tube-like cleaner, the Dexas MudBuster, is a 6×4-inch tube cleaner. How do you use it? Simple. Add Water, insert paw, and scrub/twist the tube. This will clean your dog's paw to a very high standard. With superb silicone bristles inside, your dog's paw is sure to get an amazing clean including between the toes. Effectively removing all mud and other bits of dirt.
Being such a simple design it is also very easy to clean. Simple rinse with warm water and give it good swill. Voila. Clean and ready to use again and again. This cleaner is growing in popularity and is waiting for a patent in the US to make this a one of a kind portable paw cleaner.
Pros
Easy Clean
Silicone Brushes
BPA Free
Easy to Use
Awaiting Patent
Cons
---

Do not confuse this paw cleaner for anything else. This is absolutely a portable paw cleaner. This cleaner comes in three colours and sizes and is very simple to use. Add warm water, insert your dog's paw and move the plunger up and down to clean your doggie's paws. This helps to keep your floors and furniture nice and clean as you can do this before getting home from your walk or on your doorstep before entering the house.
This paw plunger comes complete with a handle which helps make the whole process simple and less messy. All the dirt is kept inside the plunger and not splattered everywhere. Once finished, empty the dirty water out of the plunger and rinse with warm/hot water to clean.
The bristles inside and firm and ensure that your dog's paws are left clean and free of any mud/dirt.
Pros
Heavy duty but comfortable bristles
Complete with easy use the handle
Comes in 3 colours and sizes
No Spillage after use
Simple to use
Cons
---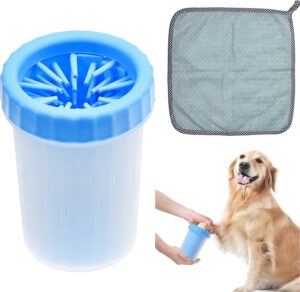 Doggie Dipper is our 3rd choice and comes in a very cute paw shape. Perfectly fits around your doggie's paw and scrubs all foot including between the toes. One thing for certain, the doggie dipper leaves no space on tour doggies' paws untouched. The inside section is removable making it even easier to clean and dry. Just use warm water and rinse it clean.
Cleaning your doggie's paw is so much simpler with all of these portable paw cleaners. The design of this makes it a perfect item for your doggie accessories whether in the car or in your home. For a superbly clean, the bristles inside are a perfectly comfortable fit and feel just as good as a massage.
Another perfect addition to the doggie dipper is the lid. Simply place your doggies paw on the pad of the lid and you will be able to dry your paws too.
Pros
Multi-Functional
Simple to clean
Very Easy to Use
Extremely convenient for you and your doggie
Soft Silicone Bristles for a great clean
Cons
Brushes are very very sparse and not tough enough to get into fur
---

Another very simple, very effective portable paw cleaner that comes complete with 2 additional gifts. For the amazing price, you get a perfect green silicone paw washer, some dog waste bags AND a perfect drying towel. To clean simply use hot water and rinse OR you could put it into a dishwasher as the green silicone paw washer is dishwasher friendly.
Not only are the bristles for cleaning your doggie's paws nice and soft but the towel for drying is even softer. These nice little additions make this Paw Washer very popular, especially at such a great price.
Pros
Additional Towel and waste bags
Very Affordable Price
Easy to Wash in the Dishwasher
Silicone material which is soft
Cons
Not big enough for larger dogs
---
Closing Thoughts
Overall, portable paw cleaners are a great solution for pet owners looking to keep their furry friends clean and comfortable. Whether you're out on a hike, at the beach, or just running errands, these convenient devices can help keep your pet's paws clean and protected from dirt and debris. So, next time you're out and about with your pet, consider investing in a portable paw cleaner to keep their paws happy and healthy.