Are you looking for the best GPS tracker for dogs but cannot choose which one to buy. We have prepared this article after thoroughly researching, and hopefully, these handpicked GPS trackers will be suitable for you. Some need cellular service, while others use GPS radio technology or Bluetooth. The choice largely depends on your convenience.
Thanks to the many advances in technology today, investing in a GPS pet tracker helps you keep better track of your furry friends and eases worries about their whereabouts.
So today, we will look at the five best GPS trackers for dogs. These high-tech tools help save pet parents from heartache and keep dogs where they belong – in our loving arms.
We prepared this guide to help you pick the best while saving you time and money with many options.
We'll review individual dog trackers and provide you with essential tips on picking one that'll suit your pup and what to watch out for. After all, none of us wants to rely on a half-baked product.
Best GPS Tracker For Dogs Reviews
Before we dive into details of how to pick the best one and what to watch out for, we present you the best of them, all individually reviewed: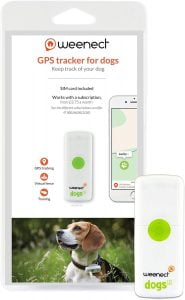 The Weenect Tracker is known as the most petite GPS Pet Tracker globally. With an impressive 99% uptime, you can be sure to find your dog anywhere and everywhere. If you are in a secluded woodland area that would generally lack signal, do not worry. The Weenect Device runs from a SimCard which enables the location to be tracked.
The subscription fee is only tiny and is far cheaper a month than regularly paying/searching for your pet.
We found the device amazing when testing and have regularly used the device as a training device. It features a vibration setting that helps train your dog on a walk and at home.
Weenect and Tractive are two excellent devices, and it is hard to choose which is the best.
Please check out the full review of the Weenect Device here.
Features
No distance limit
Smallest GPS tracker in the world
Real-time tracking
Assists with training
Easy set-up
Pros
Very lightweight and comfortable
It gives real-time, constant tracking
A ringing dinner time bell
Cons
On average, it needs to be charged every night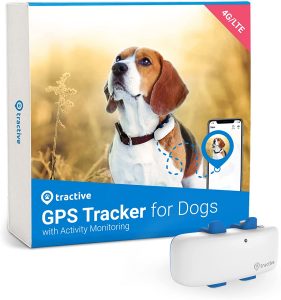 The Tractive GPS Pet Tracker is the best-selling GPS tracker on Amazon. This GPS Tracker for dogs has some fantastic features and is one of the most up-to-date products today. Below are some of its unique characteristics;
Lightweight & waterproof
Smallest GPS tracking device
Live positioning for dogs, cats, horses and other animals
Reliable real-time location tracking
It also works for kids, people, cars, suitcases, etc.
With this tracker, you can easily track and find your pet's location. With its easy setup, this pet tracker makes it one of the simplest yet most effective on the market.
Please check out the full review of the Tractive GPS Pet Tracker here.
Features
Worldwide location tracking in over 150 countries
Features virtual fence, location history and live tracking
Includes a rechargeable battery, user manual and charger
Pros
Uses advanced software for tracking pets
Comfortable and lightweight design
The battery holds a decent charge
Cons
Light and beeper, not 100% effective
A public leaderboard (that tracks dog achievements) could be a privacy issue.
It might not survive all terrains.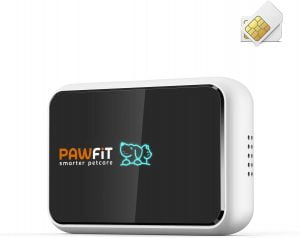 Pawfit 2 is a tracker and activity monitor with an embedded SIM card. Yet another powerful tracker offers outstanding features and live tracking abilities at your fingertips. It comes with an embedded sim that offers Europe and North America coverage.
Another exciting feature is that it utilizes state-of-the-art GPS and Wi-Fi technology to keep you in touch with your dog's location continuously. It also offers the fastest and the most accurate real-time tracking and activity monitoring features.
In addition to this, this activity monitor also keeps you in touch with other factors for your dog, such as distance, calories burned, steps, and resting hours – making it an ideal dog fitness tracker. You can also program customized activity pet trackers goals for your pet and keep them healthy. It also uses text-to-speech technology.
This technology will broadcast your dog's ID to anyone who presses the button and help you get your dog back without any problems.
Features
New Pawfit 2 tracker with embedded sim card and accurate GPS tracking
Location tracking with multiple modes
Embedded with activity monitoring
Has intelligent protection features and conveniences: temperature alert, virtual fence security zone, audio ID tag and anti-disable alarm
Pros
Multiple settings to choose from
Sophisticated docking station for easy charging
Ultra-modern features, including a nifty audio tag
Cons
It needs a good signal to work properly
Connecting the device to the charge port is fiddly.

Yepzon has said that this is the simplest wearable GPS locator globally. With Yepzon, you can locate people, pets and valuables using your smartphone. Download the Yepzon app, activate the GPS locator with your smartphone, choose a name for your Yepzon device, and locate. Simple!
You can share the access with family members, friends or carers. You can connect as many Yepzon to your phone as you wish. Yepzon is reliable and durable. Innovative technology helps you preserve battery and data.
Yepzon represents timeless Nordic design and is also waterproof.
Free easy-to-use app for iPhone, Android and Windows Phone. The package includes a neck strap, protective neoprene case and charging cable. For more information, videos, user applications and more go to http://www.yepzon.com.
Features
Up to 2 weeks of battery life
Never lose track of what's precious to you
Extremely quick NFC enabled setup
Six months of data usage included
Compatible with iOS, Android, Windows Phone
Pros
Up to 2 weeks of battery life
Never lose track of what's precious to you
Extremely quick NFC enabled setup
Can customize how often you get updates
Cons
It loses accuracy the farther it gets from home
Battery drains faster with frequent notifications
Large and Bulky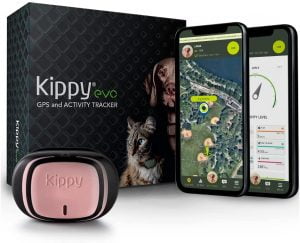 The Kippy EVO has exciting features that stand out among GPS dog collars. Firstly, it's completely waterproof, so lake-loving pups can even wear it!
Another interesting feature it has is activity tracking. You can track specific data like sleep, play, calories, steps, and relaxation.
With Vita Messages, you receive helpful notifications regarding your dog's health, movement, and sleep patterns.
If you want to register your walks, the Kippy keeps intelligent info on distance, speed, and altitude. For people who like tracking their fitness and activity, it can be fun to let their dog in on the action!
Most importantly, this wearable keeps track of your dog's location. And with Virtual Leash, you receive a notification every time your pup strays from your smartphone's Bluetooth beam.
Thanks to its versatility, durability, and wealth of helpful info, the Kippy EVO is one of the best pet trackers in the UK.
Features
Pet tracking + activity monitoring
100% waterproof
It weighs only 38 grams
Rechargeable battery
GPS localization
Virtual fence
Pros
Suitable for all collars, both cats and dogs
Long-lasting battery (up to 10 days)
Swim proof
Cons
The Kippy EVO app requires some study to get the hang of
May be too bulky for tiny dogs
GPS Tracker For Dogs – Features To Look For
With so many Dog GPS Trackers available online, it can be a complex task to find a suitable model for you. Below is a list of the features that good GPS Trackers have in common.
Signal range
This one should go without saying. A GPS tracker for dogs should have a decent enough range to communicate with the nearest signal tower. A poor signal can defeat the whole object of a tracking collar.
Battery life
If the GPS activity tracker is 'always on, 'then lengthy battery life is crucial to allow for live tracking to be carried out.
Waterproof
A good GPS tracker for dogs should be waterproof to continue to work in wet conditions such as heavy rain or even being lost in a river etc.
Zones
The very best trackers of 2020 can utilize zones. This means that certain areas are safe for the dog to wander into and won't trigger an alert, but it will tell you if they walk outside of the zone.
Final Verdict
While every GPS Tracker for Dogs on our list is highly-functional and dependable, some stand out if you have specific needs.
With most trackers, you might be able to monitor your dog's physical activity throughout the day. They can offer helpful, exciting insight into your dog's habits and movements, including play, calories, sleep, and relaxation.
For example, if your pup is an avid swimmer, you might get a lot of use out of the newest version of Tractive GPS. It's fully waterproof and durable to withstand a lot of outdoor water romping and fetching.
Overall, the best dog trackers are lightweight and comfortable while accurate and dependable.
Whichever you choose, it will undoubtedly go a long way to keep your pup monitored, safe, and sound so you can breathe a little easier. Even when he's out of your sight, your dog is never out of your mind.
So, which one did you choose?
Now that you're equipped with the necessary knowledge to choose the best, please let us know your favorite GPS tracker for dogs in the comment section below.
If you liked this article go ahead and share it with other dog parents to have peace of mind knowing what your dog is up to.