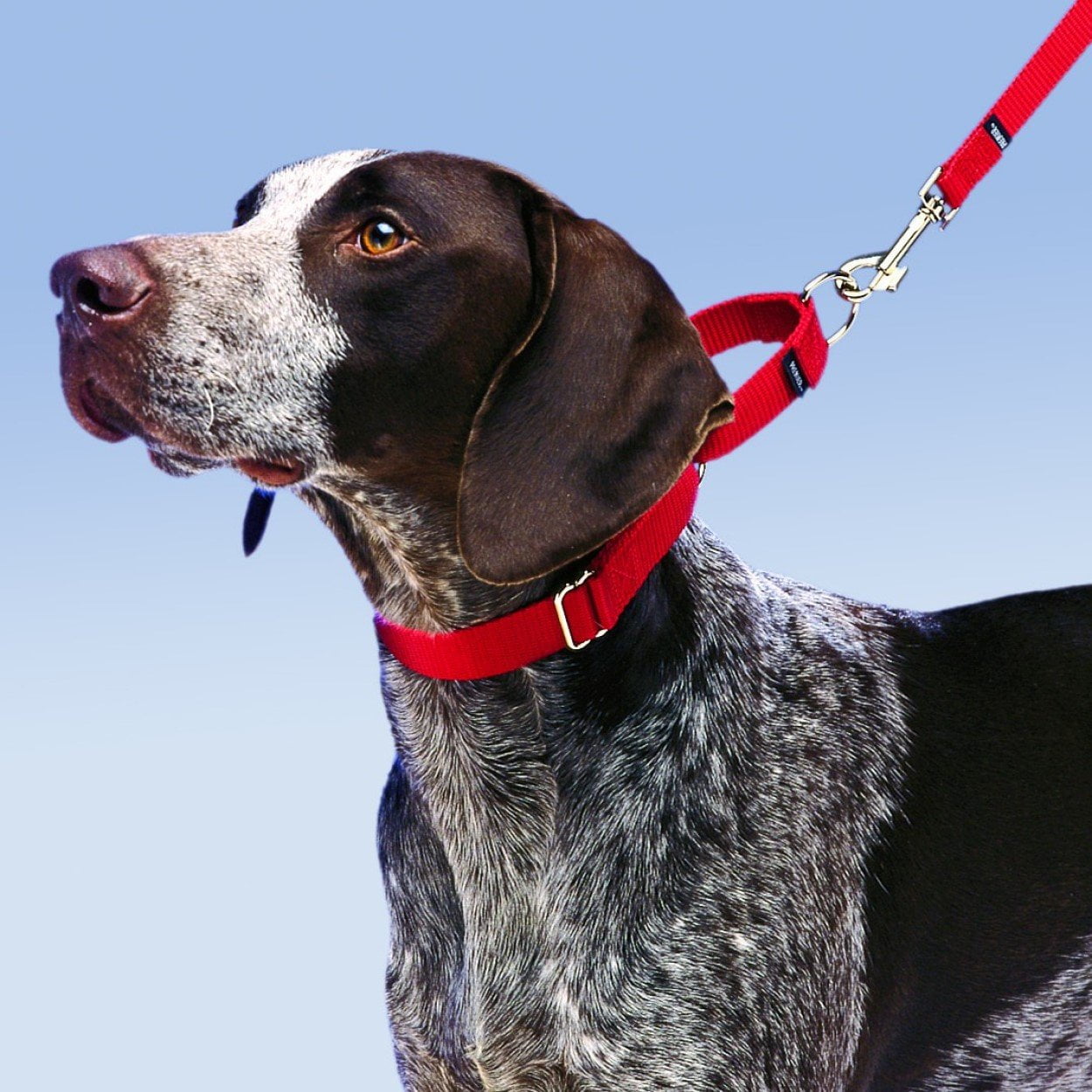 In recent years, the martingale dog collars have gained popularity worldwide. They are comfortable to wear and provide the ultimate support for training. While initially being invented for thinner necks, the Martingale dog collars now come in all sizes and styles. They are great alternatives for choke collars and are recommended by professionals.
The Best Martingale dog collars are limited-slip collars and are better suited for dogs like Greyhounds and are very popular with a lot of other breeds too. The martingale has a metal ring at each end of the material and another loop of material passes through the two rings. The lead attaches to the ring on the 2nd loop. If your dog tries to get out of any of the martingale dog collars, the collar will tighten. If you have adjusted the martingale collar correctly then this will only tighten to your dog's size and not too tight and choke your dog. This will also prevent your dog from escaping and running off.
Buyers Guide – Best Martingale Dog Collar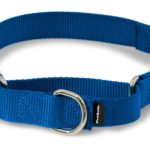 Safer and more comfortable than choke collars, martingale collars tighten when pressure is applied, reducing the risk of a dog "backing out" of its collar and escaping. This collar also features a quick snap buckle for easy on and off.
This is just another amazing product from Petsafe and is by far the best value for money.
Pros: This collar has been tried and tested and proved to be a success when training your dog to not pull on the lead. The different sizes available make this collar a great purchase for any dog you own. Sizes from petite to large and comes in a variety of colours so you can personalise it to your dog's taste.
Cons: Quality is an issue here. Although I have not seen any problems with the PetSafe collar myself, some reviews state that the collar has frayed and could no longer be used. There are also reviews stating that the collar had stretched over time and meant it was now loose on the dog and unwearable. Taking care of your collar is also a primary function of ensuring it lasts.
Check Amazon On Price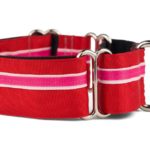 If It Barks martingale dog collars, also known as limited slip collars, are highly recommended by dog trainers over your standard buckle collar or less humane choke chains.
Benefits of Martingale Collars:
– Dog with small heads and big necks are not able to back out of the collar like traditional buckle style collars.
– Martingales provide better control while walking your dog by applying even pressure around their neck. This reduces injury and choking.
– The collar is constructed with two loops of webbing. One wraps around your dog's neck and the other is used to control the amount of closure of the collar when your dog begins to pull. How you adjust the collar determines the allowable closure.
Features:
– Perfected since 2002, the design uses thin military spec nylon webbing which is approximately half the thickness of others. This provides plenty of strength but not the extra weight for your dog to have to carry.
– Collar is decorated with a durable polyester grosgrain ribbon that is easy to clean.
– All hardware is durable metal for years of use.
– Backed by the If It Barks warranty that if the stitching or hardware fails with regular wear, we'll replace it.
– Handmade in North Carolina.
– 1.5″ inches (3.8 cm) wide in sizes small (11″ – 15″)(28 – 38cm), medium (15″ – 22″)(38 – 56cm) and large (19″ – 30″)(48 – 76cm)
Measure Your Dog:
Loosely measure the neck where the collar would normally sit sliding two fingers between the dog's neck and measuring tape. Measure the widest part of your dog's head. Order a collar that will fall within the range of these measurements.
Check Amazon On Price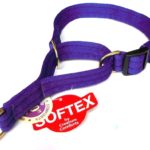 Softex® fully Adjustable Half Check/Martingale in 2 sizes. Solid Brass fittings so rust proof if you have a dog that loves the water. The collars are 1″ (2.5 cm) wide A martingale collar is made with two loops. The larger loop is slipped onto the dog's neck and a lead is then clipped to the smaller loop.
When the dog tries to pull, the tension on the leash pulls the small loop taut, which makes the large loop smaller and tighter on the neck, thus preventing escape. Properly fitted, the collar will be comfortably loose when not in use. These collars are made of Softex® – a super soft, strong, comfortable webbing – kind to your hands and to your dog. Hand made here in Cornwall by Creature Comforts, these collars provide a humane way to discourage your dog from pulling on the lead.
Check Amazon On Price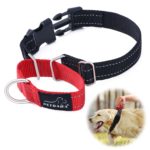 PETBABA collars are manufactured from premium material, enjoying a good reputation for their novel design and skilful workmanship.
They are suitable for public places to keep your friends' security against injury and disappearance, which is great fun to help improve mutual relations and a good exercise as well.
They are extremely precious gifts to accompany your pals when growing up and enhance the pleasure of their loyal throughout life.
PETBABA collars feel like becoming a close guardian angel to protect guardedly your matey for ever and a day.
Check Amazon On Price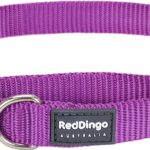 Red Dingo Martingale Dog Collars are a special type of dog collar that helps a dog stay comfortable while being completely secure on their leash. A Martingale collar is made with two loops. The large loop is placed around the dog's neck and adjusted to fit loosely. The leash is then clipped to the D ring on the small loop.
When the dog tries to pull their head out of the collar, the tension on the leash pulls the small loop taut, which makes the large loop smaller and tighter on the neck preventing escape. When adjusted properly the dog is never choked, but the Martingale Dog collar stays snug around the dog's neck (just behind the ears) until the pressure is released.
The Red Dingo Martingale Dog collar is made from high-density fray proof premium nylon webbing for durability and reduced wear and tear. It is woven from quality fine yarn for a softer feel.
Check Amazon On Price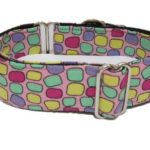 This is Martingale Style Training Collar. The Martingale collar is often referred to as a humane choke collar. They feature a twin loop design that works by tightening around your dog's neck whenever it tries to remove its head from the collar, Then the Martingale will loosen again when your dog stops struggling against it, The limited closure of the Martingale collar prevents it from becoming too tight. The design of your collar may vary in different places.
This product is great value for money and also comes in many different colours & designs.
Check Amazon On Price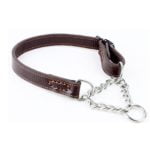 A wonderful and more humane way to train and walk your dog
It's a great and more humane alternative to prong/pinch/full choke collars that can cause throat damage over time
It allows you to have much more immediate response when walking, without actually choking dogs like a full choke collar would do. Another great benefit is eliminating dog's ability to back out of a collar as it tightens just enough to prevent it
Check Amazon On Price
Measuring Your Dog for any Martingale Dog Collars
Measuring your dog is quite simple. Use a tape measure or piece of string. Measure from the top of the dog's head to behind its ears. Then measure down to the bottom of the dog's neck.
This will then ensure you can choose the size that fits and ensure that your martingale collar fits perfectly.
If your dog for example is 15 inches, choose the Medium martingale collar, which adjusts from 14 – 18 inches as the large will be too big, which adjusts from 15-20 inches.
Best Martingale Dog Collar – PROS
Dogs are less likely to choke when wearing a martingale collar in comparison to a normal choke collar
Much more comfortable than your normal choke collars as there is no metal rubbing against the dog's fur
Helps maintain control of the dog who tries to charge when leaving the house
And most importantly, prevents the dog from pulling on the lead
A Few Warnings
Martingale collars have no effect on bigger necked dogs but, unlike choke collars, martingale collars can be used on dogs like greyhounds but should not be used on extremely small dogs. A dog should also never have a martingale collar 24 hours a day
Best Martingale Dog Collar – CONS
Martingale Dog Collars receive far less criticism than the standard choke collars due to the safety aspect and the less chance of your dog choking. The softer material allows your dog to be more comfortable and prevents less irritation.
PLEASE NOTE: Remove the Martingale Collar when your dog is in the house and/or playing. This will prevent any accidents.
Also Check:
Save
Save
Save
Save
Save