Thousands of results come up if you search for the best retractable dog leads. Determining which one would suit your dog the best is the hard part. Retractable/Adjustable dog leashes are similar to regular leads, but they have a few loops along the length of the lead for shortening and lengthening the leash. Dive into the article to find out more.
Every dog needs a lead. Finding retractable dog leads is always tricky as the market has such a wide variety of leads. Adjustable or Retractable leads are always better as these can give your dog the freedom to roam without running away. I have compiled a list of the nine best extendable dog leads to help you and your dog on those long or short walks.
Some Of The Best Retractable Dog Leads – Buyer's Guide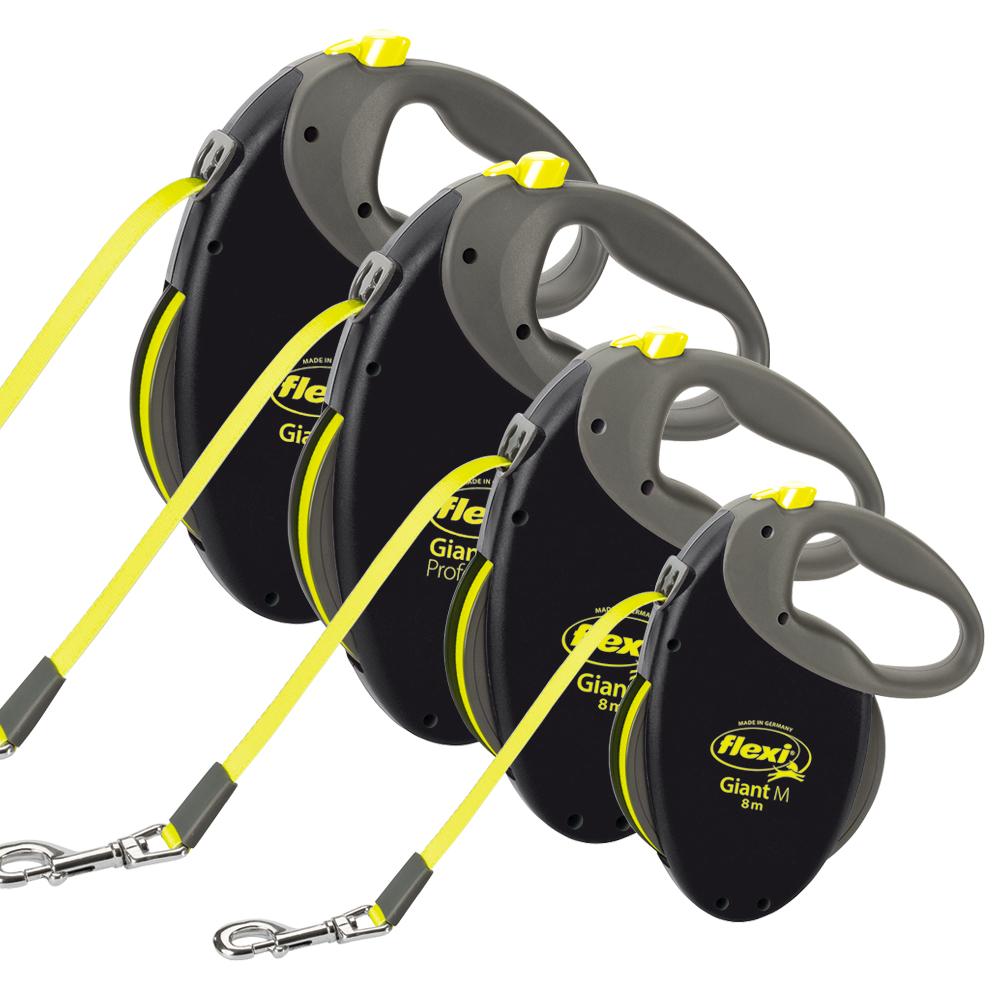 The extra-long, extra sturdy Giant Flexi Retractable lead offers active and large dogs the utmost freedom on the lead. Designed especially for the more significant needs of large dogs with specifically selected materials and an extra stable tape, the Giant Flexi Retractable lead offers a radius of 8 m or 10 m (Professional).
The one-hand braking and recoil system allow you to maintain complete control of your dog during your walks. Thanks to the ergonomic soft-grip, the lead is comfortable to hold even during long walks. This, for us, is one of the best, if not 'the' best retractable dog leads available on the market today. Read a Detailed review about Giant Flexi Lead
---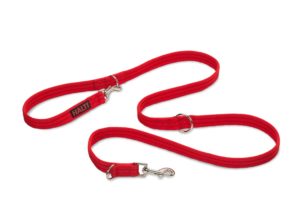 Dr. Roger Mugford designed this multi-function HALTI Lead to provide optimum control and simplify training with headcollars or harnesses. This lead enables you to control, guide and tether a dog in everyday situations.
It is a versatile training lead for all your needs with eight uses. Read Haiti Harness Review
1. Short length for heel training or normal walking
2. Medium length for obedience training
3. Long length for recall or distance work
4. Hands-free dog training
5. Two dogs on one lead – making use of the double-ended trigger hook
6. Easy, supervised tethering
7. Double steering for optimum HALTI control
8. Recommended for use with the HALTI Headcollar/Harness
---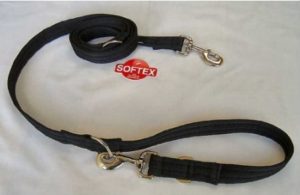 Top-quality Long Police/Training Lead in Black Softex Hand made in Cornwall, UK. The leads are made of Softex – a super soft, robust and comfortable webbing. The leads are so comfortable on the hands and a total pleasure to use. All the fittings are nickel-plated solid. The leads have a large trigger hook at each end. There are three rings to adjust the length of the lead. A handy feature of this lead is that you can use the trigger hook and ring to secure your dog temporarily.
---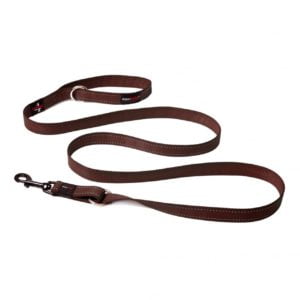 EzyDog's Vario 4 gives dog walkers the option of four different functions in one lead. It can be used at three different lengths, 185cm, 100cm or 75cm, to suit any situation. Changes in size can be made while walking without disconnecting from your dog due to the lead being a simple but ingenious design.
It can also be used as an emergency check collar can be used as a tether if you want to tie up your dog for a couple of minutes. The Vario 4 is made from EzyDog's proprietary blend of super-soft nylon webbing, pushing the lead comfortable to hold, durable and robust. It has also been finished with reflective webbing to improve visibility when walking in low light. Read Vario Dog Lead Review
---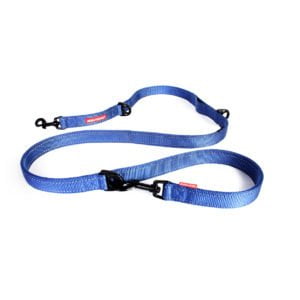 The Vario 6 certainly earns its title as a Multi-Function Dog Lead – having six whole functions built into one lead, it is the most versatile dog lead on the market. Both soft and durable, the Vario 6 is made to last and will help stop your hands from getting scraped whenever your dog runs or tugs at the leash. We have ranked this lower than the Vario4 Dog Lead because the number of functions available can make this a little more complicated. Read Vario 6 Lead Review
---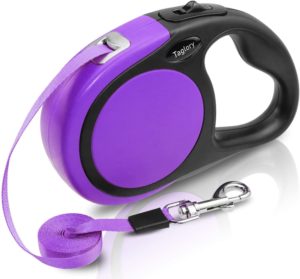 Super Strength Retractable Dog Lead
Suitable for the biggest and strongest of Dogs.
Rubber Handle and Auto-Lock for Easy Control
Highest Quality Construction
This dog lead doesn't come stronger than Sumo Strength retractable 5m long 50KG lead to follow suit for the best retractable dog leads.
It is designed for the competent dog owner who knows what they want regarding their dog's safety.
Complete with a rubber soft-grip handle, walking your dog got even better. The sumo strength dog lead also has a tough plastic outer case that is screwed together…
This means no clips or glue are used in the construction.
Stop Worrying about Your Dog Walks
Let your dog have a good walk without worrying about them not coming back.
Easy control thanks to the non-slip Rubber Handle and one-button locking system.
5 m super-strong tape design lead with a 50 KG Breaking Strain.
---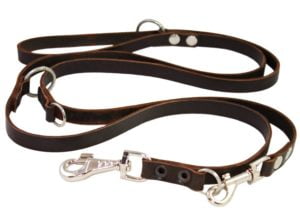 For years, six-way European leashes have been popular with dog obedience trainers, professional handlers, and police K9 trainers worldwide. This Classic Adjustable Leather Dog Leash makes walking your dog easy! Perfect for walking with any dog, you can easily adjust the length of this leash to make sure you and your pet are always comfortable. Six Functions in One Versatile Leash!
Just like the Vario4 and Vario6 – this lead has six varying functions. Some of the best adjustable dog leads only have 1 set. By having 6, you are given choice and variety. Having six does not make this lead the best, nor the Vario6, but it certainly helps with selection.
Made from genuine leather and a solid nickel-plated durable snap clip, this lead is not only stylish but strong as well. Looks Great, Feels Great and is simple to adjust when walking.
---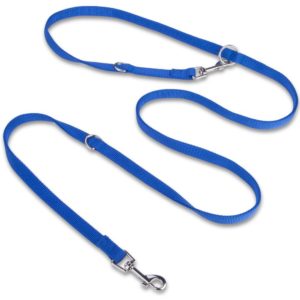 PETBABA leashes are manufactured from premium material, enjoying a good reputation for their novel design and skilful artistry. They are suitable for you two to go for a walk in the warm sunshine or after dinner, which is great fun to help improve mutual relations and a good exercise.
They are extremely precious gifts to accompany your pals when growing up and enhance the pleasure of their loyal throughout life. PETBABA leashes feel like becoming a close guardian angel to protect your dog forever and a day.
PETBABA leads come in different colours and is made to last. With the highest quality materials, the PETBABA adjustable dog training lead is a brilliant, high quality, reasonably priced equipment.
---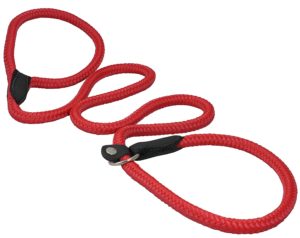 Top-quality solid and durable, pliable nylon rope British Style dog collar and leash. Superior craftsmanship, an ideal leash for daily walks and training. The riveted sliding stopper is made of genuine leather. Genuine leather enforced handle connector. Easy to hold soft on the hands 6″ handle. 6ft long. Available in an array of colours and sizes.
A Great Priced collar and lead make this quite a simple purchase for anyone on a low budget.
---
Owning a Safe Adjustable Lead
A retractable lead is more comfortable as, unlike regular leads, it has a handle, making it easier to control. Always make sure they are well built, especially if you have a large dog.
You should ensure you can get a firm grip on the lead so that it won't fall out of your hand if your dog is pulling. This is always safer than a corded lead because if your dog pulls suddenly, there is a high chance of slicing your hand/skin burns. The handle also allows much safer control for children, making the whole family enjoy the walk with the dog.
Being Extra Careful with Adjustable Dog Leads
Retractable Dog Leads have been known to cause serious injury, i.e. Amputated fingers. Always grip the handle firmly, and do not try to hold the lead/cord. Retractable Dog Leads with a thick wide belt rather than a cord are much safer and last a lot longer.
It would help if you did not let your dog run free, even with a retractable lead. This can quickly turn into an unnecessary situation for your dog.
All retractable leads have a lock that prevents the lead from unreeling too far, keeping you in control. It would help if you always kept your dog close by in crowded areas such as parks.
Strong Adjustable Leads for Large Dogs
You should always check the specs of any adjustable lead and ensure you buy one strong enough for your dog; otherwise, your lead could snap, and your dog will be free. Try going for a lead for a giant dog than your own. You can be sure that your dog is safe.
Both the collar clip and lead cord should be strong enough for your dog even when your dog is becoming excitable. Nylon is the most common fabric for dog leads, but Leather Dog Leads are also a great choice.
Try and aim for a bright coloured cord also. Dark cords are difficult to see at night and can be a danger to pedestrians or cyclists. There are so many aluminous or brightly coloured cords available. You should choose these. Worst case scenario, with a dark coloured cord, your dog could suffer a severe injury if someone accidentally trips over it.
A retractable lead is great fun for your dog as they can get to great distances, sometimes up to 25m, giving you less control. Ensure your dog is fully trained before allowing your dog to go to these lengths.
Further Tips And Recommendations
Now that we've given you an extensive overview of the best extendable dog leads in the marketplace, it's worth taking a more in-depth look at some of the critical criteria while shopping for flexible or retractable information.
Size: The overall length of a retractable lead will impact the freedom your dog has at the same time on the lead, which in turn influences the extent of control you might have over your dog. It's probably great to use a shorter size for a dog who hasn't mastered everyday coaching.
Strength: It's best to spend the extra money on a better nice retractable lead. The more you play, the better than strength and quality.
Thickness: a much wider lead is the easier option for a more giant, heavier dog – so for those who're buying with a giant breed in mind, this shall be something to pay close attention to. If you're purchasing a lead for a dog who's more likely to grow significantly more, you'll wish to recollect this.
Quality: yet another critical component of a retractable lead is the force and overall sturdiness of the clip, as this is probably the weakest component on cheaper models. Mostly, it's OK to pick a lead that uses a stainless-steel clip that doesn't rust. Additionally, it's essential to ensure the clip fastens safely and securely to your dog's collar or harness.
Reflective: it may, in most cases, be priceless to purchase a retractable lead that comes with a reflective cord, specifically if you're going to be walking your dog in these late dark hours.
When Is Using An Adjustable Dog Lead A Bad Idea?
While retractable dog leads may also be beneficial given the right circumstance, there are times when utilising a retractable dog lead can be a terrible idea.
Crowded Areas: when you're out together with your dog for a walk, you're in a crowded area with a large variety of people (and might be other pets) around. It's great that you don't use a retractable dog lead and that you keep with a standard dog lead or one of the above adjustable dog leads as an alternative.
The retractable dog lead offers your dogs a lot of freedom and may be very useful in areas where it's less crowded, like in the park, where you may stroll for an extended amount of time with your dog.