The basic purpose a lead serves is controlling your dog's movement in outdoor. But every dog has specific characteristics, so an ordinary lead often fails to control the dog properly. So, we have brought giant flexi retractable leads for your dog's public hang outs. It is flexible, and covers upto 10m radius with moderate control. Get a retractable lead now!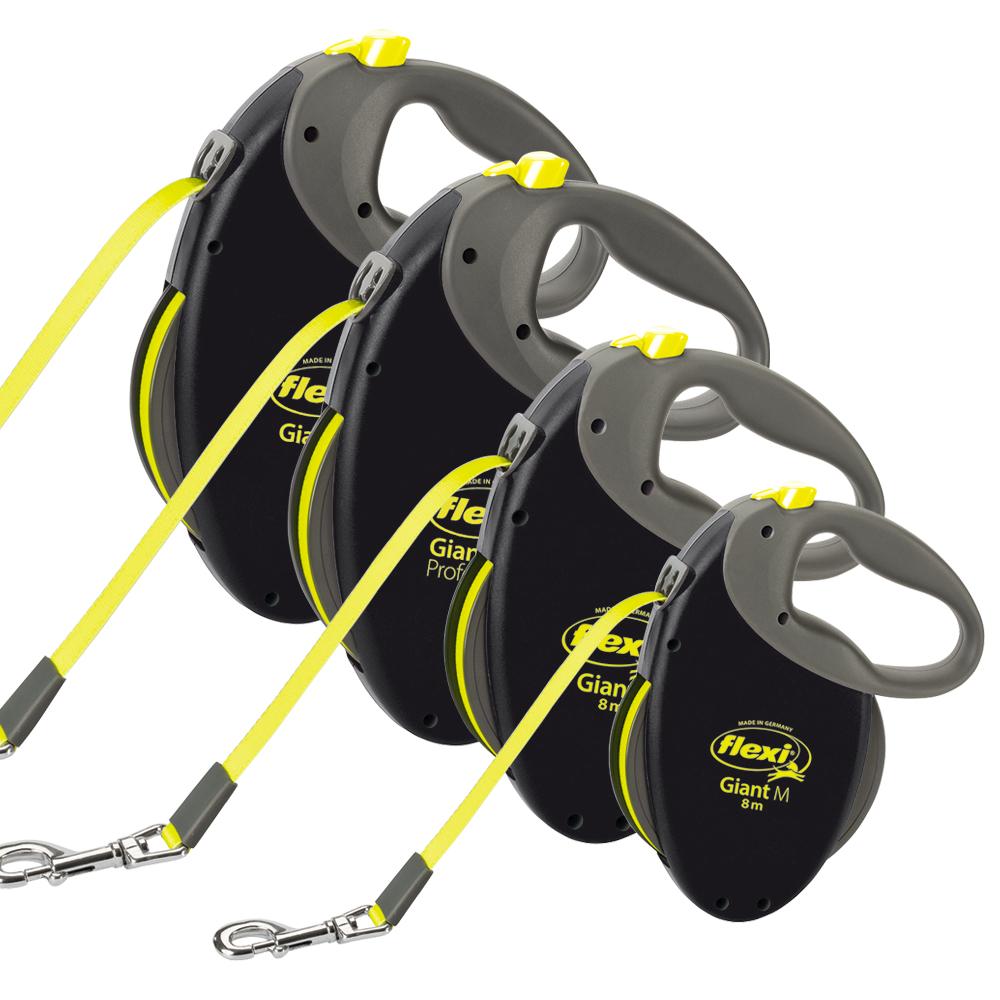 The extra-long, extra sturdy Giant Flexi Retractable Lead offers active and large dogs the utmost freedom on the lead. Designed especially for the greater needs of large dogs with specifically selected materials and an extra stable tape, the Giant Flexi Retractable lead offers a radius of 8 m or 10 m (Professional). The one-hand braking and recoil system allow you to maintain full control of your dog during your walks. Thanks to the ergonomic soft-grip the lead is comfortable to hold even during long walks.
All dog leashes carry out a universal primary function i.e. to keep your dog under control and safe in public and outdoor settings. However, the Pet Industry has unleashed a myriad of different leashes for every kind of dog. Not every leash is compatible with every dog as each has its own individual characteristics, temperament, physical build, and training needs that ultimately influence the best type of leash to get for your pup.
Why You Need a Dog Leash
It is an easy and effective instrument to control dogs while training.
It prevents dogs from running off into unpermitted areas.
Protects dogs from running into the street and getting into accidents.
Prevents injuring themselves or others around them.
There are dogs that have strong prey drives, and ones that are generally very friendly and interactive, either way, both tend to chase after or scare other people (maybe with phobias) or other animals. Leashes tend to restrict these wild tendencies.
Range of Giant Flexi Retractable Leads / Leash
With 46 years of experience, Flexi is a German manufacturer that has established itself as the market leader in 90+ countries. In 1972 Manfred Bogdan invented retractable leashes and based on this proxy design Flexi Vario Tape Dog Lead deals with the dilemma of getting the right balance between freedom of movement and dog control for small and medium-sized dogs up to25kgs.
This multi-belt link system possesses a versatile build that allows for added security, enhanced ease, and flexible usage. It has a modifiable handle that allows you to fit your hand to the handle accordingly. The leash has a reflective gentle grip which is a useful aspect for late-night walks. It is also equipped with a handy short-stroke braking system. It even has an innovative chromed snap hook for user ease.
Pros
Low-cost with sufficient features.
The intuitive device responds to handling easily.
Utilitarian brake button
Guide Mechanism and internal spring and guide mechanism fulfils fast rewind of the cord.
Ergonomic grip whose size is adjustable and comfortable to handle.
Quick response via the one-stop one-handed braking system
Permanent braking feature
Reflective bite belt for enhanced visibility in low-light situations.
It is available in a lot option of lengths
The lock system is reliable and reputable.
Cons
Fabric connecting lead to clasp frays and becomes risky to use.
Reports of sporadic problems with the safety clasp.
May hurt handler if the cord is gripped and pulled directly.
The leash can break under force from big breeds.
The handle may be small for larger adult hands.
---
This Flexi Giant – black – Retractable Dog Leash is designed specifically for big dogs, which weigh approximately up to 110lbs. This leash comes with a soft-grip handle in grey colour, a coordinating grey retractable belt with an exposed leash casing and 26ft extension ability. If you own a large breed and enjoy going on walks in open areas with lots of space then this retractable leash is a good option. Made of thick nylon rope and plastic casing it will not fray easily. Moreover, it offers a smooth release and recoil.
It is available in 5 sizes and 2 sizes and 5 popular colours and for the last 40 years, they've gained a reputation for their attractive design, high-quality products, and high durability. Their product line is handmade in Germany. They provide a Limited Manufacturer Warranty. The package arrives with a Safety Precautions and Directions pamphlet that describes how and when to use flexi retractable dog leash properly.
Pros
26ft tangle-free leash.
The leash is equipped with reflective edges for enhanced safety and visibility.
Easy to operate with its single-button brake and lock retraction feature.
Non-slip handle.
Ergonomic and durable.
Smooth release and retraction.
Cons
Heavy leash
The lock can sometimes stop functioning.
Reports that the attachment to the clip can loosen.
---
This flexi giant lead is the 2018 upgraded version. This No Bark Collar is ideal for medium and large dogs. It offers 0-7 adjustable sensitivity levels alongside 3 anti-barking training modes i.e. vibration, beep and shock mode. It includes reflective tape and a digital display to show the mode transitions. With just an hour to charge, you get up to 2 weeks of battery time. It is an adjustable nylon belt that caters to dogs weighing from 15-100lbs.
Pros
Intelligent protection chip with protective sleep mode.
7 adjustable levels available of sensitivity and intensity.
Rainproof; usable in all kinds of weather conditions.
USB Rechargeable.
High-efficiency Lithium Battery.
Made in Germany with a 2-year Manufacturer Warranty.
26ft extension ability.
Cons
Retraction Spring is not of good quality.
Users report it to be too heavy.
Uncomfortable and bulky to carry.
---
Established in 1973, Flexi is a reputable brand in the pet industry. As the inventors of and the world market leader of retractable leads, they've come up with their innovative Explore Retractable Dog Leash. For dogs that love to run and explore it offers 23-26ft freedom. The high-quality nylon and solid casing guarantee long use. Made in Germany, this leash is available in S and M and as a tape leash in L sizes in red, blue and black.
Pros
Extra-long retractable leash.
Smooth unroll and retract.
23-26ft extension.
Flexi brake system.
Easy to use with one hand.
Double-stitched bite belt with reflective components.
Resilient plastic casing.
Cons
Not suitable for running.
Problems with retraction.
---
Manufactured in Germany, enhanced visibility is offered at your fingertips. The Neon Retractable Leash reflects lights from 160 yards away. It comes as a tape leash in L and cords leash in the sizes S and M. Freedom on the leash. It is intended for walking and jogging your furry buddy in parks and open areas.
It offers efficient unroll and retract in any position. This leash is highly resistant and is perfect for heavyset, strong and big dogs. The Flexi tape guidance provides immense comfort and ease of use. It makes sure that the tape will control your pet in every direction. The leash will smoothly roll out and retract. When it is not being used, the tool fully retracts up to the chromed hook.
Pros
Reflective 16ft cord.
Neon-coloured for improved visibility.
Single-handed use of the brake button.
Permanent stop feature.
Appropriate for multiple species up to 110lbs.
Ergonomic, sturdy, easy to grip, non-slip handle.td>
Cons
Short product lifespan.
Retraction issues.
Flimsy material lead
---
If you are looking for a versatile leash that offers multifaceted features and value for money, then look no further than the Flexi New Classic Retractable Dog Leash. This 16ft tape leash allows for further addition of accessories like LED Lighting systems and Multi Box. It accommodates a wide variety of dog species up to 110lbs of weight. This is an interesting addition to the concept of custom retractable leashes. It includes a brake button for effective handling and a detailed guidance manual to ensure that all instructions of use are clarified.
Pros
2 years guarantee.
Stop or lock option.
Cord and tape options are available.
Extremely lightweight and easy to handle.
Ideal for small dogs.
Maximum liberty on the leash.
Designed with upgradeable features.
Strong retraction motion.
One-handed braking system.
Cons
The nylon aspect wears and tears easily.
The locking system is hard to figure out.
It doesn't withstand a lot of pulling.
Incompatible handle with many waste bag holders.td>
---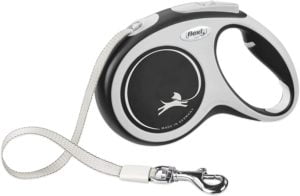 Never one to back down from innovation and improved performance, Flexi rolled out their comfort retractable dog leash to entertain you and your excited dog. With a highly aesthetic appearance in a two-tone design, this 16ft pet tool comes with an ergonomic and adjustable handle that will fit in your hand like a glove. Moreover, it can be easily customised as per your wishes with LED and Multi-Box. Each model is made to offer multiple colour options for dogs up to 55lbs. The handling is pretty reliable with a short one-stop and single-handed braking system.
Pros
Individual upgrade option e.g. LED to enhance visibility.
Waste bags and treats can be stored in Multi-box addition.
Ergonomically shaped handle.
Soft components grant a comfy grip.
Short-stop braking system; intuitive asset.
Easy to use with one hand.
Permanent stop function.
Budget-friendly.
Cons
Not good for larger breeds.
Strap rips easily.
Tape does not have a warranty.
Aspects of handle uncomfortable for users.
---
Different Types of Dog Leashes
Standard dog leashes: The standard leash includes a braided or solid piece of material that is usually made out of nylon. It is manufactured in and come in a range of lengths that encompass 4-8ft. These can also be available in reflective material, making them the perfect assistive tool for pet parents that enjoy early morning or late night adventures.
Retractable Dog Leashes: Retractable leashes definitely fall into the category of the most controversial dog products at present. Despite being appreciated by countless dog owners, they do not come highly recommended. Animal experts tend to provide words of caution regarding them as they offer the caretaker limited control and there are also a few potential risks e.g. getting rope burned from grabbing onto the leash when your dog rockets off and cause friction scarring.
Adjustable Dog Leashes: Adjustable dog leashes will offer you the best of both worlds. They grant complete control similar to that of a standard leash whilst also extending freedoms that retractable leashes permitted. These leashes have extendable lengths that range from 3-6ft. These extensions depend on the addition and removal of clips or loops along the length of the leash. For training purposes if you want a shorter leash, or for more autonomy you want a longer leash, then an adjustable leash can accommodate either desire.
Dog Leash Materials
Nylon: This is hands down the most popular dog leash material. It is commonly purchased as it is relatively inexpensive and highly durable. It is perfect for environments and climates that are prone to wet outcomes. It is advised that the leash be completely dried between each use. Nylon is available in a wide variety of patterns and colours as it is an artificially manufactured fibre.
Unlike other products, you won't have to stress about putting in a lot of effort to search for, or placing special order as nylon exists in many options and is easily available. The only main drawback you might encounter is the dog's ability to chew through it. If you own a dog that likes to pull the leash a lot, it will lead to a lot of friction and rubbing on your hands and perhaps a burn later on.
Leather: Leather leashes are a premium purchase. They are a high-quality and intensely durable product. However, they need to be treated regularly via a leather conditioner in order to retain their impeccable quality. Despite not being completely chew-proof they are pretty strong and settle softly in hands.
Chain: Chains are best for pups that tend to chew into other types of leashes. These will normally be heftier due to metal construction. But this reinforced leash is good for a strong, heavier and larger dog breed. For smaller puppies, it is advised that you obtain a light, thin chain and then gradually introduce bigger and stronger leashes as the puppy grows. Because they are metal, these leashes can be hefty. For a larger or stronger breed, this weightier dog leash could be a good fit. If using with a small puppy, you will want to get a thin chain that is as light as possible, then upgrade to a tougher leash as your dog grows.
Take a look below at the different, amazing styles, of Giant Flexi Dog Leads available.
Flexi Retractable Dog Leash Is Featured At Number 1 In The Top 8 Leads
What Do Others Have to Say About It?
In addition to the hundreds of reviews on Amazon the Giant Flexi Retractable leads are one of the standout leads for any dog lover. There are hundreds of different ratings available so by all means make your own decision on this one. We have tried this product ourselves and find it a Great product to use and is also one that I would buy any of the accessories for.
What Else is There to Love?
Compact strength

Thanks to the iconic design, the Giant Flexi Retractable lead houses an 8 m / 10 m extra-long and strong tape lead in a very compact casing. All elements of this lead are designed to provide extra stability to the needs of active and powerful dogs.

Reliable control – the brake system

With the Flexi brake system, you are always in control of your dog. When the brake button is pushed, the lead instantly stops and is securely held at exactly that length. Easy to use with one hand.

Extra freedom on the lead

Enjoy the extra-long retractable tape lead that is designed for walking your dog in open areas where it can enjoy lots of extra "freedom on the lead". The tape lead that extends up to 8 m / 10 m is very resistant and ideal for powerful, larger dogs. The Flexi tape guidance offers high comfort, ensuring that the tape will follow your dog in every direction, while smoothly rolling-out and retracting. When not in use, the tape fully retracts up to the chromed hook.

Ergonomic design

And finally, the ergonomic soft grip and the optimal weight distribution make the Giant Flexi Retractable lead a very convenient and comfortable tool.
With certain makes and models of the Flexi range, you can also purchase additional accessories. While these products don't fit every Flexi model, they certainly do make the Flexi Leads more complete.
Recommendations
Indoor use: The best dog leash for this activity is a slim, lengthy, well-rounded leash made of nylon material. It is extremely feather light and won't get caught up with home accessories.
Outdoor training: 8-10 foot Nylon leashes are highly recommended for outdoor adventures. If you are trying to give training commands with the significant distance involved, you should look into a 30-50ft leash type. Either way, a nylon webbing leash is a good idea as it offers maximum support and control during runs and walks.
Regular Use: Opt for a regular, 6ft Leather or Nylon Leash. 6ft is more than enough to grant free-flowing movement whilst granting you maximum control over your puppy. Try to sidestep materials like rubber or cloth as they are not worth it and are not long-lasting.
Because the Multi-Box and the LED Lighting System don't fit every lead, we recommend that you check the description below before purchasing:
| | Flexi Multi Box | Flexi LED Lighting System |
| --- | --- | --- |
| Usage | for treats or waste bags | ultra-bright LED front light with a separate red rear light for high visibility and safety |
| Colour | black, anthracite, blue, brown, red, turquoise, pink | grey |
| Accessory for | VARIO, New Classic, Design (as of size S) | VARIO, New Classic, Design (as of size S) |
| Price | | Check Price On Amazon |
Final Words
The Giant Flexi Retractable Leads is in a huge market of dog leads and is competing with some of the greatest dogs lead manufacturers. Whilst there is a lot of competition out there, this lead is competing alongside them. With a slick design and fantastic accessories, not many other leads provide such durability.
The Accessories are very affordable and help finish off your lead. Furthermore, the leads are also well priced and should fit most budgets. With an extensive range on most of the leads, you can ensure your dog can run quite a distance from you without the fear of actually running away. Therefore, we recommend this lead for anyone in search of an Adjustable Dog Lead.
Advice for leash buyers is to be very careful when making the final purchase. Nylon leashes are an affordable option and good for cold and wet conditions, whereas leather survives all climates. Try to find the best strength and width that you might have to upgrade. For those who have dogs that like to chew a chain leash would be a smart purchase.
You have to choose a strong clip that fits with the size and strength of your furry buddy. Worst comes to worst always have a spare leash in case the first one gets lost, breaks or gets damaged. Check your leashes regularly for damage and replace immediately if you see signs of fraying, wearing down or weak clips as a replacement is cheaper than vet bills.
It would be good to attach a carabiner to the handle of your leash to make your life easier and keep leather oil and maintenance products within easy reach. If you are into training, try an 8-10ft leash. Simple tips and tricks like these will ensure that your leash lives a long life and that you are able to get the most bang out of your buck.