The interactive table of dog diapers below and the evaluation of diaper characteristics that follows will assist you in determining which dog diaper is right for your dog.
Each person will have their own individual opinion on the dog diaper for their animal. Some people will look for washable dog diapers, disposable dog diapers, belly bands for dogs or even cat diapers if they don't have a dog. At any rate, we want to make sure that you select the dog diapers possible for your pet, so we're here to help out.
Dog Diapers Comparison
Included within the comparison guide are the following columns:
Diaper pictures
Diaper brand and name – (You can click more information or purchase the doggie diapers)
Size – weight in pounds and waist size in inches
Quantity – Number of diapers in the package
Rating – The average consumer rating (out of 5 stars) on Amazon.com. This is how I recommend increasing the chances that you'll be happy with the product that you decide to purchase.
Note: You can sort the columns within the comparison guide in ascending or descending order by clicking on the column title.
| Product Images | Diaper Brand and Name | Sizes | Quantity | Price |
| --- | --- | --- | --- | --- |
| | Wee-Wee Disposable Doggie Diapers | X-Small, Small, Medium, Large and X-Large | 12 diapers | $ |
| | Simple Solution Washable Diapers | Double X-Small, X-Small, Small, Medium, Large and X-Large | 1 Diaper | $ |
| | PoochPad PoochPant Diaper | XX-Small, X-Small, Small, Medium, Large, X-Large, XX-Large | 1 diaper | $ |
| | SnuggEase Washable Dog Diaper | XX-Small, X-Small, Small, Medium, Large, X-Large, XX-Large, XXX-Large | 1 diaper | $$ |
| | Wiki Wags Brand Dog Disposable Wraps (Bellybands) | X-Small, Small, Medium | 12 diapers | $ |
| | Washable Doggie Dungarees - Dog Diaper | X-Small, Small, Medium, Large, X-Large | 1 doggie dungarees | $ |
| | Petego Hot Pants Dog Panties | Small, Medium, Large | 1 Dog Panty | $ |
| | Simple Solution Original Training Pads | 23 inches by 24 inches | 50 Training Pads | $ |
The diapers within the table above really just start to scratch the surface. There are so many brands and manufacturers creating these products that there's no way that we're able to list every product available. Nevertheless, male and female dog diapers are available at nearly every price range and from a wide variety of manufacturers. Before you make a purchase, you will need to decide whether you want disposable dog diapers or washable dog diapers.
What is a Dog Diaper?
As a dog owner, you may never have considered you would one day be in need of diapers for your dog. The reality is that diapers for dogs can be incredibly beneficial in a number of situations you may encounter throughout your dog's life. Knowing that dog diapers are readily available when your family's pooch is in need of them can be a huge relief.
Dog diapers are similar to baby diapers in that the purpose is generally to help the owner cope with a dog's urinary problems. They're great for new animals that have not been completely housing trained yet. When many pet owners consider house training their dogs, they seldom consider dog diapers.
Most people may not even know that dog diapers actually exist! Additionally, these diapers can be used for ageing dogs, dogs with mental disabilities or incontinence problems. Also, diapers are often utilised when pet owners know that will be away from the house for an extended time period. Like baby or adult diapers, dog diapers come in the single-use disposable form and in washable fabrics.
There are a number of reasons that you might be searching for dog diapers as the solution to problems that you are facing with your dog.
Territorial Marking
Whether you've had your male dog for three weeks or three years, territorial marking can become an issue with all dogs; particularly if the dog is a rescue or if there have recently been changed to the household or your living situation. Not only is territorial marking horrible to have to deal with, but it can also lead to a lifetime of bad habits that are just incredibly frustrating.
With dog diapers, however, you'll be able to greatly minimize the indoor territorial marking, and of course, help to keep your home from smelling horrid when you walk in through the door at the end of the day.
Not only will the dog diapers help to prevent your pooch from marking his territory on your sofa, but they can also help as a part of training him out of this habit. Keep in mind that if your dog is under a bit of stress or there is a new dog in the house that he may need a bit of behavioural training in order to help him get over this habit and the need to mark his territory all-around your home.
Housetraining Puppies and Rescue Dogs
House training hard-headed puppies and older rescue dogs can be somewhat of a challenge, especially for those of us who aren't home all day to shepherd the dogs outside every hour. Dog diapers can help you to reinforce to your dog that he or she needs to restrict potty activities outdoors, without the risk of coming home to wet patches on the carpet.
Puppies are typically easier to house train than older dogs, but you might find that your rescued adult dog is struggling with the idea of housetraining. Dog diapers can help to minimise the frustration you both feel as you learn to live together, and as you learn to develop trust with one another.
Medical Issues
Some medical conditions might lead your dog to have increased urine output, like being on steroids or while adjusting his or her insulin levels if your dog is diabetic. In an ideal world, we could all spend each day at home when our dogs are sick or adjusting to new medications. Unfortunately, most of us just can't do that. Short of leaving your dog outdoors or crating him, there's not much that can be done to try and combat accidental potty accidents in the house; unless you use dog diapers on him.
Dog diapers can help to get your dog through this adjustment period and can be used until he is feeling well enough to where you are no longer concerned about coming home to puddles all over the house. It just wouldn't be fair on your dog to be expected to hold it all day in his crate, and this can also lead to urinary tract infections, and later on kidney concerns if he is holding it.
With well-fitting dog diapers, your pup can relieve himself when he needs to, and you can be saved the need to clean up puddles when you get home in the afternoons.
Dog diapers are also a superb choice for using on your unsprayed female dog when she goes into heat. With well-fitted dog diapers on hand, you'll be able to avoid messes and stains that would otherwise be possible with an in-heat dog.
Ageing Issues
Whether we are ready to face it or not, our dogs are going to get older, and they could potentially face common ageing issues like incontinence. Don't spend your dog's twilight years being frustrated with puddles on the floor that he just couldn't hold any longer. With dog diapers, you'll be able to help avoid those puddles that senior dogs are so well-known for leaving around the house. Always discuss your dog's incontinence with your veterinarian as there are some medications that can help to reduce his problems.
Keep in mind that incontinence accidents are often out of the control of your dog. He could stand up and leave a puddle behind, without even knowing that he did so. With well-fitting dog diapers, you can protect your floors, help to avoid feeling frustrated and upset with your senior dog, and you can both enjoy spending time together.
What to Know Before You Buy Dog Diapers?
There are just a few things to keep in mind before you buy dog diapers. The first is that dog diapers are available in a range of sizes, which will help to ensure the perfect fit when you put the diapers on your dog. Knowing your dog's weight and waist size can help you to select the right size for your dog.
Dog diapers are typically available in both cloth and disposable versions. Cloth dog diapers are often the more economical choice, but they can also be less convenient because they will require an extra load of laundry. Disposable dog diapers do offer more convenience and are known for being able to better hold fluid, but they can be a bit more expensive.
If you do plan on using dog diapers on your dog, or on your dogs, be sure that you change them frequently. A dog that is left in a diaper for too long can develop skin irritations that could be painful, and could also put your house training efforts back significantly as he heals from the irritation. It is also recommended that your dog gets frequent baths throughout the week, especially if he is ill and has several soaked diapers at the end of each day or in the mornings.
Check Some Amazing 5 Dog Diapers
Candidly, all of the diapers included in the comparison table above are really good options. Although, there are a few that I want to point out as favourites. Below you'll find our overall picks for the dog diapers and a more detailed suggestion of each diaper.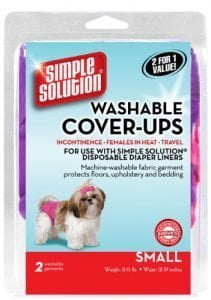 Simple Solution Cover-ups are machine washable diapers designed for heavy seasonal flow or serious cases of urination. You can simply attach the Simple Solution disposable liner to the internal net liner.
These diapers work really well to protect upholstery, floors and bedding. General care includes machine washing these diapers on a gentle cycle. It's generally recommended that you hang diapers to dry.
---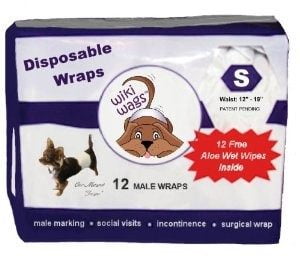 This Wiki Wags disposable dog wrap entirely and easily covers the area of the dog to help prevent them from urinating on walls, furniture, curtains, flooring, rugs and other household items. It's developed entirely for the male dog anatomy. You also don't have to purchase an extra lining or worry about cleaning the wraps – since they're disposable.
The Wiki Wags product comes in a variety of sizes. You should choose from extra small for puppies with a waistline of between 6 – 13 inches. Small for pets with waist measurements of 12 – 19 inches. Medium for puppies with a waist dimension between 18 – 25 inches. Large for animals with a waist dimension greater than 25 inches. To ensure the correct fit, you will need to accurately measure your dog's waistline.
---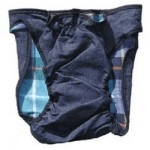 The Washable Doggie Dungarees are covered using a soft plaid bamboo cloth for additional comfort and an absorbent mesh liner for safety against a heavier flow of fluid or waste. For dogs that consistently have a heavier flow, I would suggest using absorbent liners for additional protection. For minor excitable urination, it's safe to use the diapers alone, or along with the inserts.
To be clear, the dog diaper inserts aren't commonly needed – unless a female dog is in heat. These Washable Doggie Dungarees perform good with urine, but can also hold poop when needed. And, of course, these dog diapers are washable.
---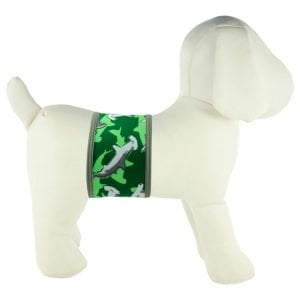 PlayaPup belly bands provide several excellent advantages. There are ideal for those canines who want to mark their territory and dribble around your house. The stomach band trains them not to pee in the home or when heading out when your dog has it on. Belly bands also supply short-term assistance to dogs with incontinence issues, particularly designed for elderly male dogs. For pee absorption, include a panty liner or tissues.
---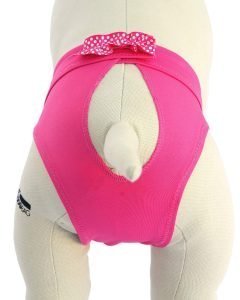 These stylish female dog diapers (Petego Hot Pants Dog Panties) offer safety for female dogs in heat and for urination incontinence in dogs. When using the Hot Pants Dog Panties you mitigate cluttered cleanups and furniture stains. The Hot Pants can be utilised with adhesive Hot Pads.
---
Final Words
You've seen the various options that are available and we've suggested some of our greatest picks for the dog diapers on the market. It's now time for your to pick the diaper that meets the needs of your dog, fits your budget and provides the right kind of protection that you're looking for.
It's also important to note that new dog diapers are being released all the time. Due to this fact, the comparison table will be updated periodically as new diapers need to add to the list. Also, if you believe that we missed the mark and failed to list a particular diaper that works great for you, please let us know.