We often find trouble regarding what to feed and what not to feed our dogs. There are certain vegetables and fruits that are toxic for dogs. Also, there are so many delicious fruits, veggies and superfoods available in the market that are dietarily enriched and good for your dog's health. To know more about homemade dog food & treats, read the article.
As a human, I love the variety of food; if I were to eat the same meal every day or even every other day, I would get bored very quickly. This is precisely how our dogs feel. Dogs love human foods, which is why they sit at our feet every mealtime, as they WANT variety. Chicken, Beef, Gravy, Vegetables, anything they can get their paws on.
Making your homemade dog food can massively benefit your dog on so many levels. Dogs with allergies and skin problems are two main benefits of homemade dog food. You should treat your dog as you would your child/family member and ensure they are getting all the nutrients they need daily. Dog treats also provide the relevant nutrients your dog requires.
Below, I will share with you some fantastic homemade dog food recipes, how to make dog food, and some fantastic nutrition guidelines to ensure you're looking after your dog. All this can improve your dog's behaviour as well as its diet. I will also provide some fabulous Homemade Dog Treat Recipes that Ralph LOVES!!
Guidelines You Should Follow For Homemade Dog Food Nutrition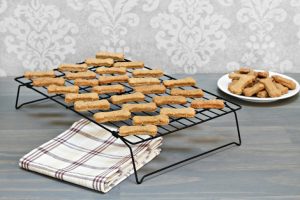 Being responsible for your dog well being should be your number one priority. You should also be accountable for what they eat daily. Having a balanced and nutritious diet will keep your dog happy and, more importantly, help is healthy and live a longer life. Many different dog foods claim to be the perfect, most important or even the only dog food you should choose; however, this can make things very difficult as you should know what your dog should eat throughout its life.
Before introducing your dog to homemade dog food and a homemade diet, it is always a good idea to check with your vet on your dog's nutritional requirements. As with any feeds, humans or dogs, portion sizes all depend on your dog's weight, size and overall just how active they are. An in-active dog can become overweight and unhealthy dog if not fed correctly.
40% of your homemade dog foods should contact Animal Meats, Seafoods & dairy – Protein
10% should get grains and beans – Carbohydrates
50% and the most significant part is the Vegetables
Fats
Calcium
Fatty acids
There has been a significant shift in the dog food market, with more and more dog owners making their homemade dog food.
Many experts believe homemade dog food is an excellent way to keep your dog healthy and improve the bond with your dog. Most dog owners who make their dog food have a lot of time on their hands to ensure they keep a strong bond with the dog and show another sign of affection.
If you are considering making your homemade dog food, then there are several things to take into consideration:
Nutrition Balance
You can get dog food recipes from anywhere on the internet. However, it is advisable to check with a nutritionist to ensure they meet your dog's requirements. All homemade dog foods should contain the above protein, vitamins, minerals, good fats and carbohydrates. This keeps a healthy balance in your dog's diet.
Great ideas for home-cooked dog food will contain potatoes with beef or rice and lamb. Also, try adding some fruit or vegetables but be mindful of foods your dog shouldn't overeat, like grapes, onions, garlic and especially chocolate. As with any meat product, this should be adequately cooked as you would for a human to prevent cross-contamination and, above all else, Salmonella poisoning.
Feeding your dog homemade dog food will keep your vet on their toes, and a regular health check is advised. Visiting your vet at least twice a year will always help ensure your dog's health is excellent. The older your dog gets, the more the dietary requirements will change, and these visits are more advisable if you have an older dog and are thinking of switching to homemade food now.
Including Supplements
Manufactured dog foods are full of supplements that will mean no additional requirements; however, homemade dog foods do.
One of the most significant deficiencies seen in dogs having homemade dog food is Calcium Deficiency. A lack of calcium in your dog's diet can result in soft bones and growth defects, leading to fractured bones and later problems when your dogs get older.
Iron, Zinc and Magnesium are also great for your dog's diet and should always be included where possible. It is always safer to check with your vet before providing any of these to be on the safe side.
Money-Saving and Time
If you're on a tight schedule and always busy, then making your dog food is not something you will want to try. If, however, you find yourself with some free time, then cooking your meals will be much more fun than running to the shop and buying a tin of dog meat. The cost, however, depends on the size of your dog. The bigger your dog, the more food your dog will eat and the more expensive it will be.
You should always keep to professional recipes that have been checked and formulated to suit all dogs. If you need to make changes, consult your vet before doing so, as this can be harmful to your dog.
Storage and Shelf Life
When purchasing commercial brands, you will find they have a long shelf life. Fresh homemade dog foods do not have much shelf life and require a new batch of food making every 2 to 3 days. You can freeze homemade dog food, but it should not be left too long before being used and can be defrosted when required.
Putting your dog on a homemade diet has pros and cons. One of the pros is your dog can feel mightily rewarded with an excellent professional homemade meal. On the other hand, they require more time and sometimes money. You also need to take extra care when making your dog food to ensure your dog gets enough nutrients that commercial foods already have.
Some Amazing Homemade Dog Food Recipes
Due to the popular demand for homemade dog food recipes, I have compiled some of the perfect recipes available.
I have not included serving portion sizes as I don't know what you have or how active your dog is. I would recommend feeding your dog the same amount of food (bowl size) as if you purchased it from the shops.
Beef Stew
Full of fresh protein and vitamins, this meal can be stored in your fridge for a few days and will be enjoyed every time.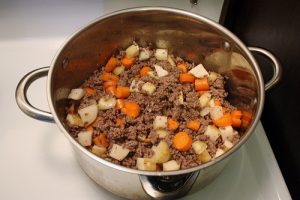 Ingredients
1 pound of beef stew meat
One small sweet potato
1/2 cup of carrots, diced
1/2 cup of green beans, diced
1/2 cup of flour
1/2 cup of water or organic vegetable oil, plus one tablespoon of vegetable oil for frying
Makes Approx 4 meals
Directions
Cook the sweet potato in a microwave for 5 to 8 minutes until firm but tender. Set aside.
Slice the stew pieces into smaller chunks, about the size of a nickel.
Cook the stew pieces in a tablespoon of vegetable oil over medium heat for 10-15 minutes or until well-done.
Remove the beef chunks from the pan, reserving the drippings.
Dice the sweet potato.
Heat the drippings over medium-low heat. Slowly add flour and water into the dripping while whisking to create a thick gravy.
Add the meat, sweet potato, carrots and green beans into the gravy and stir to coat.
Cook until the carrots are tender – about 10 minutes.
Serve cool.
Store remaining stew in the fridge for up to five days.
Turkey, Rice and Veggie Mix
Storage for up to 5 days, this meal will help keep dogs weight down and ensure they get all the healthy ingredients and nutrients they need.
Ingredients
6 cups water
1 pound ground turkey
2 cups uncooked brown rice
One teaspoon dried rosemary
1/2 (16 ounces) package frozen broccoli, carrots and cauliflower
Makes Approx 9 Meals
Directions
Place the water, ground turkey, rice and rosemary into a large Dutch oven.
Stir until the ground turkey is broken up and evenly distributed throughout the mixture.
Bring to a boil over high heat, then reduce heat to low.
Simmer for 20 minutes.
Add the frozen vegetables, and cook for an additional 5 minutes.
Remove from heat and cool.
Refrigerate until ready to serve.
Beef and Rice Slow Cooker Meal

This quick and easy meal takes approx 10 minutes to make and can be frozen quickly.
Ingredients
2 ½ pounds ground beef
1 ½ cups uncooked brown rice
1 (15-ounce) can kidney beans, drained and rinsed
1 ½ cups chopped butternut squash
1 ½ cups chopped carrots
½ cup frozen peas
4 cups of water
Makes Approx 10 Meals
Directions
Stir in all ingredients with 4 cups of water in a crockpot.
Cover and cook on low heat for 5 to 6 hours or high heat for 2 to 3 hours.
Stir as needed and cool to room temperature.
Chicken Jerky Strips
A great homemade alternative to Rawhides, chicken jerky strips is fantastic. It can be stored in an airtight container in the fridge for two weeks.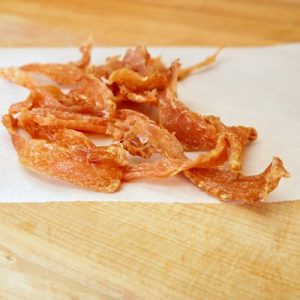 Ingredients
2 to 4 boneless, skinless chicken breasts
Makes Approx 20 strips

Directions
Preheat oven to 200 degrees
Trim all excess fat off the chicken breasts
Cut into 1/8 inch thick strips using a paring knife
Bake for 2 hours on a baking sheet until strips are dry and hard
Cool completely before presenting to your puppy.
Beef and Vegetable Balls
These meaty treats are excellent for all dogs. The smell and aroma released when cooking will entice your dog to hang around and wait near the oven until they are ready.
Ingredients
Two 6-ounce jars of organic beef and vegetable baby food
1 cup of whole-wheat flour (or white substitute)
2 cups of dry milk
1 cup of water
Directions
Preheat the oven to 350 degrees Fahrenheit.
Mix all of the ingredients in a large mixing bowl.
Drop the mixture onto a baking sheet in large spoonfuls.
Bake for 12 to 15 minutes.
Allow the treats to cool completely. Store leftover beef and vegetable balls in the fridge for up to five days.
Turkey and Vegetable Dinner
Turkey is an excellent choice for dogs needing to lose a few pounds as the heart is less fatty.
Ingredients
4 cups of water
1 pound of ground turkey
2 cups of brown rice
1 cup of carrots, chopped
1 cup of green beans, chopped
One tablespoon of fish oil (optional)
Directions
Cook the ground turkey in a non-stick skillet over medium heat until the meat is cooked through.
Add the brown rice, turkey, and water to a large pot and bring to a boil.
Reduce the heat to medium-low and cook for 15 minutes until the rice is soft and tender.
Add the carrots and green beans and cook for an additional 5 to 10 minutes until the vegetables are tender.
Allow cooling before serving.
Store extra dinners in the fridge for up to five days.
Chicken Casserole
Chicken in your dog's food provides a high source of protein which is excellent for dogs. The veg in this casserole, green beans, will help improve your dog's intestines.
Ingredients
Four chicken breasts
1/2 cup of green beans, chopped
1/2 cup of carrots, chopped
1/2 cup of broccoli, chopped
1/2 cup rolled oats.
4 cups of low-salt chicken broth
Directions
Remove excess fat from the chicken breasts and cut the breasts into small nickel-sized chunks.
Cook the chicken breasts in a non-stick skillet over medium heat until no longer pink.
Add the chicken, vegetables rolled oats, and chicken broth to a large pot and cook over medium heat until the carrots are tender – about 15 minutes.
Allow cooling before serving.
Store leftover casserole portions in the fridge for up to five days.
TIP: DO NOT USE OIL TO BROWN CHICKEN

Dog Chilli
This recipe blends chicken, beans, and vegetables to create a healthy and tasty mix high in protein and great for your dog(s).
Ingredients
Four chicken breasts
1 cup of kidney beans, drained
1 cup of black beans, drained
1 cup of carrots, diced
1/2 cup of tomato paste
4 cups of chicken broth
Directions
Remove the excess fat and dice the chicken breasts into nickel-sized pieces.
Cook the chicken breasts in a non-stick skillet over medium-high heat until no longer pink.
Add the chicken, beans, carrots, tomato paste, and chicken broth into a large pot and cook over medium heat until heated through – about 10 minutes.
Allow the mixture to cool before serving.
Store leftover chilli in the fridge for up to five days.
Pro Tip: You can add a 1/2 tablespoon of fish oil to this recipe. The flavours are strong enough that even picky eaters won't notice the added healthy ingredient.
Some Incredible Homemade Dog Treat Recipes
Pumpkin Dog Biscuits
Looking for a doggie digestive aid? Pumpkin is easy on sour stomachs and can help alleviate your dog's digestive issues. These homemade dog biscuits are a great way to introduce an all-natural tummy aid into your pup's diet.
Ingredients
1/3 cup icy water
2/3 cup pumpkin puree (canned or homemade)
2 cups whole grain brown rice flour
One large egg (you can omit this if your dog is allergic to eggs)
2 1/2 tablespoonful flax-seed oil or olive oil
Maes Approx 24

Directions
Preheat the oven to 320 – 350 degrees.
Use two baking sheets and greaseproof paper to avoid sticking.
Mix lightly beaten eggs and pumpkin in a separate container until smooth. If you don't want to use eggs, just smooth the pumpkin puree separately and proceed to the next step.
In a giant bowl, combine flax-seed oil and brown rice flour.
Add the pumpkin mixture to the rice mixture and slowly add water with constant stirring. Be sure to leave some of the rice toppings for the cookies.
Hand mix the ingredients thoroughly.
Roll the dough out to the desired thickness using two baking or waxed pieces.
Remove the top baking paper.
Evenly pour rice flour onto the top of the dough and lightly press it to the waxed baking paper.
Remove the paper and cut to desired sizes.
Place in the oven for 35 to 40 minutes or until the top is completely dry.
Cool and store in a dry plastic or glass container until served.
Frozen Banana Treats
Sometimes Ralph will forget to drink when the weather is nice and hot. He will just sit outside and lay in the sun. Even picking him up and taking him to his water doesn't work. We introduced these simple yet effective banana treats, and he loved them. This not only rehydrated him, but he also got to eat something extremely healthy.
Ingredients
4 cups plain yoghurt
Two tablespoons peanut butter
Three bananas, ripe, peeled & mashed
Makes Approx 8 little treats

Directions
Blend all ingredients into a puree.
Pour into an ice cube tray
Freeze until firm.
It can be kept in the freezer for up to two weeks.
Frozen Yoghurt & Peanut Butter Dog Treats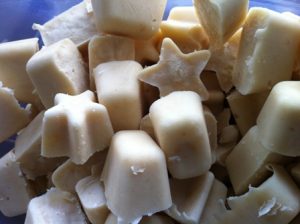 Another simple option, same as above without the banana
Ingredients
32 ounces vanilla yoghurt
1 cup peanut butter
Directions
Melt the peanut butter in a microwave-safe bowl
Combine the yoghurt and melted peanut butter
Pour the mixture into cupcake papers
Place in the freezer
Basic Biscuits
Great-tasting dog biscuits that are simple to make and loved by your dog
Ingredients
2 ½ cups whole wheat flour
1 tsp. salt (or less)
One egg
1 tsp. Beef or chicken Bouillon granules (can substitute beef or chicken broth/stock)
½ cup hot water
Bacon or chicken broth, eggs, oats, liver powder, wheat germ, shredded cheese, bacon bits
Directions
Preheat oven to 350 degrees
Dissolve bouillon in hot water
Add remaining ingredients
Knead dough until it forms a ball (approximately 3 minutes)
Roll dough until ½ inch thick
Cut into slices or bone shapes (you can purchase a bone-shaped cookie cutter to make shapes with)
Place dough pieces on a lightly greased cookie sheet
Cook for 30 minutes
Healthy pumpkin balls
This snack is not only delicious but is also filled with fibre, vitamin A, beta-carotene, potassium, and iron.
Ingredients
1/2 cup canned pumpkin
4 tbsp molasses
4 tbsp water
2 tbsp vegetable oil
2 cups whole wheat flour
¼ tsp baking soda
¼ tsp baking powder
1 tsp cinnamon (optional)
Directions
Preheat oven to 350 degrees
Mix pumpkin, molasses, vegetable oil, and water in a bowl
Add the whole wheat flour, baking soda, baking powder and cinnamon to the mixture and stir until the dough softens
Scoop out small spoonfuls of dough and roll into balls on your hands (wet hands work perfect)
Set the balls onto a lightly greased cookie sheet and flatten with a fork
Bake approximately 25 minutes until dough is hardened
Apple crunch cupcakes
A fruity treat your dog will love and more than likely beg for more.
Ingredients
Two ¾ cups water
¼ cup applesauce (unsweetened)
2 tbsp honey
1/8 tbsp vanilla extract
One medium egg
4 cups whole wheat flour
1 cup dried apple chips (unsweetened)
1 tbsp baking powder
Directions
Preheat oven to 350 degrees
Mix water, applesauce, honey, egg, and vanilla together in a bowl
Add remaining ingredients and mix until well blended
Pour into lightly greased muffin pans
Bake 1 ¼ hours
also, check out some of these two-ingredient dog treats – quick and straightforward to make;
Some Things to Watch Out For
If your dog has allergies, preparing your homemade dog treats should be pretty easy to avoid those ingredients. If you are trying your dog with something new that you haven't fed them before, you should try it in small doses just in case. This is an excellent way of testing your dog's reaction plus the bowel movements later. Store your treats in an airtight food storage container and place them in the freezer. When feeding the treat to your dog, allow 10 -20 minutes for the frozen food to rest out of the freezer before providing. Treats in the freezer can last up to 6 months (check recipes for more details)
A Treat Is Just a Treat
Always ensure that feeding your dog a 'Treat' is done in the right quantities and at the correct times. Treats should be used like that, a treat. If your dog has behaved well, training is successful, or they've done something that deserves a treat.
Overfeeding your dog treats can turn your dog obese and cause long-lasting problems with heart problems and general health issues. Look after your dog with treats but not as a snack between meals when they deserve them.
Closing Thoughts
When changing to your homemade dog food, make sure you gently introduce it to your dog in small portions. Changing too quickly can cause an upset stomach. Most dogs can handle the change and love many different treats and foods.
Checking in with your vet regularly is always a great way of checking your dog is getting the proper nutrients from the food you are making.
Homemade dog treats are the perfect and most fun way to treat our dog, plus there are so many positives;
Many treats you can buy from the supermarket are full of additives and preservatives, which can be very unhealthy for your dog. Making your treats ensures you give your dog the right amount of nutrients and keeps your dog healthy.
You will know exactly what is in the treats and ensure the recipes have no hidden ingredients.
The cost of making your dog food can be far cheaper than buying commercial products.
Dogs will love fresh homemade dog food compared to store-bought treats and biscuits.
Save
Save
Save