The majority of dog owners dislike having to leash their dogs constantly. It hurts and is inhumane. However, you can set up a wireless invisible dog fence for their protection. Here are the advantages and disadvantages of wireless dog fencing that you should be aware of before installation. Everything about the fence's operation and effectiveness is condensed here. Check it out!
Every dog owner will agree that having a dog in the home as a member of the family is fun for everyone, especially young children. It can be difficult to take care of them and maintain their health and fitness. Having an invisible wireless dog fence, training and socialising your dog, and ensuring their safety are all
Some dogs like to dig so keeping your garden secure will help reduce the risk of your dog escaping into the great outdoors. If you live in a built-up area, your dog could get knocked over, dog napped or attacked by another dog. These can easily be prevented by adding additional security measures to your house/garden and installing an Invisible Wireless Dog Fence.
Choosing the right invisible wireless dog fence can be a very difficult choice as there are so many great options available. As we want to ensure your dog is safe and secure, let's dive straight into the 4 Perfect Invisible Wireless Dog Fence products that are available today. Then, please continue reading to learn more about these amazing invisible wireless dog fences and things to consider before getting one.
Check Invisible Wireless Dog Fences Here
Owning a dog is a lot of fun and for me is a great stress reliever. Since losing my Dad in December 2016, Ralph has been an amazing companion to help clear the stresses and my mind when I am having down days. He also acts as a guard/alert dog when someone comes to the house or in the garden, protecting us from any potential intruders.
Furthermore, a dog in the house requires just as much responsibility as having a child. Some dogs struggle to differentiate between a playful command and an actual command, which then leads them to disobey you and potentially ignore you.
Using an invisible wireless dog fence will help keep your dog in a specific area of your land/grounds/ garden. These invisible wireless dog fences can help keep your dog away from your visitors and also away from other dogs you may own. Each invisible wireless dog fence device comes complete with different options and specifications which in turn means a variety of prices.
Before diving straight in and spending your money on an invisible wireless dog fence, there are several key factors to consider. Firstly, your dog's age should be considered. Then also consider digging, temperament and chewing habits that your dog may have.
Dogs should be able to play where they choose, within reason. Adding some control into your dog play area and limiting the space can help prevent injury or your dog from escaping. Owning one of the invisible wireless dog fences will really help prevent any of this from happening and keep your dog comfortably controlled.
Is an Invisible Wireless Dog Fence necessary?
An invisible wireless dog fence helps keep your dog in a specified safe place in your home or garden. This helps keep your dog in check. Before purchasing an invisible wireless dog fence there are many questions you should ask yourself, like Do I really need a wireless dog fence? How can this benefit me and my dog? Do I have adequate space? How would I find my dog if he escaped anyway?
Invisible Wireless Dog Fences can help keep your dog safe and secure and away from potential hazards. Fighting with other dogs and escaping the garden are several hazards that can be prevented with a wireless dog fence. Users of invisible wireless dog fences have found that setting these up has been the most efficient way of protecting and keeping their dogs safe.
Invisible Wireless Dog Fence: Things to Consider
Installing an invisible wireless dog fence is simple and a wireless dog fence is a more preferred fence. The wireless fence requires little work in comparison to a normal fence however this is just one main specification to consider.
Boundaries
Invisible Wireless Fences can cover up to 25 acres of land and sometimes even further. However, cheaper versions can only cover up to 1 acre of land. Finding the right invisible wireless dog fence is difficult when searching for one that caters for your needs. As the fence is wireless, the transmitter is the only thing you have to rely on that will help identity how much area it can cover.
All wireless dog fences are different in shape, size and radius. Some provide a circular radius which doesn't work too well in some homes. Others don't work through metallic or wooden objects which can cause problems too. Keeping your transmitter free from objects that could cause interference is good to help maintain a perfect setting for your transmitter.
Installation is Simple
Fitting an invisible wireless dog fence is easy to fit. With no building or digging required you only need to set up the transmitter with your PC and within 1 hour you can be up and running. If you move the transmitter around once set up, the radius of the wireless dog fence will move with you.
How to Train Your Dog Using an Invisible Wireless Dog Fence
Teaching your dog on the perimeters of your invisible dog fence is a challenge. Setting them up is simple, the fence generally does the guarding and a lot of the discipline for you. However, initially, an invisible wireless dog fence requires some effort from you as the dog owner.
Some dog owners use flags or signs to show their dogs where the perimeter is. Taking your dog for a walk within the perimeter is always a great idea, then showing them the signs will help too. Your dog will quickly learn where it can and cannot go.
Letting Your Pet Go On Its Own
Over time, you will need to let your dog loose within the wireless fenced off area. Wearing the collar initially will help them identify for themselves where the radius of the fence is. You should be present with your dog too and is vital to great training and development. If your dog does feel a small electric shock, by you being present your dog is aware that this is a controlled shock.
After only a couple of weeks and several treats while training, your dog will quickly become accustomed to the wireless perimeters resulting in fewer shocks to your dog and a much safer environment for your dog to live in.
4 Perfect Invisible Wireless Dog Fence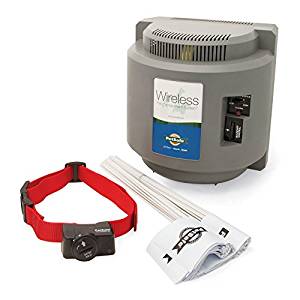 PetSafe is our number one choice for the invisible wireless dog fence and makes looking after your dog simple. Although the PetSafe has a circular containment area, it can cover up to half an acre. The full range of the wireless dog fence is adjustable and in all directions, it can reach up to 90 feet.
The PetSafe Wireless Pet Containment system includes a superb waterproof collar and a low battery indicator. This will highlight to you hen the battery is low so you can be aware that the fence will not respond. The collar also fits larger sized dogs with an adjustable strap up to 28 inches. If you have more than that on the dog, then you can purchase more PetSafe collars that match the containment system and they can all be protected by the wireless dog fence.
Setting up the PetSafe containment system is simple and can be completed in approximately 2 hours. Once you have plugged it in, you can start your training.
Being simple and lightweight you can transport the PetSafe system anywhere. This makes it great if you go camping as it can easily be set up anywhere. The included training manual will also help you train your pets and continue learning about the Containment System.
Pros
Simple to Use
Easy to Adjust
Waterproof
Simple to Install and Clear Instructions
Quick Training
Cons
Lacks Warnings of Shock
Only works on Flat Ground
Does not work on all dog breeds
---

Ok, so this is not 100% wireless but the Sit Boo-Boo is still a great invisible dog fence that helps train stubborn dogs. Set boundaries to teach your dog which places are out of bounds.
The Sit Boo-Boo uses small vibrations and shocks that are completely harmless to your dog and do not affect your dog's health. Designed to fit your dog comfortable, the training collar is able to be recharged when not in use.
The wire is used underground to position the boundaries of the fence. These can cover up to half an acre of land and there is completely effortless to set up. If your garden is on the larger side then, with additional wire, you can extend the boundaries up to 5 acres.
Complete with a lifetime warranty replacement, Sit Boo-Boo have you covered. Although the wireless dog fence is a seamless, safe, product, there is still some training required. Make sure you spend the time training your dog and prevent any problems that could occur.
Pros
Simple to Use & setup
Easy to Adjust with a Wide Range
Waterproof
Lifetime Warranty
Safe and Works immediately
Cons
Wire can be too thin for some dog owners
The wire is also quite delicate
---

PetSafe PIF-300 is an amazing invisible wires dog fence/containment system, designed for more than one dog. Designed with simplicity in mind for owners who have no idea what they are doing and owners who just love dogs and need to keep control. The PetSafe PIF-300 takes the trouble out of keeping your dog safe whilst maintaining your dog's freedom.
Simply place the transmitter in your house and a radio signal will immediately surround your house. Your dogs will be able to continue to run and play in and outside. Whilst wearing the collar, a signal will be received and your dog will then be able to keep contained within the set boundaries of the transmitter.
The PetSafe PIF-300 transmits up to 180-foot diameter and can easily be adjusted. If you only have a small garden, don't panic, simply adjust the settings to fit the area you wish to contain your dog. The collar will provide a very safe and small static shock when leaving the safe zone. Before then, the collar will beep alerting your dog of the current boundaries. This is where your training comes in and ensuring your dog is aware of what the beeping noise is for, will prevent the shock.
Pros
Easy to Adjust the Range
Suitable for up to 3 dogs
Waterproof
Dogs can quickly figure out the boundary
Works Perfect and Dogs quickly become trained on the boundaries
Cons
Only suitable for dogs greater than 8 pounds
Can become inconsistent
Check Price On Amazon
---

Camping, Travelling or just generally being outdoors, the PetSafe Stay and Play might just be the ultimate invisible wireless dog fence for you. 100% portable and completely wireless, this invisible wireless dog fence is an amazing piece of kit.
Being portable and lightweight helps you to transport anywhere and it literally takes minutes to set up. Helping provide a safe and protective environment for your dogs to play in without having to worry they are going to escape. It also helps save time in building an actual fence.
PetSafe Stay and Play have a huge range of up to 4 acres from the transmitter, which should be placed indoors. Taking just an hour to initial setup, this is a truly remarkable wireless dog fence that can support the protection of more than one dog at a time. Extra collars are available to purchase.
Pros
Easy to Adjust the Range
Can Be used on an unlimited number of dogs
Portable and very easy to setup
Works well on homes with narrow walls
Cons
Not suitable for all dog breeds
Can become very expensive
---
Concluding Thoughts
As with any invisible wireless dog fence, you will need to train your dog. Ensuring they understand where the boundaries are and what happens should they cross them. Your dog will quickly understand what is happening and how it can stay safe and protected.