Cutting your pets' nail is not as easy as cutting your own. And not having a good pet nail grinder makes it tougher. There are grinder and nail clippers, but how to choose the best one? We are here to help you find one. Dog Nail clippers cut the nail gently without putting much pressure, while grinder is quite complicated. For trimming, get a branded clipper.
Does your dog constantly bite their feet? Can you hear your carpet/couch pulling every step your dog takes? Can't get to the dog groomer due to work commitments? Do not worry. You can cut your dog's nails yourself. Whether you want to clip, trim or grind the nails down, I am going to provide you with enough information to ensure you purchase the best dog nail clippers that will help cut your dog's nails to a reasonable SAFE length from home.
The reviews I will provide below will be the best dog nail clippers, grinders or trimmers to help you decide whether this is the right purchase for you.
Word of warning; DO NOT BUY CHEAP CLIPPERS. Saving money is, of course, what everybody tries to do, but, in this case, you could end up with large vet bills due to tears and bleeding to your dog's feet. Cheap Dog Clippers are prone to break mid-cut or even hurt your pet.
All the Clippers, Grinders and Trimmers below are selected due to the reviews of each product's users PLUS the overall product specifications, i.e. strength, ease of use, etc.
What's the Difference between Clippers, Grinders and Trimmers?
Guillotine Dog Nail Clippers – The most popular and simple to use, especially on smaller dogs, is the guillotine style dog nail clippers. The guillotine style trimmers have a small hole that you place your dog's nail through. Once inserted into the hole, you simply squeeze the handles, and the blade closes and cuts the dog's nails. The only flaw with these clippers is that the blade does need replacing with each use, and they do not work well on larger dogs with thicker nails.
Forge Trimmers – More suited for small and medium dogs, the blade's circular indents help cut through thicker nails. These Forge Trimmers look like normal scissors, and when open, a small hole appears to insert the dog's nail. They also do not require a blade replacement after every use due to the strength of the blades. The downside to the forge trimmers is the scissor-like handles, as they will be difficult to use if you have arthritis.
Powered Nail Grinders – Nail grinders provide a smooth edge to dogs' nails, and if your dog is patient, it can be the best way to shape them too. The grinding blade is like a hard piece of sandpaper that rotates quickly, grinding down the nail.
Trimming Your Dogs Nails the Right Way
Trimming your dog's nails is a difficult task, even with the best dog nail clippers. This can be made hard if you have a difficult dog that hates having its nails clipped. Finding a good technique to calm the dog down and using the best dog nail clippers will certainly help with the process. Also owning the best dog grooming table will really ensure your dog is comfortable.
Once you have found the perfect technique, the right dog nail clippers, and the best dog grooming table, you will start to become much more comfortable and your dog will not be as frightened or fidgety. Many tutorials are available on the internet for clipping your dog's nails. Check out this YouTube video for how to use the best dog nail clippers to trim your dog's nails without bleeding successfully.
Buying any of the best dog nail clippers or trimmers and following the above step by step instructions, you will quickly learn how to trim your dog's nails and prevent bleeding or injuring yourself or your dog.
Guide To Using the Best Dog Nail Clippers/Trimmers/Grinders?
If you have never cut your dog's nails before then, it's always safer to search for the best videos on how to cut your dog's nails. There are hundreds available and it is all about patience and precision. Check out some of the tricks of the trade by professional dog groomers.
Firstly, check out these three simple tips to ensure you can successfully trim your dog's nails;
Regularly trim them – This will make your dog more comfortable over time
Train your dog to be positive
DO NOT RUSH and be considerate
Should I Clip My Dogs Nails Regularly?
Dog experts will always answer how often I clip my dog's nails using the best dog nail clippers? With the answer, it depends. If your dog is an active outdoor dog, the concrete and hardened floors will slowly and steadily grind the dog's nails down. If your dog is an indoor house dog, like Ralph, then once a month is a good timeframe.
To ensure you get good practice with your new best dog nail clippers, make sure you use them at least once a month. As with anything, the more you do it, the more your dog will figure out this is normal.
Introducing Dog Nail Clipping Slowly and Carefully
Knowing that your dog will not look forward to having its nails clipped, don't expect your best dog nail clippers to be the highlight of his day right away. It would be best if you introduced the grooming table and the clippers to your dog slowly and make your dog comfortable around both before starting hacking away at his paws.
Using dog treats is by far the best training method for anything. Ensure you have the dog's favourite treats as initial introductions will be difficult, and your dog may react. Try and soothe them with a nice treat and a stroke.
Dealing with Dog Grooming is quite difficult if you're not a professional dog groomer. Like any dog groomer, you should always make sure you own the best products available. Best Dog Nail Clippers, Dog Grooming Table, Professional Dog Clippers will all ensure that you and your dog get the best treatments. Let's face it, would you cut your hair with a cheap blunt pair of scissors or even a cheap shaver?
There is so much information on the internet about dog grooming, and the official pages to the best dog nail clippers will provide you with even more information. The information I have provided should help you decide on whether to purchase or not. Also, check out the reviews on Amazon. They are real-life reviews from users of the products.
Is It Safe To Use My Household Scissors?
If you are trying to save a few quid by doing this, I strongly advise you not to. Household Scissors are exactly that, for household items, NOT for Dog's Nails.
The best dog nail clippers are made for one purpose only. They are made with specific handles and blades for curved dog nails. This also ensures your dog's safety and prevent accidents. Using household scissors will increase health issues for you and your dog. Keep the household scissors to your regular household cuttings.
Best Dog Nail Clippers – Guillotine and Forge
Don't fret yourself with sub-par products. DakPets Nail Clippers are built with high-quality stainless steel blades to ensure a clean cut in one smooth action.
Non-slip rubber handles that are designed for a comfortable grip and ensure a safe nail trimming experience for you and your dog
DakPets Nail Clippers comes with a protective guard to protect your pets from "over-trimming" and a safety lock for easy storage.
DakPets Nail Clippers is the complete solution for nail trimming that comes with an easily stored nail file. You can save yourself the cost of a nail trim at the vets and do them yourself over and over with these. The cost of one vet trip for nail clippings will allow you to purchase these clippers.
The blades are the most crucial part of any nail trimmer. The high-quality stainless steel blades are manufactured to ensure sharpness so you can cut your pet's nails in one smooth, clean action.
Also, the stainless steel blades are durable and maintain their sharpness for long periods. It's no wonder why professional groomers and veterinarians trust and use these nail clippers!
---
Mikki Dog Nail Clippers are a great choice for Dog Nail Clippers. Mikki is a great brand that continues to produce great products and the Guillotine Nail Clippers are just that.
The Mikki Nail Clippers are intended for regular use and are great for thick and tough nails. The strength of the clippers is amazing and really cuts through the nail with ease. This is ideal as it makes the cut quick and clean and less stressful for your dog.
Following the Mikki Harness, the Mikki Dog Clippers are a fantastic, simple product. They are small and easy to store, and very comfortable to use.
The ring for the nail is made extremely well and strong and allows for the simple insertion of your dog's nail.
The cost of any of the best dog clippers will always worry people first looking, but the Mikki Dog Nail Clippers are a fantastic value for money and will last a long time.
---
Check out the Mikki Nail Clippers Video for direction on how to use effectively:
Safari Profession Nail Clippers are the best selling clippers on Amazon.com and quickly becoming a popular choice on Amazon.co.uk.
Including a great safety-stop feature to prevent injury gives you the peace of mind that you're not going to hurt yourself or even worse, your dog.
The blades used are stainless steel, this will ensure that the blades will last you a long time and provide precision, quick, cut.
These clippers are great for small dogs and ok on the medium dog but not for larger dogs' nails. Although they look bigger than the previously reviewed clippers, they are not strong enough to cut thicker nails.
The clippers are lightweight and easy to use. Although not recommended for large dogs, they have been successful on large dogs.
---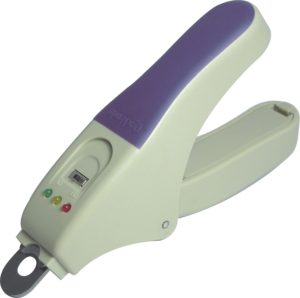 Miracle Care QuickFinder has an electronic safety sensor that allows nail clipping to be perfect every time. With three light technology, Green for Safe, Yellow for caution and Red for DO NOT CUT, they ensure that your nail clipping is safe.
The simple tool ensures a quick and clean cut every time giving you the peace of mind that your dog will not bleed, especially if you are a new groomer.
Designed for use on medium dogs up to 40 to 75 lbs. unless nails are dark and dense.
Not recommended for large dogs or dogs with dark, dense nails
Guillotine style cutting action and a sharp blade to cut, these clippers are great if you have a fear of cutting your dog's nails.

Always follow the lighting guide and ensure that your dog is safe throughout the whole nail clipping experience. After a couple of times, you and your dog will be extremely comfortable.
---
Another amazing Guillotine Style Dog Nail Clipper using amazing high carbon steel blades providing amazing cuts to your dogs nails. The Guillotine Claw Clipper available in either small or mini depending on the breed of dog.
WHX Dog Clippers come with a Stainless steelhead and a black plastic handle that are quite comfortable when used.
With a small weight of around 60g, these are very easy to store.

Maintaining your dog's claws is so simple with these amazing clippers.

These Guillotine Claw Clippers feature spring action allowing safe cutting of your pet's nails at home, giving you the confidence that you will not hurt or harm your dog in any way.

For best results. If your pet's nails are very long, cut off a small amount and wait a week before cutting again
---
Stainless steel finished nail clippers. These heavy-duty dog nail clippers are suitable mainly for smaller dogs.

With spring-loaded action and a strong blade, you can cut your small dog's nails in no time. Effortless and Efficiently, your dog will enjoy having its nails cut.
With a professional quality cut, your dog and/or your friend's dogs will have fresh nails each and every time you cut.
These have been tested on a larger breed dog and have failed to cut so it is not recommended.
These are also not as sharp as the previous designs but do the job with the smaller nail.
---
Best Dog Nail Grinder UK – Buyer's Guide
This mains powered nail file is designed to offer an effective alternative to pet nail clipping. The lightweight, ergonomic design is powerful and effective, removing excess nails quickly and cleanly.
Supplied with a range of attachments, the filing drum is to be used with the filing stones. The 60 grit filing stone quickly and efficiently grinds down the nail while the 100 grit filing stone is ideal for soothing uneven and rough nails. The large grinding stone trims and shapes your pet's nails while the small stone is for smaller detail areas. Finally, the felt polisher is used to buff your pet's nails giving a healthy shine.
Attachments can be stored conveniently inside the back of the filer so they don't get lost.
The Wahl Grinder is great for larger dogs as it is mainly powered and provides more power to grind down those hardened nails. Due to this, the downside is that the grinder is quite noisy and does tend to scare timid dogs.
Although the grinder is loud and can be quite scary to dogs, many users of this product have reviewed that their dogs have taken to this very well. Most reviews state that after using clippers and converting to the Wahl Dog Grinder, they would not change back.
---
Pet Nail Grinders are a fantastic alternative to Dog Nail Clippers. Some dogs do not like the clippers and choose a grinder as their weapon of choice. The ILifeTech Dog Grinder is an amazing Rechargeable Nail Grinder that can recharge via a USB cable
ILifeTech Grinder is safer than normal nail clippers which reduces the risk of clipping toenails too short which might hurt your pet.
The great thing about nail grinders is you can not just use them on all breeds of dog but also all different animals and the ILifeTech is also one of the quietest nail grinders with low vibration and sound. This allows for a safer more relaxed session with your dog as the reduced noise will not scare your dog.
The grinder is that quiet dogs have been known to fall asleep and all have enjoyed their nail grinding treatment.
Nail Grinding seems to be a much better, stress-free way to cut your dog's nails.
---
Final Words
Bonding with your dog is always a great way of improving the relationship between you and your dog. If you have the time and patience then I highly recommend doing all dog grooming yourself. Owning the best dog nail clippers is a great start to building that bonding as vets and professional pet groomers tend to rush and clip without any care as they know what to do. If you're doing it, you can take your time and your dog will enjoy it more as the dog trusts you.
Whether you choose the best dog nail clippers or the nail grinders, your dog will love the bond that is created by having the clipped by yourself.
Save
Save
Save
Save
Save
Save