Guide dog harnesses and training accessories are the best options to train a guide dog. These guide dog harnesses are generally owned by people with low seeing ability who have guide dogs to help them move from one place to another easily. These harnesses come with reflective strips to make the dogs visible during the night or in lowly-lit areas.
Owning a Guide Dog does not mean someone has lost all their sight. Many people who own a guide dog still have some vision. To be considered for Guide Dog Training you do not need to have lost all your sight but you do need to have significant sight loss which affects your walking ability to and from various locations. Once you own a guide dog, these Guide Dog Harnesses are the best on the market. You also do not need to be formally registered as blind / partially sighted.
Anyone can be trained to own a guide dog. Everyone's individual circumstances can be taken into consideration and are based on the individual regardless of the city/town they live in, their cultural background or whether they are employed.
Guide Dog Training
Many people who benefit from having a guide dog also have other disabilities/health problems as well as sight loss. You are also never too old to be considered for guide dog training and people of all ages benefit from owning a guide dog. Guide dog training requires you to be motivated and have the right attitude to be trained to handle a guide dog.
Guide Dog Training is free and the essentials are provided. You can choose to cover the cost of dog food and vet bills yourself however, dogs can be costly.
Guide dogs are specially trained to walk the owners whilst avoiding obstacles. Also stopping at kerbs to help cross a road, avoid steps and help find crossings. The guide dog's partnership with its owner is an essential part of bonding.
Best Guide Dog Harnesses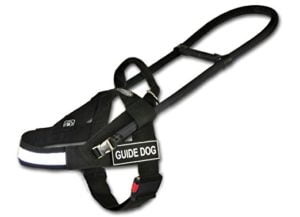 After extensive reviews, the Dean and Tyler Harness is by far the best on the market. The price is a little higher than the others but for sturdiness and durability, this is the best.
Dual-purpose of the around chest strap-roller buckle for size adjust-ability and quick release buckle for taking harness on and off

Reflective strap to increase visibility and keep your safer hard steel handle covered with nylon

Easy removable main handle double-ply neoprene nylon

Supreme comfort for your dog lightweight

Easy pick up main handle "fall-stop" bar
Check Price On Amazon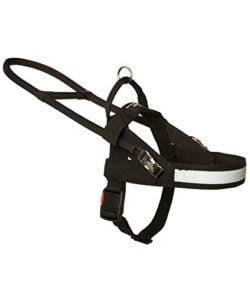 The reason this harness is so comfortable for guide dogs and their owners is the wide straps. They do not cut into the skin providing pleasant and non-painful wearing for the dog.
Size Large – for dogs with girth size around the chest behind the front legs – 32-41 inches (82-105 cm), chest strap – 28 inches (71 cm), length of the main handle from the harness connection points to the end of the frame – 20 inches (50 cm) (see diagram).
It is extremely strong due to the high-quality material used and the best nylon threads stitching. Some places are double stitched. This harness will definitely serve for years.
This harness is equipped with 2 lightweight handles for better comfort for the owner. The large one is made of very light but durable steel and coated with nylon. The smaller one is nylon and it is of great help if the large handle suddenly falls: you can quickly catch the small handle and its bar will fix carefully the large handle in such a position that you won't need to bend too low to pick it again. At both ends of the handle, there is a quick release snap-on buckle.
Check Price On Amazon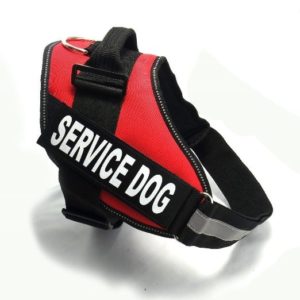 Out of the Harness we have reviewed, this is the only one that comes without a handle.
HIGH QUALITY: Using nylon material, soft fabric, hand feel is very soft, wear-resistant solid strong, colour and lustre is gorgeous and dazzling, nice collocation of metal accessories, smooth out bright, chest straps range is very large, adjustable.

COMFORTABLE FOR YOUR PET: adjustable chest plate. The chest plate keeps the vest from slipping side-to-side, which is especially suitable for training for service, Guide dogs, treatment of dogs, working dogs, treatment, rescue dogs and so on. Such as Labrador, husky, shepherd, the Tibetan mastiff, golden retrievers, bigger hunting, Samoyed. All straps are adjustable. Stainless Steel D-Ring attached on Leashes and ID Tags. Soft Inner Lining Reduces Abrasion for Your Dog's Comfort
Check Price On Amazon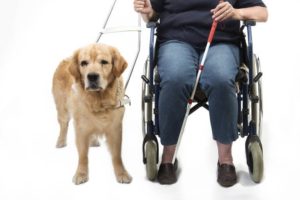 5 Things You Might Not Know About Guide Dogs
Guide dogs can transform the lives of everyone they come in contact with, especially the visually impaired. Here are 5 amazing facts about guide dogs that you may not know

1. It can take up to 20 months to train a puppy to be a fully-fledged guide dog
2. Guide dog puppies are placed with a volunteer for approximately 12 months to start training
3. There is no age limit on guide dog training. People from their 70s upwards have been successful trainers and now guide dogs are also working with children under the age of 16.
4. It costs Guide Dogs UK around £50,000 to support a guide dog from birth.
5. AND There are over 4,800 guide dog owners in the UK.
Guide Dog Training Accessories: What Do I Need?
Guide Dog Harnesses are a great start to life with a guide dog. The aluminium handle attached to the harness helps the handler and dog guide you to any location, and also gives the handler more control. The handles are easy to use and make walking with your guide dog much more comfortable for all.
Fitting Guide Dog Harnesses Correctly

The harness fits in exactly the same way as a normal dog harness (check out the Fitting Dog Harnesses Correctly post for more information).
Check out this YouTube video of a Guide Dog Harness in use;
---
These are the next essential items you require and are especially relevant to your dog's safety. Making yourself and your dog clearly visible to other walkers and pedestrians is essential. Check out the Variety of Hi-Vis Dog Wear here.
Summary of the Guide Dog Harnesses and Training Equipment
All guide dogs require specific training which can be provided by your Guide Dogs Trust (for UK click here). They provide all the relevant training for you and your guide dog and ensure that you are comfortable with what your dog needs. Most of all Guide Dogs are more than just a dog, they are your leader, your guide and more importantly, your eyes and ears.
Having the right dog looking after you is extremely important, and building the highest amount of trust with your dog makes having a guide dog all the more wonderful. Finally, the Harness your dog wears says everything you need it to about your dog and ensures that additional comfort and control is there for you both. Always ensure you do your own research as the views expressed here are that of our own.
Save
Save
Save
Save
Save
Save
Save
Save
Save
Save
Save
Save