Dog grooming hair dryer is a crucial tool for dog parents and dog groomers. Amazingly, a dog grooming dryer cuts short the grooming time by taking half of what a towel takes. However, it is crucial to desensitize dogs to air dryers as usually, most dogs are scared of air dryers. Refrain from ever using your hairdryer on your dog for safety purposes.
All dogs enjoy the great outdoors. Whether it's a walk around the local park or running through muddy puddles in the woods, your dog will get messy. Bathing your dog is one thing but getting your dog dry is more difficult. Having the perfect dog grooming hair dryers will quickly eliminate the stress of getting your dog dry unless he doesn't want you to.
Most people use towels. Some dogs just run off and shake (like Ralph) making them difficult to catch. There are easier ways to dry your dog and that's by using one of the most suitable dog grooming hair dryers. Also known as hair blasters these grooming hair dryers are amazing. Using a powerful, great-quality hair dry help, not only to dry your dog but to keep its fur looking amazing and fresh for weeks.
Essential Features Of Dog Grooming Hair Dryers

When looking for a dog grooming hair dryer, there are several essential features to consider:
Power: The power of a dog grooming hair dryer is measured in watts and should be at least 1000 watts for efficient drying.
Temperature Control: A good dog grooming hair dryer should have adjustable temperature settings so you can choose the right heat level for your dog's coat and skin.
Speed Control: A dog grooming hair dryer with multiple speed settings allows you to adjust the airflow to suit the needs of your dog and the thickness of its coat.
Nozzle: A nozzle attachment allows you to direct the airflow to specific areas and helps dry the coat more evenly.
Noise Level: Look for a dog grooming hair dryer that is relatively quiet, as loud noise can stress and scare your dog.
Size and weight: A lightweight and compact dog grooming hair dryer are easy to handle, especially if you have a large dog.
Durability: A good dog grooming hair dryer should be made of high-quality materials and be built to last.
Safety feature: Look for safety features in the dog grooming hair dryers such as overheat protection and a cool-shot button to help prevent overheating and burning your dog's skin.
By considering these essential features, you can find the perfect dog grooming hair dryer for your furry friend and ensure a comfortable, efficient grooming experience for both you and your dog.
7 Incredible Dog Grooming Hair Dryers

K-9 III High Velocity is an amazing dog grooming hair dryer that works extremely well on dogs with a thicker bushier coat. This is why we have placed it at number one.
Its main features are the two-speed options and the variety of colours to choose from. The price is probably a key point to note as well as this is the most expensive dryer we have reviewed here and is why it is at number three.
The motor on the K9 III generates the warm air making this much safer as no heater is attached.
K-9 III Dog Grooming Hair Dryer is expensive but is the most effective. This product is also highly rated and reviewed on Amazon but the price is very steep for home use unless you have a grooming business.
Pros
Can Dry Small Dogs in 15 minutes
High Powered
Multiple Colours to Choose From
An outlet for Clippers Also
Cons
Price
Too Powerful for Facial Hair
---

Go Pet Club Dog Grooming Hair Dryer is an amazing Dog Hair Dryer. This is largely down to the Customer Reviews we have seen on Amazon. It is the most popular choice for Home Use and is so simple to use.
Although only 2400w in power, the Go Pet Club can dry up to 4 dogs in just over an hour.
Featuring two temperature settings and two-speed settings this dog hair dryer caters for all breeds of dog, from a Labrador down to a Chihuahua.
There are also attachments that come with this product allowing for the user to get deeper under the fur and ensure that the dog's undercoat is also maintained.
Pros
Price is very reasonable
Surprisingly Quiet
Multiple Settings for Temperature and Air Flow
Alternate Attachments
Cons
Air Temperature takes a while to warm up
Can Take a While to Dry Your Dog
---

Our second choice is the BTM. This brightly colour, powerful, dog hairdryer is amazing.
It is a lightweight hairdryer, weighing just 5kg and comes with three separate nozzles to help you groom the most difficult of dogs.
Although the BTM is relatively loud, the power of the dryer is one that will help dry your motorbike or car after a wash also.
The dryer is great for small dogs and the extra power it has allows for a quick drying time. Can be used on larger dogs with the additional nozzles you can definitely keep them all looking fresh and clean.
Pros
2800w in Power for a Quick Dry
Dry The More Difficult Places with Ease
Also Used on Vehicles
Cons
Louder than Others
Motor Can Quickly Burn Out If Overused
---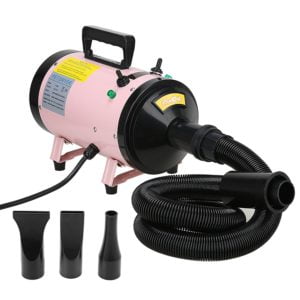 When researching Dog Hair Dryers, the Voilamart was a stand-out choice for our Perfect Dog Grooming Hair Dryer Top 10. With a stable and long-lasting motor, the Voilamart will last for up to 800 consecutive hours.
The flexible 2.5m hose allows for greater working distance and the 2.1m power cable allows you to move around your working area.
With two speeds and different temperature settings ranging from 35 to 75 degrees, this Dog Hair Dryer caters to all dogs in all seasons.
A high-velocity dryer delivers a high volume of warm air to blast water from coats without damaging coats with heat. Yet low noise at full power, offering a quiet environment to work
Another great feature is the noise-assimilation sponge. This helps maintain noise levels and removes tension from your dog.
Pros
Multiple Settings
Portable
2.5m Flexible Hose
Noise Reduction Sponge
Cons
---

Designed with the sole purpose of drying your pets, the Flying One Grooming Dryer is perfect for handling any wet job.
Equipped with a flexible, strong and durable 10 ft hose to allow the warm airflow from the motor.
The steel frame of the dryer protects it from damage, encasing the motor inside and providing a solid, easy-to-clean casing and filter.
The tip of the hose allows for different nozzles to be fitted on and each nozzle is a sleekly designed head made especially for the user's hands.
This dryer also features buttons that allow the user to adjust the speed and temperature settings. Adjustable air speed and heating levels are perfect for anyone who wants to customize their drying experience.
Pros
Easy Adjustable Settings
Lightweight
Great Price
Strong and Sturdy
Cons
Motor Gets Hot
Easily Scratches
---

Of all the Dog Grooming Hair Dryers available, the temperature of each caries. With the Euroeshop, you can get temperatures from 43 degrees to 60 degrees.

The AirSpeed for the Euroeshop ranges from 27,000 to 36,000 with two controllable speeds to help dry your dog(s).
Unlike other dog hair dryers, this dryer is a removable and washable filter that is very simple to remove and replace.
Dual mounted legs, which allow both vertical and horizontal use.
A powerful, high-velocity dryer delivers a high volume of warm air to blast water from coats without damaging coats with heat. Two-stage filtration and solid-state variable speed controls.
Pros
Efficient
Powerful
Washable Filter
Cons
---

Portable All steel construction the Metro Air Force Quick Draw Dryer. Don't let the size of this product fool you, it is powerful, compact and lightweight, but it gets the job done.

With a 12 foot cord and weighing just 3.1lbs, this dog grooming hair dry is fantastic for the portable dog groomer.
The dryer can be used in your grooming shop or at home as it is powerful enough for both. Even though the size can be deceiving this dog hair dryer cuts dog hair drying time by up to 70%.
With a nice sturdy hand and easy fit nozzle, the quick draw action enables you to dry the dog's hair in quick time and put it away again. The power of this dryer will ensure the dog's coat is completely even down to the undercoat.
Pros
Lightweight
Portable
Surprisingly Powerful
Efficient
Powerful
Cons
Can be a Little Loud
Known to Struggle on Large Dogs
---
How Does a Dog Grooming Hair Dryer Work?
Are they like human Hair Dryers?
Dog Grooming Hair Dryers are similar to human hair dryers. They provide warm or hot air at a steady or high speed. This helps to remove water or dirt from your dog to help keep them dry and well-groomed. They are great for after a wet walk or a nice bath.
Dog Groomers also use Dog Hair Dryers after a haircut. This helps remove excess hair that may be left on the dogs remaining fur. Dog Grooming Hair Dryers are not that expensive and can be used at home or in your dog salon.
The force of the airflow from dog dryers can cause an issue to some dogs when drying the face but overall they are a fantastic purchase for any dog owner wanting to have a great-looking dog at all times. Furthermore, the different types of dog dryers available make decisions very difficult. Above are the High-Velocity Dog Dryers but let's take a look at other options for you;
What Type of Dog Grooming Hair Dryers are Available?
High-Velocity Dog Dryers
Often known as high-velocity dryers, these are the most effective way to remove excess dog hair/water/sand from your dog without using excessive force.
With all high-velocity dog hair dryers, you will quickly establish which dogs these are perfect for – All Breeds. They quickly and efficiently get to the undercoats of very hairy dogs and clean right to the root. Some are a lot quieter than others but after a few goes, your dog will get used to it. High-Velocity dryers are reviewed above.
Hand-Held Portable Dog Grooming Hair Dryers
These are much the same as human hairdryers and some are just labeled as Dog Dryers. Be careful with these. If you use a human hair dryer, you will not clean/dry your dog as well but furthermore, you will be more prone to burning your dog as the heat generated is far greater than a dog dryer.
Dog Grooming Stand Dryers

Great dryers for professional dog groomers with Grooming Tables. Stand Dryers can be wheeled around the table and hung over your dog whilst you dry their fur. As the dog is attached to the table and the dryer is over the dog, you have both hands to continue to groom your dog.
Final Words
Choosing the most suitable dog grooming hairdryer can be a simple choice as long as you look for the right features. You must also make sure that you are getting the right hair dryer for your needs. Choosing a high-powered and noisy hairdryer to use at home on a small dog might not be the answer. It is always recommended to do your own research on any products you're looking for. The views above are my own.
If you are a professional dog groomer then the high-velocity dog hair dryers are just for you. Also, you may want to look at the Stand Dryers if you have a grooming salon. Either way, all the dog hair dryers reviewed above are our opinions to help you choose what is right for you and your dog.
Save
Save
Save
Save