Dogs are our beloved companions and it's important to keep them clean and healthy. While regular baths are important for maintaining their hygiene, it's also important to choose the right shampoo. Dog shampoo is specially formulated to be gentler on a dog's skin and coat, as well as to address specific skin conditions such as dryness, itching, and allergies. In this article, we will discuss the different types of dog shampoo available on the market, the ingredients to look for, and tips for using dog shampoo properly to keep your furry friend looking and feeling their perfect one.
2 Amazing Dog Shampoos Every Pet Owner Should Have
A lot of people these days always reach for organic products using all-natural ingredients. Dog Shampoo is no different. They can be more gentle than a normal dog shampoo but much more effective.

Natural products are becoming more and more popular and Earthbath is known for the natural dog products they produce. Earthbath all-natural dog shampoo is great for cleaning your dirty dog with all-natural products.
Amazingly this shampoo has no soap which immediately makes this product great for dogs with sensitive skin.
Other ingredients that are excluded from the shampoo are Parabens, Synthetic Dyes, Phosphates, and many more.
The purified water and aloe vera & oatmeal mix help to really work on skin irritation. Plus the coconut-based cleansers and vitamins help finalize and create the perfect and most amazing dog shampoo.
Pros
All Natural Products
Great for Skin Irritation
No Soap – No Tears
Vanilla Extract creates an amazing smell
Cons
Not suitable dogs really smelly/dirty dogs
Earthbath has, in our opinion, created the perfect dog shampoo that is suitable for all dogs. Not only does it smell great but it really helps work on skin irritation. Also, this shampoo is an amazing price and one of the biggest sellers on Amazon, which is why Earthbath is our number one choice for the most suitable dog shampoo.
---

Wahl produces many dog grooming products including Clippers and also this amazing natural dog shampoo. Wahl Dog Shampoo also comes in an array of formulas that will cater for your dog's needs. They also have many different scents that will help you choose the right smell for your dog.
Wahl has a guarantee that all the ingredients in the natural dog shampoo are solely plant-derived.
Some ingredients include aloe vera, oatmeal, lemon, and verbena which all help maintain and protect the fur. They also support and soothe dry skin and help increase moisture.
Pros
All-Natural ingredients
Oatmeal for dry skin and itch relief
Minimal amount needed to clean dog
Multiple scents and forum
Cons
Some scents are really strong
Although not the perfect dog shampoo in our opinion, it is a very very close second. Wahl thrives on ensuring your dog feels clean and fresh and has little to no irritation. The number of different scents available ensures you can buy the right products for your dog.
---
2 Effective Dog Conditioners Every Pet Owner Must Have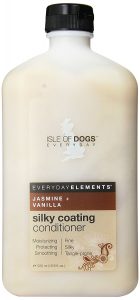 If you are looking for the WOW Factor in your dog's hair and a great silky finish then look no further. This Conditioner will provide the most amazing locks your dog could hope for.
Unlike organic shampoos, this conditioner is more reliant on its chemicals but is a big hit with all its customers. Dogs with longer hair will need this conditioner as it is without a doubt the most suitable dog conditioner you can find.
Isle of Dogs conditioner provides a number of strengthening ingredients making your dog locks the most lustrous locks you will have ever seen.
You can kiss goodbye to knots, tangles or matted hair as this amazing conditioner will deal with it all. Some users of this conditioner have said that they can simply 'run their fingers through the dog's hair' after using the Isle of Dogs conditioner.
Pros
Effective on Tangled Hair
Restores moisture
Smells Fantastic
Extra Proteins help for additional strength
Rinses off easily
Cons
Not suitable if looking for a more natural product
---

Earthbath conditioner, as you would expect, is the perfect complement to the Earthbath Shampoo above. Complete with all-natural ingredients the Earthbath conditioner lasts a long time as the recommended use is for 1 part conditioner in 16 parts water.
With no artificial ingredients, the conditioner is an all-natural product just like the shampoo.
Not only is the conditioner full of all-natural ingredients, but the packaging is also bio-degradable making this the most dog-friendly and environmentally-friendly product on the market today.
Pros
Works on ALL hair Types
Great for Tangled and Matted hair
Soothes and Moistures irritated and dry skin
Does not remove typical flea treatments when using
Lasts a long time as it is concentrated
Cons
Keep clear of eyes, like all products can irritate
Earthbaths reputation is increasing more and more and this is more noticeable by the amazing reviews left by customers who have purchased the product. Regular ratings for 4 or 5 stars are proving that this conditioner actually works.
---
2 Incredible Dog Shampoo and Conditioner Combined

Bathing your dog can be a long process. If you are looking to reduce the time it takes to bathe your dog then a combined shampoo and conditioner can do that. This will also reduce cost as you only need one bottle however, it is recommended that you have a separate shampoo and conditioner. Furthermore, with a combined shampoo and conditioner there is a higher chance of a higher number of chemicals.
What I have managed to find are the two most amazing combined shampoo and conditioner products on the market AND they are both Natural, Organic, Products.

Oxgord 2-in-1 shampoo and conditioner is the most popular on the market. Due to the effective way it cleans and protects your dog's coat, this product is the biggest seller on Amazon.
Only natural ingredients can be found in this shampoo and conditioner, such as aloe vera, jojoba, and coconut oils. There are also no parabens and the product includes its own natural foaming agents. Without any chemicals, in this product, you are definitely getting amazing value for money.
Due to the all-natural ingredients, Oxgord Organic is great for irritated skin and unlike your over-the-counter products, Oxgord Organic Shampoo and Conditioner really does the trick. Protecting your dog's skin and coat through the whole cleaning process.
Pros
All-natural organic ingredients
Soothes dry and itchy skin
Great for tangled and matted hair
No soap
Ease to wash and rinse out
Cons
More expensive than its competitors
As the biggest seller on Amazon, this product works amazing. Dog owners around the world are recommending this product and we do too.
---
Earthbath are back with the All Natural Mango Tango Shampoo and Conditioner. Keeping to the same style as the previously reviewed, Earthbath have beat the odds again and delivered another amazing all natural product.
The Mango-Tango is made up of purified water and is complemented with many plant-derived conditioners and cleansers.
As the name suggests, the shampoo and conditioner also contain mango essence.
Pros
All-natural organic ingredients
Soothes dry and itchy skin
Refreshing Mango Scent
Vegan and 100% biodegradable packaging
Ease to wash and rinse out
Cons
Not specialised to deal with hair problems
---
How Often Should I Bath My Dog?
Common questions like this all depend on the breed of dog you have and the lifestyle they lead for example; If your dog is a regular outdoor dog, in dirt and generally more outside than in, then a bath every 4-6 weeks would suffice. Sometimes just using water is enough to get through and a full shampoo bath may not be required.
Dogs that love the indoors and turn their heads at dirt only require a bath between 2 and 3 months. Labradors and other double-coat breeds should go even longer without a bath unless they start to smell of course. These breeds have an extra oily coat which can be dried out if too much shampoo is used.
What Happens if You Bathe a Dog Too Often?
Too much shampoo can cause skin irritation and problems with your dog's coat. This can lead to scratching and infections which then also leads to vet bills.
Your dog could quickly lose its amazing shiny coat and suddenly start owning a brittly, rugged, rough-looking coat.
Closing Thoughts
In conclusion, keeping your dog clean and well-groomed is an important part of maintaining their overall health and well-being. Choosing the right dog shampoo is essential for keeping their skin and coat in top condition. By understanding the different types of dog shampoo available and the ingredients to look for, you can make an informed decision and find the most suitable shampoo for your furry friend. Remember, always follow the instructions on the shampoo label and use it in conjunction with regular grooming and bathing for perfect results.