Does your dog get easily distracted by other animals or other dogs when you go on walks? Do you need a good Pitbull collar to control your dog's behaviour? Pitbulls are known for their strong and aggressive nature, so keeping them in control can be a challenge. In addition, keeping your dog on a leash is required by law in some states and countries.
Options to keep your Pitbull in check include the use of muzzles, Pitbull collars, harnesses and training leashes. Custom Leather Dog Collars are also a great addition for your pitbull. Pitbull collars come in a huge variety of shapes and sizes, and choosing the right collar can be a bit daunting for the beginner. Here we run through the top choices of Pitbull collars to keep your dog safe and mitigate any fighting problems.
3 Effective Pitbull Dog Collars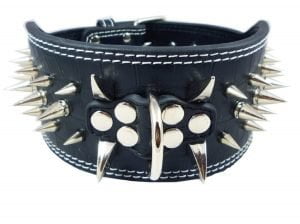 This is a pretty looking faux crocodile leather dog collar that is designed to be extra durable. It is two inches wide and is adorned by 40 large spikes all the way around. The extra-large spikes help your Pitbull fight off any stray dogs in the vicinity. There are five adjustment holes to help it fit around the neck of your Pitbull with the designated neck diameter.
The collar has a certain gothic appearance to it, and the metal D-ring helps to attach the leash firmly onto the collar. The advantage of this collar is that it doesn't sacrifice its strength and durability for a reduction in its weight. It is a pretty light option and it is guaranteed to fit comfortably on your dog without any problems. Bear in mind that your dog will be wearing the collar for most of the day. For the price of $16.75, it is a good value for high quality and resistant dog collar.
---

A great product from the SKL company. This is a sturdy and beautiful dog collar made of faux crocodile leather. It has a series of 28 sharp spikes around the collar to make your dog look tough. Again, five adjustment holes to fit the designated neck size and a strong D-ring for leash attachment.
Many customers have testified to the toughness and durability of this collar. It is a strong and elegant collar that is sure to last for many years. However, the only downside is that it does weigh a bit more than other Pitbull collars. The alternating colours on the collar look attractive and is a clever design. At $12.88 it is an absolute bargain for dog and Pitbull lovers.
---
This is one of the most popular choices for Pitbull dog owners, probably because of its cheap price. It comes in different colours and sizes, with black being one of the commonest. This is a fancy looking leather collar adorned with alternating studs and spikes. There are 60 studs and 37 spikes in total around the collar. Again, the five adjustment holes and heavy-duty D ring all come as the standard.
It is very lightweight and probably the perfectly looking collar. The reason it is not at number one is that it is not as durable as the manufacturers would like to claim. Some people have complained about the studs falling off with repeated usage. However, it is perfect for smaller Pitbulls and certainly useful for light play around the park. At $13.35 it is reasonably priced and many people have given it good reviews.
---
Closing Thoughts
Keeping a Pitbull is never easy but having a good durable dog collar helps to make a complete difference. The ideal dog collar should be made from high-quality leather, have a good looking design and accommodate the strength of a Pitbull. Metal spikes help to act as a deterrent to other animals and make your dog look tough.
Overall, all three Pitbull collars above fulfil these criteria but there are subtle differences between them. You would need to judge by what features you want and it also depends on the character of your Pitbull. A good Pitbull collar enables you to show off your animal to your friends and helps you control your dog at all times.